Queen Elizabeth's Issues With Prince Harry Started Even Before He Married Meghan Markle
Prince Harry and Meghan Markle shocked the world when they announced that they intended to step down as senior members of the royal family. The Duke and Duchess of Sussex explained that they wanted to pursue financial independence and split their time between the United Kingdom and North America. Many believe that things between Prince Harry and his family – specifically Queen Elizabeth – quickly deteriorated after the Megxit announcement.  However, a new report claims that their relationship started falling apart before Prince Harry's wedding in May 2018.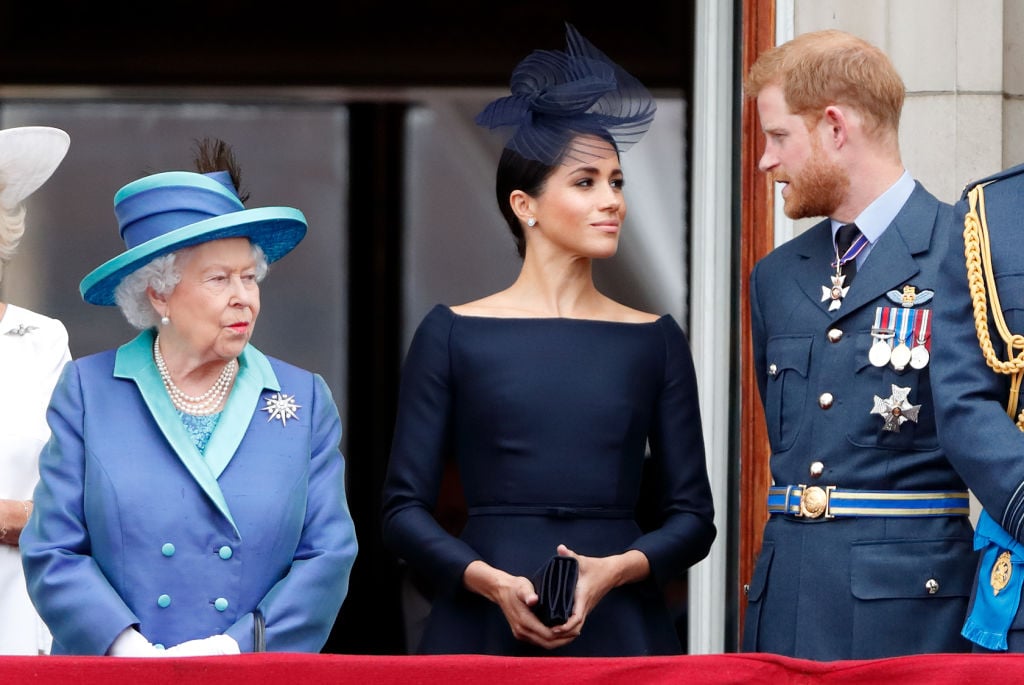 Critics accuse Prince Harry and Meghan Markle of being 'rude' and 'disrespectful'
After Prince Harry and Meghan's bombshell announcement, she quickly took Archie Harrison and jetted off to Canada while he stayed in the United Kingdom. The 35-year-old had a summit with Queen Elizabeth, Prince Charles, and Prince William, and it appeared that they had agreed on an amicable solution.
All of that changed when Queen Elizabeth ruled that Prince Harry and Meghan were not allowed to use Sussex Royal brand or the word "royal" in their future business and charitable endeavors.
Ultimately, the Duke and Duchess of Sussex agreed not to use the brand name after they step down on March 31. But, their response on their official website to the Monarch's ruling came across as "rude" and "disrespectful," according to critics.
The couple claimed Queen Elizabeth had "no jurisdiction" over the word "royal" outside of the U.K. An insider recently told Vanity Fair that the Queen has found Prince Harry and Meghan Markle's declaration of independence to be "rather hurtful."
Queen Elizabeth doesn't want to talk about Megxit anymore
Royal expert Katie Nicholl says that her sources are telling her that Queen Elizabeth is done talking about Megxit. Even though she is publicly supportive, she is ready for it to be "over and done with."
Nicholl's insider says that Queen Elizabeth is worried about the constant discussions about the Duke and Duchess of Sussex's decision. Not only is Megxit damaging The Firm as an institution, it's also hurting the personal relationships in the royal family.
"The Queen has been keen to get this resolved because she sees it damaging to the monarchy. On a personal level, I think this has been rather hurtful for her," the source told Nicholl.
Prince Harry and Meghan will make their final royal appearances together in March. After they officially step down on March 31, the Sussexes will have a 12-month transitional period.
Queen Elizabeth has not been happy with Prince Harry for years
There's no doubt that the controversy surrounding Prince Harry and Meghan has reached a fever pitch in recent weeks. However, insiders say that Harry's relationship with Queen Elizabeth has been falling apart since before he married Meghan Markle.
Nicholl's source explained that Queen Elizabeth's relationship with her grandson started to fall apart in the weeks leading up to the Sussexes royal wedding in May 2018.
"[The Queen] was very upset by some of Harry's demands and the way he went about certain things," revealed the insider."He didn't want to use the Queen's staff for the wedding, he and Meghan brought in their own florist and cake makers. Prince Harry apparently asked the Archbishop of Canterbury to marry them before consulting the Queen and the Dean of Windsor, which wasn't the correct way to do things."
Meghan allegedly demanded a tiara with emeralds for her wedding ceremony, even though that wasn't available. Following the incident, Prince Harry reportedly told staff, "What Meghan wants, Meghan gets."
The Queen was "so cross" about the alleged behavior that she called Prince Harry in for "a rare dressing down. Nicholl's source claims that the Queen was "dismayed by" Prince Harry's attitude, and their relationship was "damaged" by it.
Since then, tensions have escalated despite Queen Elizabeth doing everything she can to accommodate Prince Harry and Meghan Markle. The insider says that after Prince Harry dropped the bombshell, Queen Elizabeth was left to pick up the pieces.