Queen Latifah Revealed Her Favorite Country Songs on 'The Kelly Clarkson Show'
Daytime talk show host Kelly Clarkson welcomed hip-hop artist, jazz singer, and actor Queen Latifah to The Kelly Clarkson Show. During her interview via video chat, the entertainer opened up about her love for country music.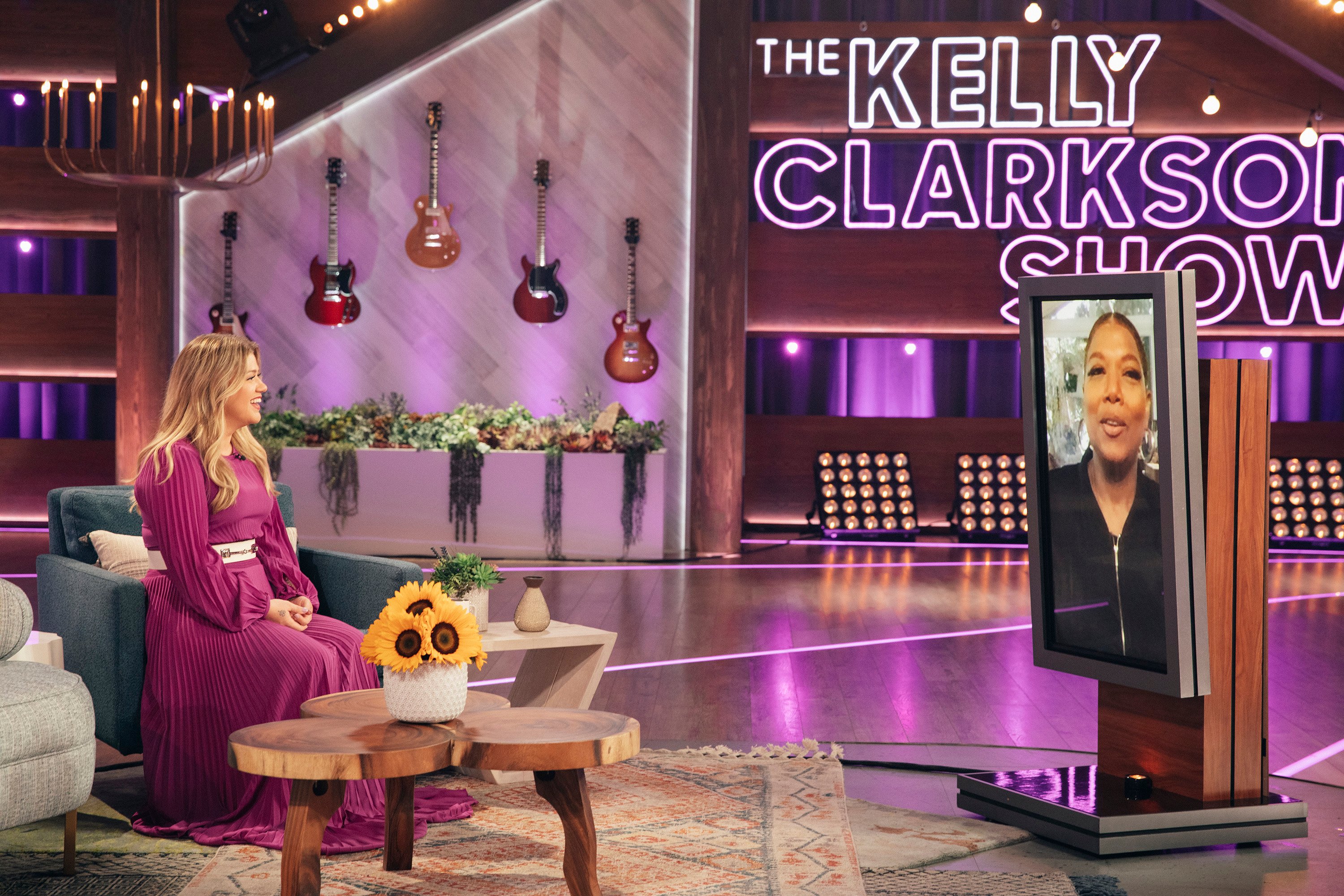 Kelly Clarkson gave Queen Latifah a warm welcome
Teeing up the interview, Clarkson gave Queen Latifah a royal introduction by listing some of the star's accomplishments. "She's the original fly girl and has been holding it down ever since her debut album, All Hail the Queen," touted Clarkson about her guest. "She went on to win Grammys, Emmys, Golden Globes, and she was nominated for an Oscar for her role as Mama in Chicago. Give it up for Queen Latifah, y'all!"
The music superstar revealed her love for country music
RELATED: Usher Really Put His Foot in His Mouth With Kelly Clarkson When He Said This
During their chat, Clarkson noted that Queen Latifah, who is known for both rap and jazz vocals, is a country music fan. Clarkson asked, "So, what song is like one of your favorites?"
Without missing a beat, Queen Latifah answered, "Devil Went Down to Georgia." The Charlie Daniels Band popularized the hit in 1979, and many acts have recorded covers. Queen Latifah shared her take on the song, saying, "Really, that was kind of a rap record, if you think about it. Like, it was like, that was like a country rap record. I was like, wait a minute. You know this is dope."
But Queen Latifah's country music appreciation reaches further than just one song. She said, "I heard something from Florida Georgia Line the other day. I don't know the name of the song, but I was like, the pocket of the song felt very hip hop. But the song was very country. You know what I mean? So, I was like, I liked their combination of it, you know?"
"I think country music is really leaning into so many other genres now. I think it's pulling from a little hip-hop. It's pulling from a little R&B, maybe. It's always got blues under it, too."
Queen Latifah planned to go to the Country Music Awards
RELATED: Neil Patrick Harris and David Burtka Danced to This Kelly Clarkson Song at Their Wedding
As a true country music fan, Queen Latifah explained that she had planned to attend a star-studded award show for the genre. "I actually was going to go to the Country Music Awards, the last one, because I really just, I love some of those," Queen Latifah beamed. "I just love some of those performances. And they're funny to me. I like watching usually when Blake [Shelton] and Luke [Bryan] just like snap on each other for an hour or two, just crack jokes on each other. I'm like, that's funny too."
Queen Latifah finished her country music spiel by giving props to two American Idol winners, including Clarkson. "I think, yeah, I like Carrie Underwood, and anything you do is just like, come on, girl."
Clarkson gushed, "Oh, you're so nice. You don't have to compliment me ever again. You have made my life. So, I love that you know me."
Follow Erika Delgado on Twitter.