'Queer Eye:' What is Jonathan Van Ness' Net Worth?
He's a lovable, bubbly, and outgoing member of the Fab Five from Netflix's Queer Eye. Self-proclaimed figure-skating enthusiast, Jonathan Van Ness, earns his money from a few other sources. Learn more about this grooming expert, his book, podcasts, and net worth here.
Jonathan Van Ness is the grooming expert on Netflix's original series, 'Queer Eye'
Jonatan Van Ness' positive energy is infectious. From his Instagram stories of making coffee to his tips and tricks shared on Netflix's Emmy-award winning original series, Queer Eye, this grooming expert made a name for himself by spreading a message of self-love.
The "Fab Five" of Netflix's series premiered four seasons. The streaming platform has a fifth season on the way, taking place in Philadelphia, set to premiere within the upcoming months. Most recently, the members took their message to Japan, for a mini-season entitled Queer Eye: We're In Japan.
Aside from being in the Fab Five, Van Ness shared his love for beauty by becoming Essie's first male ambassador. Later, he came out as non-binary. (Though Van Ness still prefers he/him pronouns.) Aside from Queer Eye, Jonathan Van Ness was the host of the Game of Thrones-related podcast, entitled "Gay of Thrones." He currently hosts the podcast, "Getting Curious with Jonathan Van Ness," which is available on platforms like Spotify.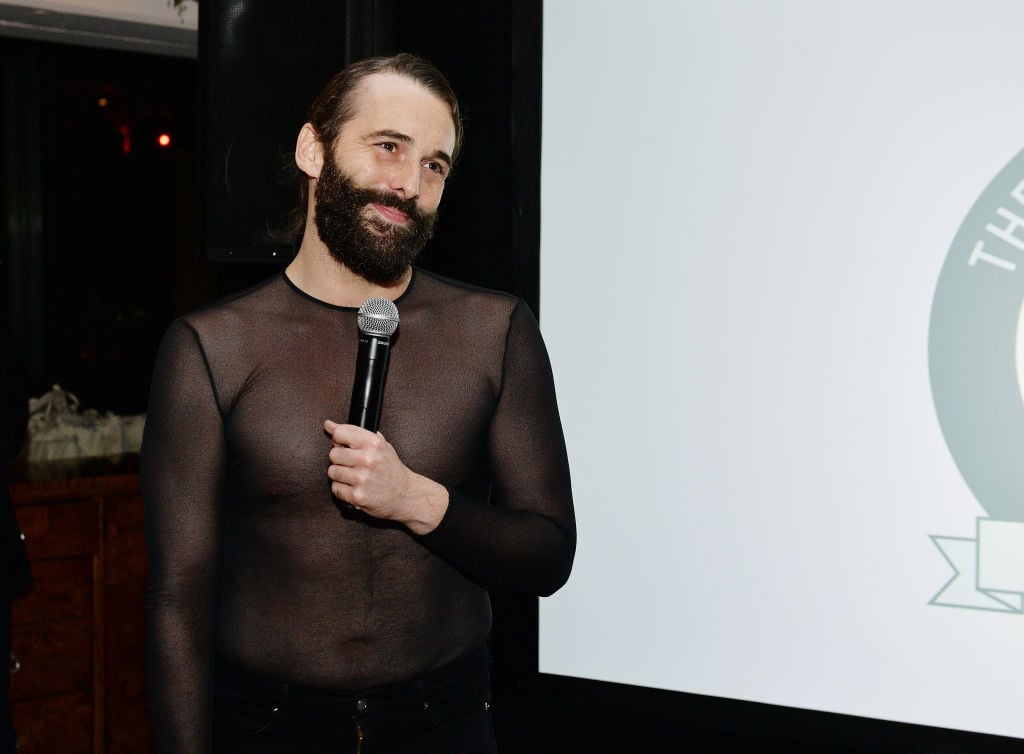 Jonathan Van Ness recently premiered his book 'Over the Top: A Raw Journey to Self-Love'
He's a star on Queer Eye and with his podcasts. However, Jonathan Van Ness shared more about himself in his autobiography, entitled Over the Top: A Raw Journey to Self-Love. There, Van Ness discussed his past drug addictions and shared that he is HIV-Positive. During an interview with NPR, Jonathan Van Ness discussed why he shared intimate details of his past in his book.
"Having Queer Eye become a success and giving me the platform it's given me, the desire for me to want to share about my experiences in those realms became stronger over time," Van Ness said. "There are so many young people that are struggling with what I struggled with… But I think the point of the book is that no matter how far off course you have gotten, no matter how… you feel, there is a way to get to a life that is fulfilling and sustainable and that you feel good about."
The 'Queer Eye' expert also did a national tour, promoting his book and showcasing his love for gymnastics
In conjunction with his run on Queer Eye and with the release of his book, the grooming expert went on an international tour, making stops in cities like New York, Boston, and Syndey, Australia. Thanks to the revenue generated from his podcasts, Queer Eye, his book, and tour, Celebrity Net Worth estimates Jonathan Van Ness has over $2 million.
Episodes of Queer Eye, including the recently-released season Queer Eye: We're in Japan, are available for streaming on Netflix. Jonathan Van Ness' book, Over the Top: A Raw Journey to Self-Love, is available for purchase at Amazon, Barnes & Noble, and most major bookstores.