Quentin Tarantino Pissed Off a Museum When Kurt Russell Broke a Guitar in 'The Hateful Eight'
An unfortunate mishap on the set of 'The Hateful Eight' had a museum angry at Quentin Tarantino.
Quentin Tarantino is no stranger to Hollywood controversies, whether they're tied to his films or inner circle. From Uma Thurman's Kill Bill accident to Once Upon a Time in Hollywood's Bruce Lee depiction, he's sometimes rubbed folks the wrong way. But perhaps one of the most intriguing tiffs Tarantino has ever been embroiled in involved The Hateful Eight and a guitar museum.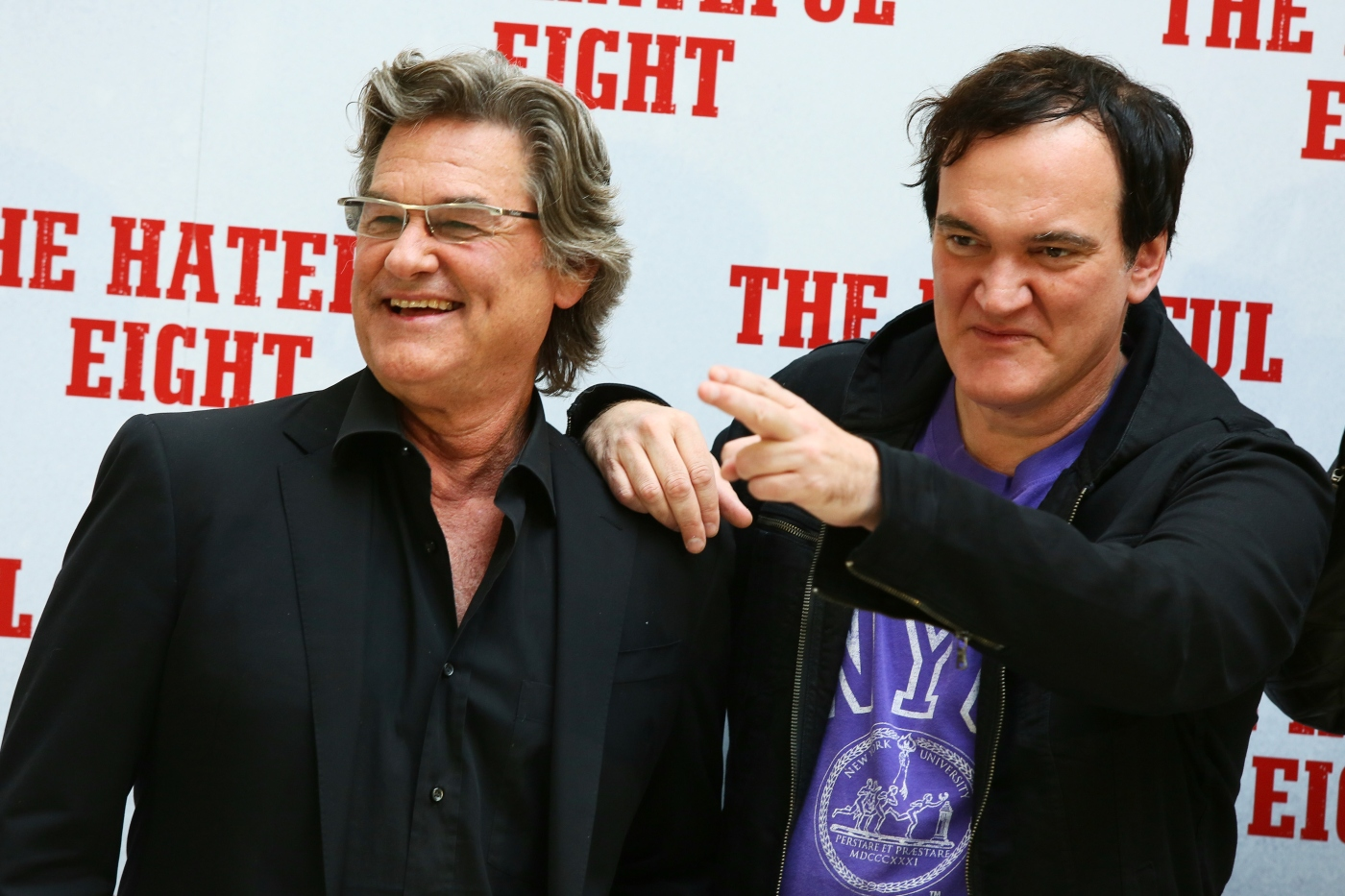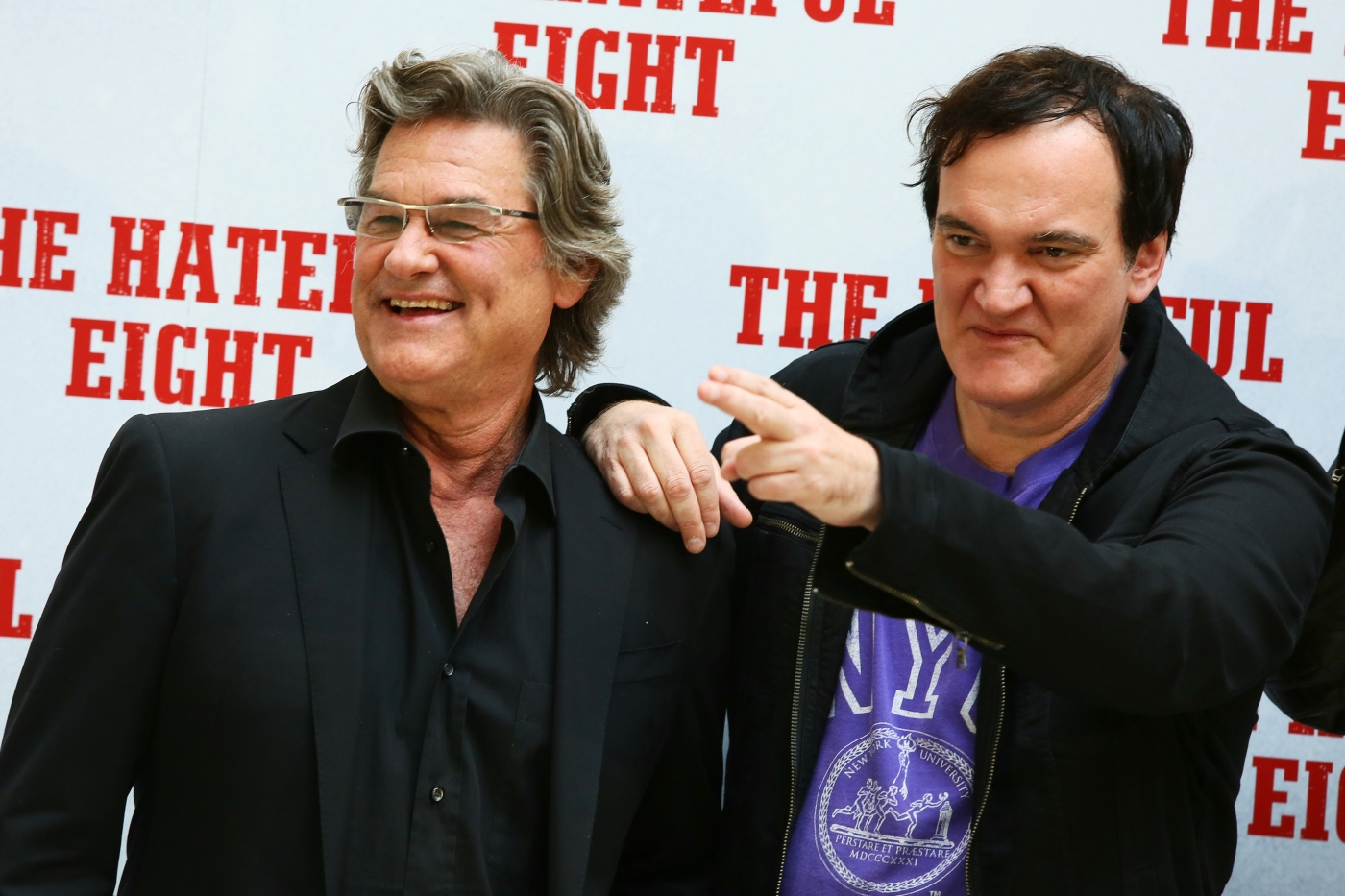 Kurt Russell destroyed a guitar in Quentin Tarantino's 'The Hateful Eight'
Tarantino's The Hateful Eight dropped in theaters in 2015 and featured Kurt Russell, Samuel L. Jackson, and Jennifer Jason Leigh. Set in the post-Civil War era during the late 1800s, it's a Wild West tale that brings eight undesirables together under one roof during a snowstorm. At one point in the film, Leigh's character Daisy picks up a guitar and starts strumming.
That was a big mistake. As John Ruth the bounty hunter, Russell didn't like his prisoner making music. He snatched the guitar from her and smashed it against a wood pillar. Leigh's shocked reaction was real because Russell demolished an antique guitar from 1870. It was borrowed from the C.F. Martin & Company's museum and worth $400,000.
And Tarantino watched it happen. Initially, the production crew was supposed to swap out the guitar for a prop replica. Mark Ulano, the film's sound engineer, told SSN Insider (via Business Insider) that Russell wasn't aware that he had the real one in his hands. "Well, somehow that didn't get communicated to Kurt, so when you see that happen on the frame, Jennifer's reaction is genuine."
The museum called out production for the damage
Museum staff had no idea how the incident occurred. They believed it was an accident, but then changed their tune. Dick Boak, the museum's director, issued a statement via Reverb in 2016.
"We were informed that it was an accident on set," he said. "We assumed that a scaffolding or something fell on it. We understand that things happen, but at the same time we can't take this lightly. All this about the guitar being smashed being written into the script and that somebody just didn't tell the actor, this is all new information to us. We didn't know anything about the script or Kurt Russell not being told that it was a priceless, irreplaceable artifact from the Martin Museum."
Unfortunately, they were only able to recoup $45,000 in an insurance payout, far less than the guitar's worth. They attempted to reconstruct the piece but found the damage to be irreparable. Martin's instituted a new policy and no longer lends out music artifacts.
"We want to make sure that people know that the incident was very distressing to us," Boak stated. "We can't believe that it happened. I don't think anything can really remedy this. We've been remunerated for the insurance value, but it's not about the money. It's about the preservation of American musical history and heritage."
Leigh and Russell were upset about the vintage guitar
During 2016 interview with Billboard, Leigh recalled the moment she watched Russell break the guitar. He did not realize it wasn't a fake. "Kurt thought it must be a dummy guitar. I don't think Quentin knew that it was the [vintage instrument] either," she said.
"Kurt felt terrible; he had no idea. When he found out, his eyes literally welled up. It ended up being great for the scene, but very sad for the guitar, and for my guitar teacher, and for me." Leigh added that she loved the antique. She practiced on it at home, and then Tarantino gave her a different vintage Martin guitar as a wrap gift.
Fans who re-watch The Hateful Eight may do so with empathy for the 140-year-old guitar when it's smashed to bits on screen. Stream the movie on Netflix or Amazon Prime.