R. Kelly Just Cited Aaliyah's Death As A Reason He's Not a Threat To His Alleged Victims In Prison Release Request
R. Kelly is trying everything he can to be released from prison as he awaits his upcoming sex abuse and trafficking trials. The disgraced singer has been pleading with a judge to let him out on bond – once claiming that other inmates were a threat, and another time citing the coronavirus pandemic as a threat to his health. Now, Kelly is trying to use his past relationship with Aaliyah to his advantage.
Kelly's team is now insisting that he is no threat to his alleged victims because he has no way of contacting them, including a deceased Aaliyah.
R. Kelly has been asking to be released from prison due to coronavirus outbreak
Kelly first asked for an early release regarding the coronavirus outbreak in late Mar. 2020. His legal team claimed social distancing was impossible while imprisoned and also cited a lack of hygiene products made available to inmates.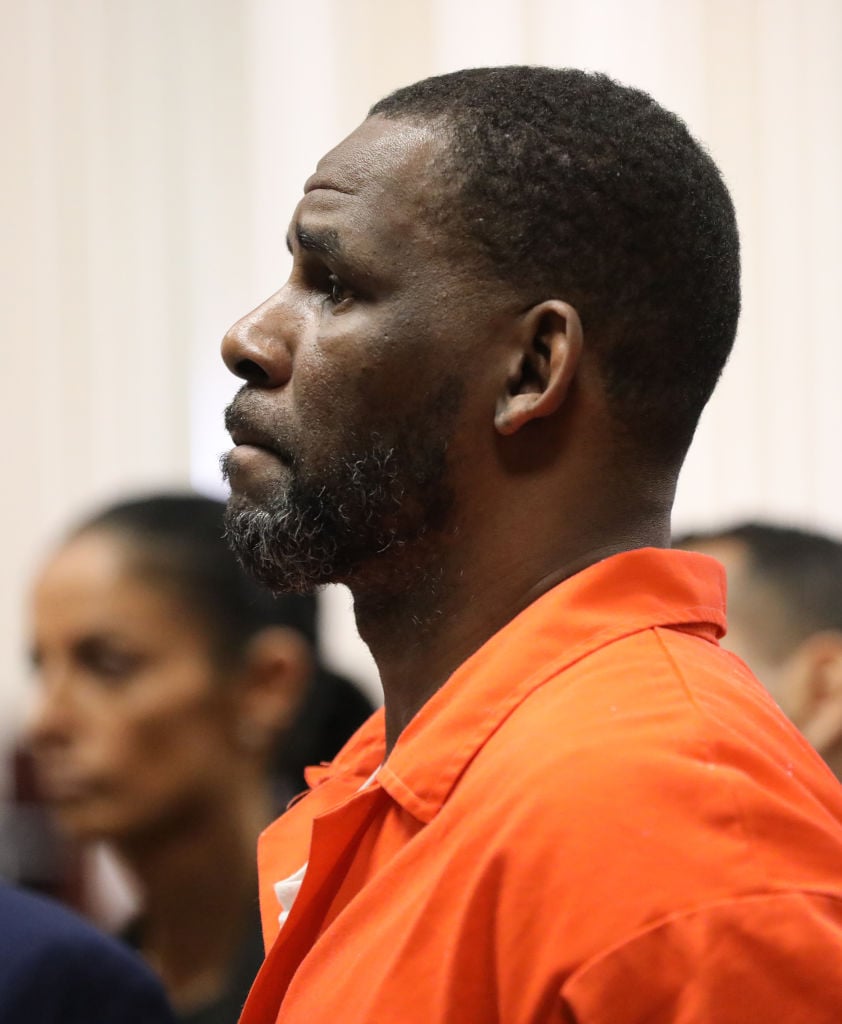 His team suggested electronic monitoring for Kelly while out on bond release but also mentioned that it wouldn't be necessary due to him traveling outside of his home was forbidden due to the coronavirus shutdown.
They also made it a point that communicating with Kelly about his cases was becoming a challenge as visitation had been shut down as a result of the outbreak. His legal team cited Kelly's inability to read and write well on his own as a barrier – and explained that their visits were used to keep him informed of updates.
The prosecuting team in R. Kelly's case claim he's a threat to his alleged victims and should not be released
A judge denied Kelly's initial request but filed another in Apr. 2020. This time, they claimed that at the time of their first request, there were no confirmed cases of coronavirus at the facility where Kelly was being held but that the situation had drastically changed and Kelly's facility now has a high outbreak of infection.
The prosecution shot back at Kelly's team and asked for a judge to deny his motion for early release. They claimed that Kelly was a flight risk and had the means to escape the country. But Kelly's team claimed that he was broke. According to the prosecution, Kelly was still being paid from music royalties, making over $200,000 in 2020 thus far.
This time, Kelly's team promised that he would agree to around the clock surveillance and GPS monitoring to ensure he stays put.
R. Kelly says he's no threat to any of his alleged victims – including Aaliyah because she's deceased
Kelly's team has shot back at the prosecution's claim that he's a threat to his victims if released early. According to new court documents filed on Kelly's behalf obtained by TMZ, there's no way he can harass any of his alleged victims because it's not possible for him to communicate with them. His legal team says out of the six alleged victims in his New York case, one of them is dead: Aaliyah.
As a reminder, Kelly married Aaliyah when he was 27 and she was 15 – but she presented a fake ID that listed her age as 18 to the court officiant. Aaliyah's family had the marriage annulled upon their discovery and moved the singer to a different production team. He reportedly paid Aaliyah's family $100,000 and she signed an NDA.
With Aaliyah no longer alive, Kelly's team says the idea that he could harm her is absurd. They also note that two of the six accusers' identities have been sealed and listed as "Jane Doe" so he has no idea who they are. As for another of the accusers, her photo has allegedly been shown to Kelly and he insists he does not know her.
Kelly's former live-in girlfriend, Azriel Clary, is also named in the suit. But, Kelly says she's turned on him since their split and has been publicly bashing him online. With Clary's newfound opposition of Kelly, his legal team says he no longer holds any influence over her as the prosecution feared in the past.
Kelly promises that he will be on his best behavior if granted an early release. A judge has yet to decide on his recent request.