R. Kelly Reportedly Placed on Suicide Watch Ahead of Next Scheduled Child Pornography Trial
R. Kelly is gearing up for another criminal trial. The "I Believe I Can Fly" singer was recently found guilty in New York of all charges against him and is currently awaiting sentencing. Now, Kelly is now facing serious charges in Chicago.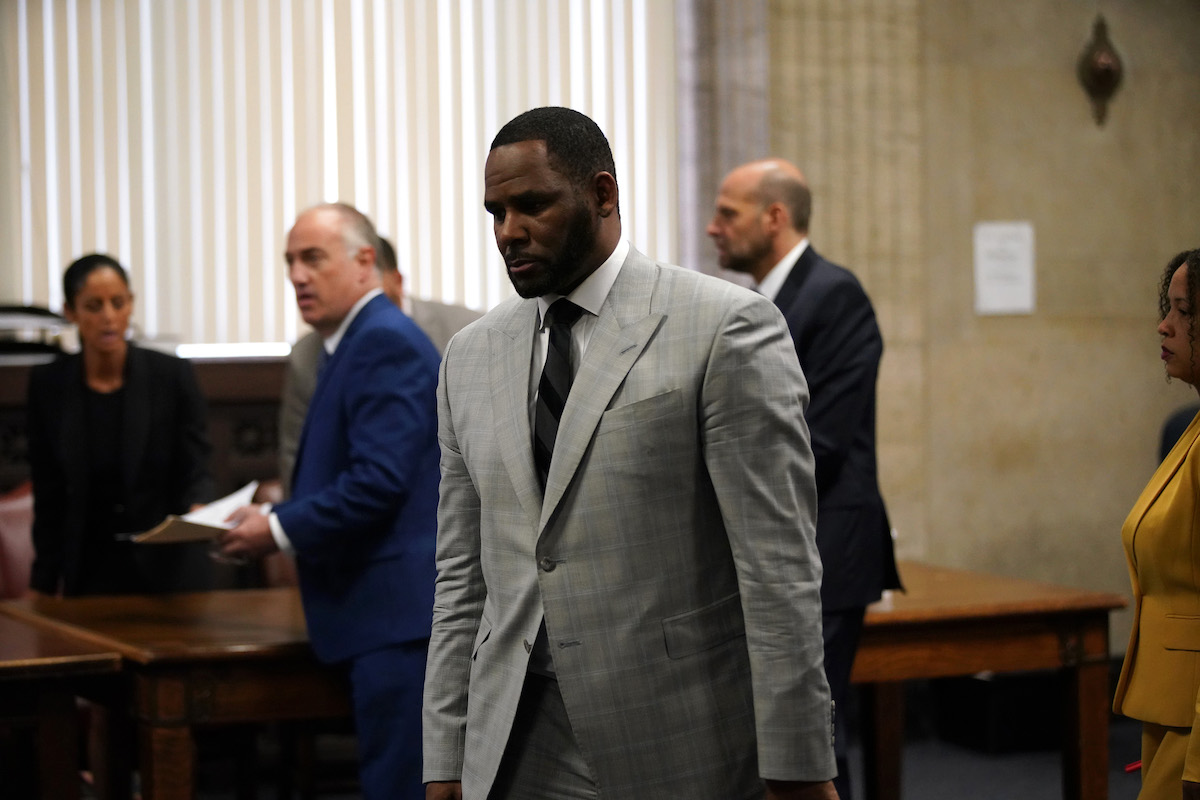 In the meantime, multiple media outlets report that Kelly was placed on suicide watch almost immediately after the verdict. Kelly maintains that he is innocent of the charges against him. He tried multiple times ahead of the New York trial to be released on supervised watch, but was denied by a judge. Kelly's opposing counsel believes he is a flight risk.
R. Kelly's monitoring has been lifted
Kelly did not make out as he hoped in his Brooklyn, New York criminal trial. The singer was found guilty of 12 separate illegal acts related to racketeering and sex trafficking. Kelly plead not guilty, but a jury believed otherwise. He was convicted of having sex with underage girls. Kelly's 1994 illegal marriage to Aaliyah was also a major focus of the case. 
Related: First Male Accuser in R. Kelly Trial Testifies – Says He Met Kelly at McDonald's as a Teen and Was Groomed
In the immediate aftermath of the verdict, Kelly was placed on suicide watch. The Chicago Tribune notes that one of Kelly's lawyers, Steve Greenberg, told a federal judge recently of the monitoring. Greenberg's admission comes three weeks after Kelly's guilty verdict. Kelly's sentencing in the case is scheduled for May 2022. He faces a minimum of 10 years in prison. The maximum sentence Kelly can get is life. His legal team has promised to appeal the verdict.
Greenberg said the U.S. Bureau of Prisons placed Kelly under suicide watch, adding that the monitoring has since been lifted. According to a source, placing a recently convicted prisoner under close watch is a typical procedure. It's unclear whether or not Kelly made it known that he wanted to harm himself or anyone else.
The singer is set to begin a new child pornography trial
Kelly faces similar charges in several other states, including his hometown of Illinois, Missouri, Florida, and Georgia. His next trial will begin in August in Chicago for child pornography. According to several accounts from accusers and those close to Kelly, he is notorious for filming all of his sexual acts.
The singer and two alleged co-conspirators, Derrel McDavid and Milton "June" Brown, are being tried in the Chicago child pornography case. Prosecutors expect the cast and last an estimated three to four weeks. Some of the accusers and witnesses from Kelly's New York case will be testifying again in the Chicago case. 
Related: Witness in R. Kelly Trial Says She Caught Him In a Sexual Act With Aaliyah When Aaliyah Was '13 or 14′
Ahead of the trial's start date, Greenberg says Kelly is looking to shake up his legal team. Leading up to the start of the New York trial, Greenberg stepped down. He reportedly was at odds with other attorneys on the case. 
This time around, Kelly will be working as the lead counsel. Kelly is a Chicago native and longtime resident. In 2008, Kelly was acquitted of a child pornography case. Prosecutors in the case believe the alleged victim and her parents refusing to testify contributed to Kelly's acquittal.