R. Kelly's Brother Bruce Has Likely Been Released From Jail After Burglary Sentence
Getting juicy stories from people behind bars has become something of a go-to strategy for documentary makers looking to pull in viewers. In Tiger King, audiences were enthralled with Joe Exotic's tale, much of which he told from a prison cell. Making a Murderer is another documentary that went viral and featured recordings from imprisoned individuals at the center of the tale. 
In 2019, the shocking and incredibly popular documentary Surviving R. Kelly put the singer's accusers front and center as they detailed their allegations against him.
During the filming, the creators spent time interviewing Kelly's brother Bruce Kelly to provide context and details about the musical artist and his life. Those interviews took place in a detention center, but now it seems like Bruce Kelly has likely been released. 
Bruce Kelly detailed childhood abuses against R. Kelly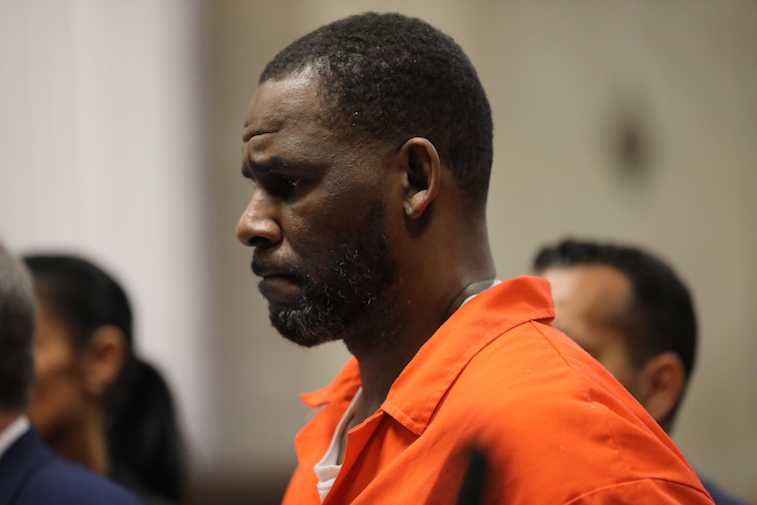 R. Kelly has been accused of multiple counts of child sexual abuse, kidnapping, and brainwashing.
The women in the documentary gave harrowing accounts of the abuses they suffered at Kelly's hands, and Kelly faced new charges largely thanks to the interest and details uncovered by the documentary. One thing that was also revealed, though, was Kelly's own history with abuse. 
When show creators sat down with R. Kelly's brother Bruce Kelly, Bruce revealed some details about his brother's upbringing that seemed to help contextualize the horrors on display in the rest of the film.
Bruce suggested that Kelly had been a victim of sexual abuse when he was just a child. A 60-year-old neighbor had assaulted R. Kelly when he was young. "We fought for our life to get out that house," Bruce explained. 
Bruce Kelly was in prison for burglary
Bruce Kelly first entered the Vandalia Correctional Center in July of 2017. According to Vibe, he was sentenced to two to four years for a burglary conviction. His rap sheet included many more offenses including a parole violation, driving without a license, and drug violations. 
Many people took issue with comments that Bruce made during the documentary that seemed to be in defense of his brother's treatment of much younger women and girls.
At one point, Bruce said, "Robert likes younger women. You have people who have fetishes about different things. I like older women. Go figure, you know. But that's just a preference. … Everyone has preferences… So what is the big deal? What's the big issue with my brother?"
Bruce Kelly has likely been released 
Bruce was initially slated to get released in December of 2019. While there hasn't been any public announcements about that event, it appears that it likely happened on time. The public records for the Cook County Jail System — where Bruce Kelly was held during the filming of the documentary — do not show his name in inmate searches. 
If — as is likely the case — Bruce has been released, it seems he is keeping a low profile. His Facebook page hasn't been active since 2018, and he has not appeared in any public way to announce his release or next steps.
Meanwhile, R. Kelly continues to face fallout from the documentary and the pending trial for his subsequent charges. The trial was originally set to happen soon, but according to Independent, it was postponed due to the pandemic. As of right now, it looks like he will stand for those charges sometime in the fall. 
In the meantime, we'll have to keep an eye out to see if Bruce shows up to further support his brother and if he'll manage to keep himself out of trouble now that he's a free man. The fact that he has managed to mostly fly under the radar so far is a good sign, but the drama for this family seems far from over.