R. Kelly's Former Live-In Girlfriend, Azriel Clary, Is Back Home With Her Family: Here's What Her Parents Said
One of R. Kelly's former live-in girlfriends and a member of his alleged cult has broken free. Azriel Clary, who once denied that she was with Kelly against her will, confirms that she suffered years of manipulation and abuse that began when she was a minor at just 17-years-old.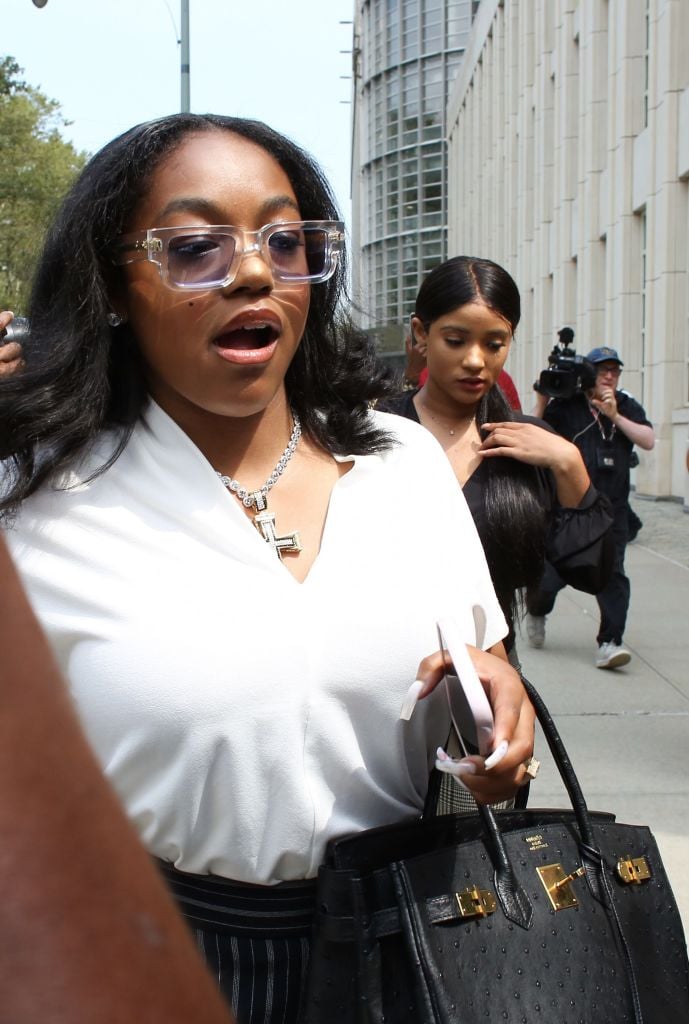 Millions of viewers watched as Azriel's family desperately tried to bring their daughter home on the Lifetime docuseries, Surviving R. Kelly. They claimed that Kelly separated her from her family and friends and denied her access or freedom outside of his control. 
The Clary's finally got their wish when Azriel decided to leave Kelly. 
Azriel Clary begins to separate herself from R. Kelly
Azriel initially met Kelly and was supposed to be working on music with the star as she was an aspiring singer. But according to the documentary, she was recruited for his alleged cult.
She stayed with the singer for five years and according to sources, decided to leave after she had the opprobrious to watch Surviving R. Kelly following him going to jail.
Though Azriel moved out of the home she once shared with Kelly and his other live-in girlfriend, Joycelyn Savage, she did not move back home to Florida. Her father, Angelo Clary, confirmed in the final part of Surviving R. Kelly II: The Reckoning, that Azriel reunited with her family, but that she was living independently and continuing to support Kelly during his trials. 
It's unclear where Azriel was living but she posted clips to her Instagram account story of a home she purchased, and in a clip posted later that day tagged Los Angeles in her location, leading many to believe she was living in the west coast. Azriel has been active on Instagram and Twitter since her escape from Kelly, sharing posts of regret for being involved with the singer and hinting that she'd tell her story sooner than later.
Azriel Clary and Joycelyn Savage fight following Azriel's confirmation of Kelly's abuse 
Shortly after Kelly went to prison, Azriel, who was once absent from social media, created accounts on Instagram, Snapchat and Twitter. She began updating fans on her life, which included creating music. She also hinted that she'd soon speak about her time with the singer.
The world watched as Azriel filmed a confrontation between her and Savage on her Instagram live. Things escalated after Azriel accused Savage of working with Kelly to begin a relationship with her when she was underage. Azriel says Savage then lunged at her and a fight broke out. Savage was arrested and charged with battery. She has a court date on January 23. 
Azriel admitted on the live stream that she and savage lied for Kelly during their infamous sit down with Gayle King last Spring, where she denied she was being held against her will or part of a sexual cult – and that it was her decision to not speak to her family. 
Azriel Clary's family confirms she's back home after five years 
Following the fight with Savage, Angelo took to his social media to caution that this was a serious situation and that his daughter was in the fight of her life after finally breaking free from five years of alleged abuse.
Azriel isn't letting the altercation hold her back. Clary's mother, Alice, spoke exclusively with PEOPLE and confirmed that Azriel is now back home. 
She says Azriel has been through such trauma but not everyone is fully capable of grasping all she's experienced.
"She was 17 when she left. Now she's 22, but guess what? She's had problems for the last few years. She may have done things as far as being grown physically as a young woman, but mentally no. She still has the mental capacity of a 17-year-old because he kept her stagnated for years and didn't let her be with her family. She didn't do the same things that other young girls do so she didn't learn any lessons," her mother continued. "All she learned was s— that was with him. This whole ordeal is twisted and unfortunately people and the media and everybody, they don't look at it that way."

PEOPLE
Despite the horror Azriel is alleged to have experienced, her family is grateful that she's home. 
"My daughter could either not be here because of the choices she made when she was 17 or I get to be able to fight and help her grow," she said. "The battle is won because she's still here, she's still alive, she's still breathing and though she lost a few years of her life, she's still here to tell her story."
Azriel confirmed that she's back home with an Instagram post, writing, "This is my face after having White Castles with my dad," with the hashtag #ByeChicago 
Kelly's camp denies all allegations against him. Let's continue to keep Azriel and all of Kelly's alleged victims in our thoughts as they work to rebuild their lives.