Rachael Ray's Delicious — and Festive — Dishes To Wow Your Fourth of July Guests
Rachael Ray has plenty of ideas for your 4th of July cookout, and they're not just for the grill. The TV chef has four delicious — and festive – party ideas that will wow the guests at your Independence Day celebration.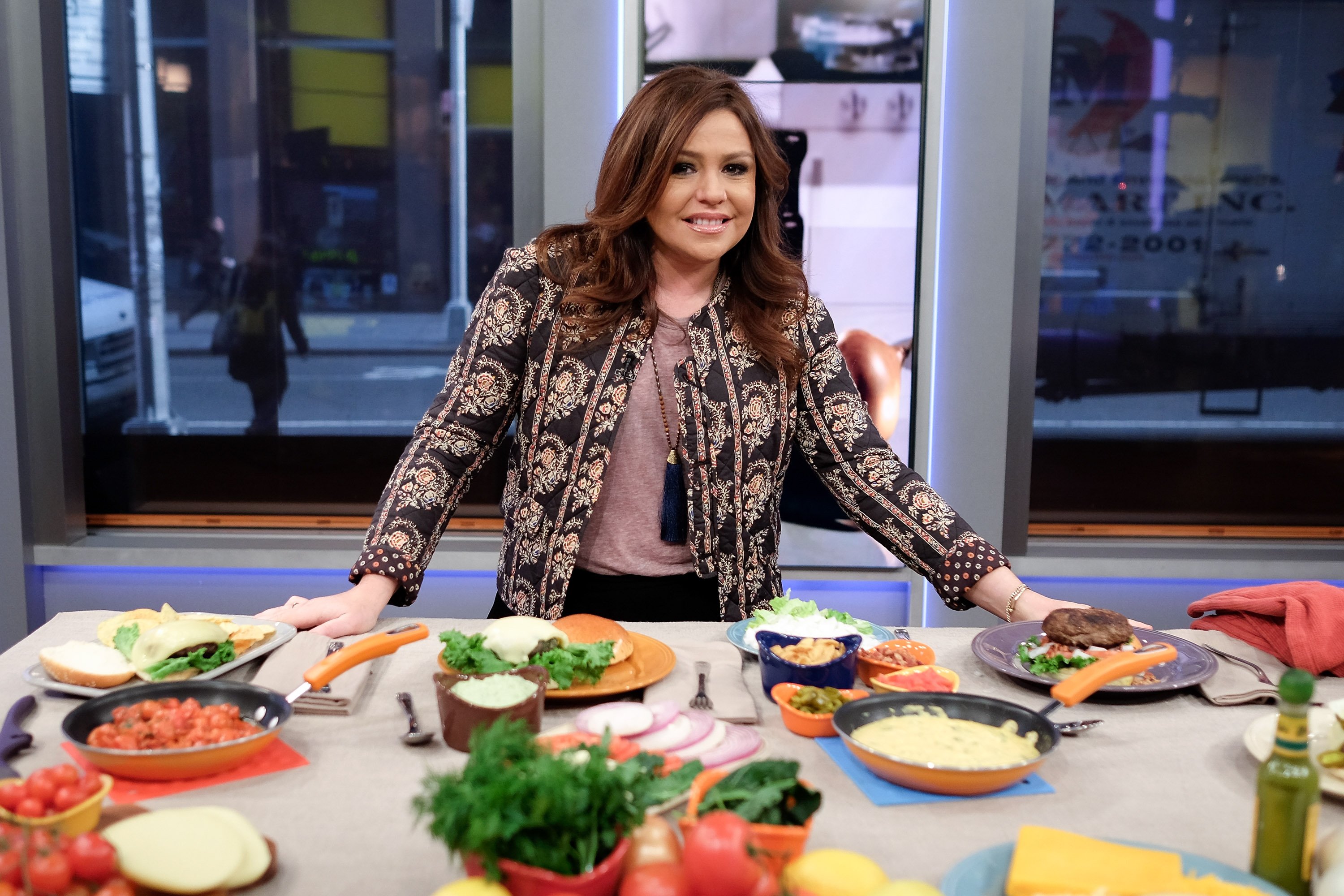 Rachael Ray says you can grill more than burgers on the 4th of July
Burgers and hot dogs are always on the grill during the 4th of July holiday. But Ray says don't forget the chicken. Her recipe for Spicy Honey-Glazed Chicken Breasts begins by making a honey glaze. The ingredients include olive oil, finely chopped onion and garlic, honey, hot pepper sauce, chili powder, and lemon juice.
Ray says to rub the chicken breasts with olive oil and season with salt before throwing them on the grill. After the breasts are properly cooked through, brush them with the honey glaze and top with grilled pineapple.
Grilled corn on the cob is a must
An essential side dish at your 4th of July grilling event is Grilled Corn with Parmesan. Ray recommends beating together a stick of softened butter, one-half cup of finely grated parmesan cheese, and a half-teaspoon of pepper until creamy. Soon the mixture onto a sheet of plastic wrap or waxed paper, then roll it into a log and freeze for at least 20 minutes.
Preheat your grill to medium-high and cut your corn cobs in half. Lightly brush them with olive oil and grill until tender and lightly charred, turning occasionally. Cut the chilled butter into small pieces and serve.
If you want to get festive with your grilled corn, try adding it and the chilled butter to a Country Strong Party Platter.
Rachael Ray has four delicious and festive party platters
Ray's "Country Strong Party" Platter features corn on the cob and potatoes as stripes of the American Flag. Simply arrange your corn cob halves to fit into the flag "stripes," alongside grilled potatoes. For the "stars" section, pipe softened butter on top of a striped blue plate and chill before serving.
RELATED: Rachael Ray's 9 Most Popular Burger Recipes of All Time
A second 4th of July party platter from Ray is the "Star Spangled Spread." You'll need a star-shaped cookie cutter to make the sandwiches for your "stars." For the red stripes, Ray recommends using prosciutto and soppressata. However, you can use any sausage or deli meat. The white stripes on the platter feature a spread of crackers and goat cheese.
Don't forget the dessert and drink platters
Ray's 4th of July party platters also include drinks and desserts. The "Grand New Flag" platter features rows of red, white, and sparkling wines to make the stars and stripes of the American Flag.
In the "Sweet Land of Liberty," Ray creates a festive s'mores dessert platter. Wrapped Hershey's kisses make up the platter flag's "stars." While the remaining s'mores ingredients — marshmallows and graham crackers — make up the "stripes."
Rachael Ray has a recipe for a red, white, and blue dessert
Keeping with the festive dessert theme, Ray's Berry Cakes with Cinnamon Whipped Cream will give your holiday spread a splash of red, white, and blue. The ingredient list includes softened butter, sugar, eggs, heavy cream, vanilla extract, salt, flour, mixed fresh berries, confectioners' sugar, and ground cinnamon.
RELATED: Rachael Ray's Tips to Fix Your Boring Burger Problem
You'll need a muffin pan, spatula, and eclectic mixer to make this yummy dessert. After mixing your batter, you'll spoon it into each muffin cup and top with berries and sugar. Bake until a toothpick inserted in the center comes out with only a few crumbs, which should be about 30 to 35 minutes. While the cakes cool in the pan, make the cinnamon whipped cream and then serve.
The Rachael Ray Show airs weekdays in syndication.