Rachael Ray Offers Fans Smart Grocery Shopping Advice Amid Coronavirus Pandemic
Rachael Ray is doing more than her part to help support people — and animals — during the coronavirus (COVID-19) global pandemic. Plenty of celebrities are happy to spout their opinions on social media, but the 51-year-old Food Network host is taking it to the next level by donating $4 million to split between people …
Rachael Ray is doing more than her part to help support people — and animals — during the coronavirus (COVID-19) global pandemic. Plenty of celebrities are happy to spout their opinions on social media, but the 51-year-old Food Network host is taking it to the next level by donating $4 million to split between people and animals.
"We felt it was important to help offset the decline in donations organizations have experienced, from a combination of the cancellation of fundraising events and reduced private donations," the animal welfare advocate announced on her website. And that's not all.
She's also sharing her best grocery shopping tips for fans to follow so they can stop feeling so much anxiety during their necessary errands. No wonder Ray's fans adore her so much!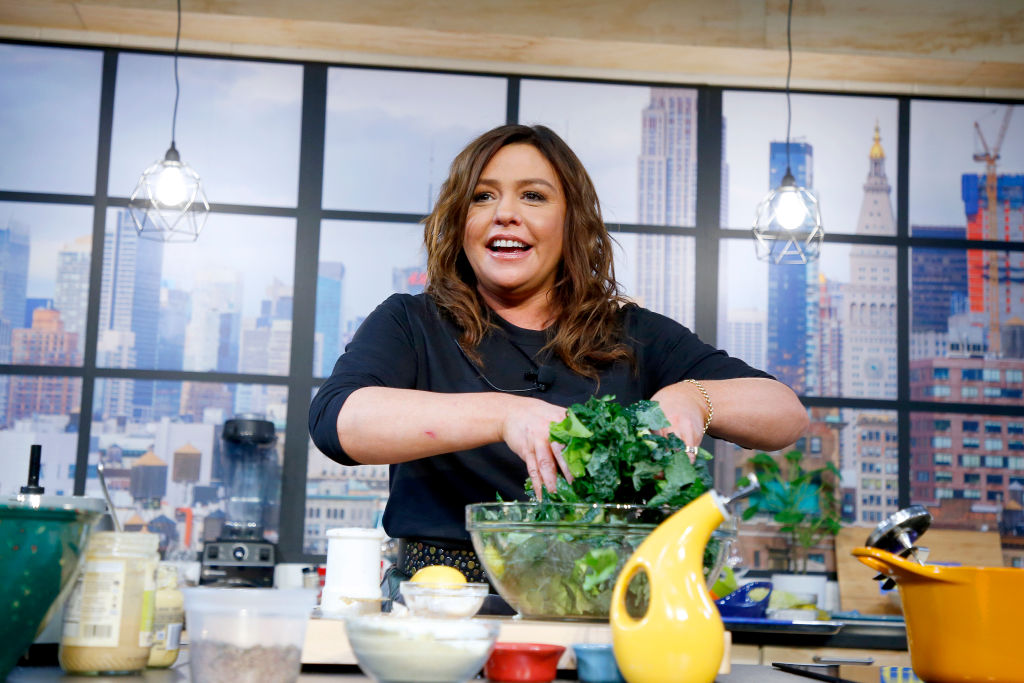 Rachael Ray revealed her grocery shopping tips on 'Entertainment Tonight'
During an interview with ET, Ray reassured fans that grocery shopping doesn't have to be frightening. "Grocery shopping is such a scary thing, it's giving so many people anxiety," she said. "You can make it less anxious. Ask the market that's the primary source which day of the week they get their main delivery, and plan accordingly."
Going to the store right after the stores stock their shelves means making fewer trips overall, which can cut down on those anxious feelings. It also reduces any chances for exposure.
The talk show host also revealed that she and her husband, musician John Cusimano, developed a smart system for processing their grocery haul and staying safe at the same time.
"Everything stays outside the house," Ray explained. "… It's a two party system. John will wipe it down, or I'll wipe it down and pass it off to him and then you bring it inside and put it away."
Next, Ray shared tips for making your produce last longer
The last thing Ray would want is to see good food go to waste. Her best advice? Preserving fresh vegetables in a way that will extend their shelf life beyond the typical. This ensures healthful, nutritious meals no matter what.
"Any fresh vegetable — it's so important when you're lucky enough to find them that you immediately clean them, prep them, and wash them so you're not throwing away produce," Ray advised. She also recommended blanching fresh veggies, which just means scalding them in boiling water or steaming them for a short time to prep for freezing.
This guarantees the taste and nutritional value remain intact after the produce is frozen. After blanching, vegetables can last in the freezer for months and months, Ray explains.
Rachael Ray instructed fans to 'Keep Calm and Cook On'
Like many other Food Network personalities, Ray has been sharing some of her simple recipes that are perfect for overstressed people stuck at home. She wrote on Twitter that it's "time to focus on who + what we love to cook" and to "cook with a little more love, lean a little more heavily on your pantry…"
She also recommends supporting local businesses by ordering takeout whenever possible.
But mostly, Ray is inspiring fans to have perspective and focus on what they have rather than what they lack. Even during a difficult time, she's providing a lot of hope through donations and positive messaging.