Rachael Ray Said This Rumor About Her 'Broke My Heart'
Television personality Rachael Ray recently released her latest cookbook, which hit the stands on October 15. Her newest publication showcases Ray's user-friendly recipes and her down-to-earth style that fans have come to love.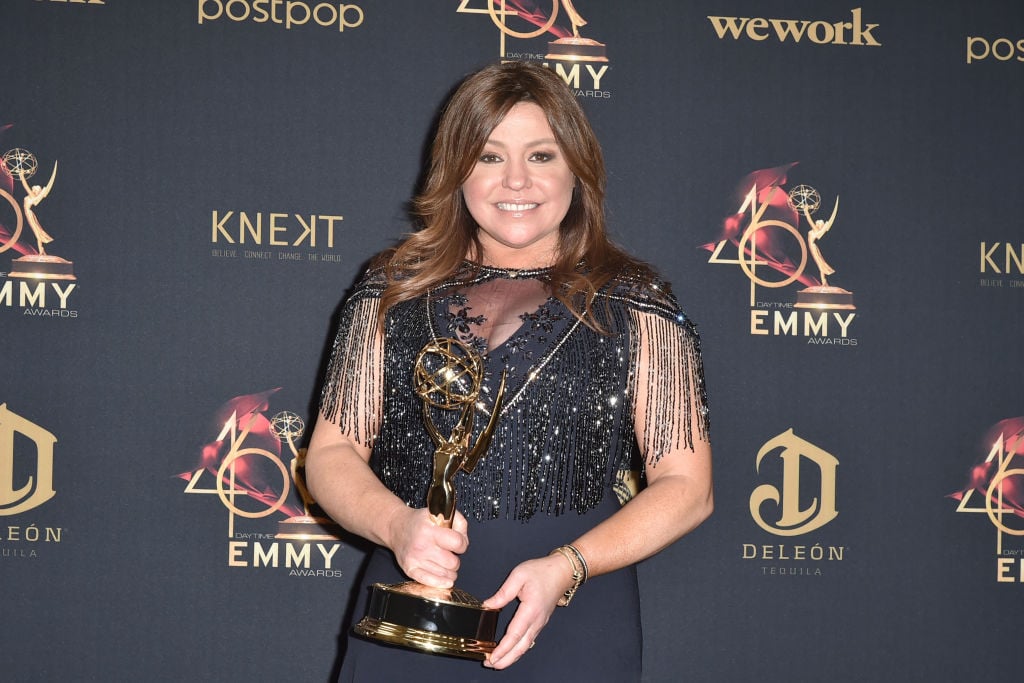 Despite Ray's tremendous success, she has been the subject of criticism and fictitious gossip over the years. While she usually is able to move past any negativity, she revealed that one false rumor truly shook her.
Paying her dues
In her new book "Rachael Ray 50: Memories and Meals from a Sweet and Savory Life – A Cookbook," Ray speaks of the strong influence her family had on her, where she was surrounded by a love for food and cooking beginning in childhood. "I grew up in industrial kitchens. My mom was one of ten kids. Our family was always in the kitchen," she said,  according to CBS News.
Regardless of now owning an empire, Ray still considers herself "a waitress in my heart and a cook in my soul." The culinary mogul feels that hard work done in service jobs teaches life-changing values. "I think that everybody should have to be a dishwasher. I think that everybody should learn how to take an order and serve people, you know?" Ray said. "It's very humbling, and I think it's the luckiest thing that ever happened to me that I was born into that industry."
Partnership with Oprah
Ray's syndicated talk show Rachael Ray is produced by Oprah Winfrey's production company, Harpo. When Winfrey first had the aspiring TV personality on her own iconic talk show, she could immediately tell Ray was a rising star. "On May 9, 2005, I invited Rachael on my show for the very first time—and even then, I knew it," Winfrey shared on the 2,000th episode of Rachael Ray in 2017. "She was the real deal. 2,000 episodes on her show later, turns out, I was right."
The talk show legend pinpointed Ray's appeal. "You have a great personality, that's why you're such a hit, people like you," Winfrey told Ray when she came The Oprah Winfrey Show in 2005, according to E! News.
Ray responded in her trademark humble manner. "I think it's because I'm not a pro, they see me chop an onion wrong and I make a big mess," she suggested as the reason for her popularity. Ray strives for authenticity and accessibility, making her more relatable to her audience. "It's the can-do aspect—the fact that we show you messes and successes," Ray told Forbes in 2010. "My food never looked too perfect. We never went anywhere too pricey. The whole idea is that any meal I touch or any place I go, a person can envision themselves not only being a part of it but succeeding at it—and maybe even doing a better job than I do."
E! News reports that Ray credits Winfrey with steering her in the right direction. "From the day I met [Oprah], her advice has been exactly the same. Be yourself," she said.
A troubling rumor
Ray has had her share of naysayers over the years but does not expend much energy focusing on her detractors. "What am I going to do? Call them up and scream, 'You have to like me'? It's like trying to get the class bully to be your buddy—a waste of time," Ray told Good Housekeeping.
In 2007, some gossip surfaced that Ray couldn't ignore. A TMZ report circulated that there was rift in the relationship between Ray and Winfrey, alleging that Ray had been badmouthing Oprah at a Los Angeles restaurant. The rumor even prompted Winfrey's BFF Gayle King to come on Ray's show to testify that the story was a falsehood.
"I read something that you two were fighting. I know that's not true," King said on the show. Ray revealed that she and Oprah "had written each other sweet notes, it was her birthday and I sent her Snack of the Day, and she sent me a note," on the day the story broke.
While Ray is usually successful at brushing off idle gossip, this particular work of fiction truly troubled her. "The one with Oprah just broke my heart. It really did," she admitted, according to E! News. "It killed me, I'm like, 'No! We like each other!'"
Ray was able to squash the gossip and the rumor mill went on to churn out stories on other celebs. She and Winfrey maintain a solid relationship, and the culinary queen continues to practice an edict she learned as a child from the Disney classic Bambi. "You know Thumper's mom said, 'If you don't have anything nice to say, don't say anything at all.'"