Rachael Ray's Tips to Fix Your Boring Burger Problem
Rachael Ray is the undisputed queen of burgers. Not only did she devote an entire book to the subject, the TV chef hosts a Burger Bash twice each year. If you've found yourself stuck in a burger rut, Ray can help. Here are her eight tips to help you fix your boring burger problem.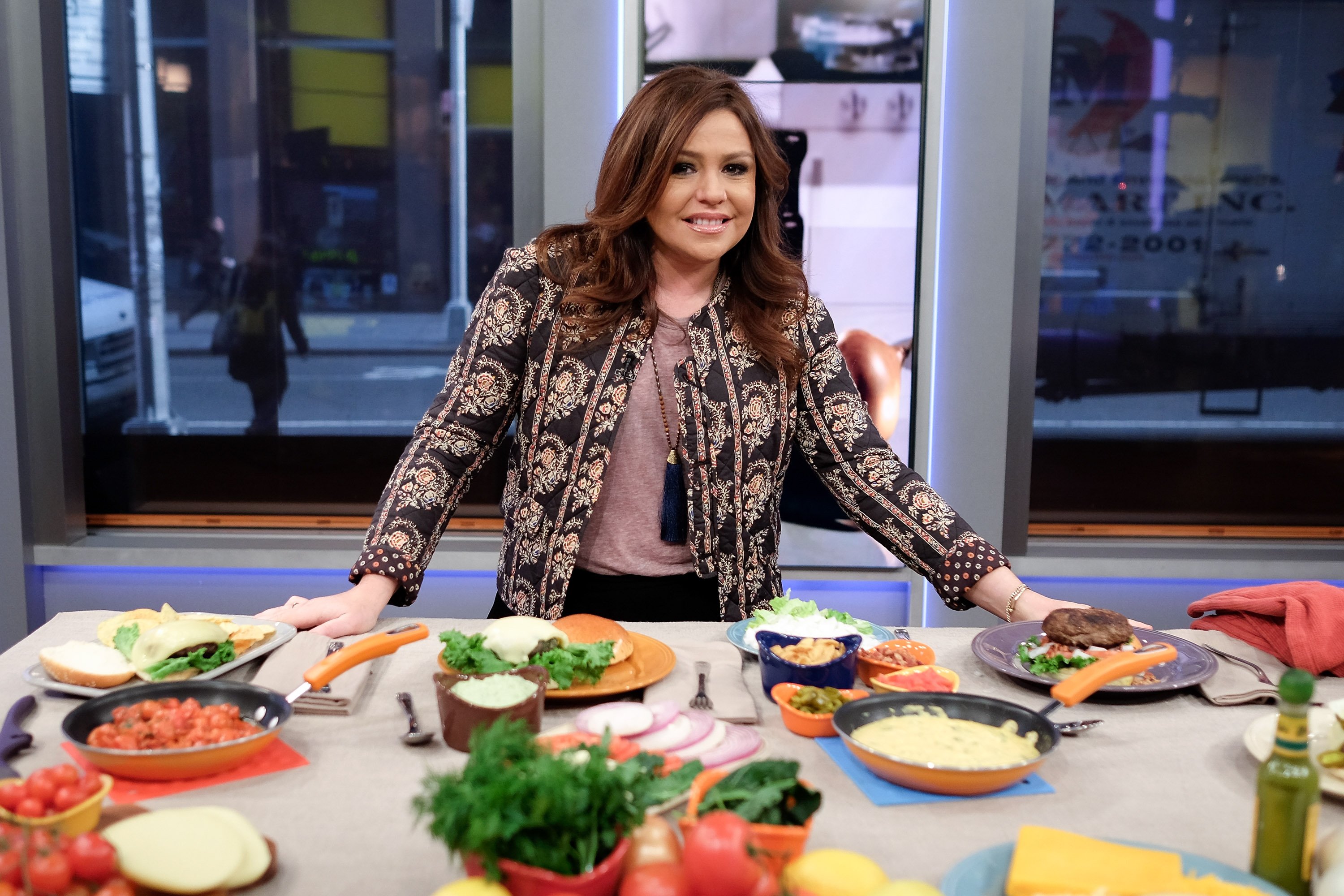 8. Rachael Ray says stop being predictable
Ray is a big believer in making burgers out of anything, not just meat. She's made salmon burgers, swordfish burgers, shrimp patties on a bun, and grilled portobellos.
"It's a fun way to express yourself — the reason I started the Burger Bash years ago was that I wanted all the world's greatest chefs to put their creativity between a bun," Ray told The New York Post. "We've had knish burgers and meat-free burgers. When you put something on a bun it becomes friendly and accessible."
7. You don't need a grill
Ray says that her husband — Cringe frontman John Cusimano — "throws burgers on the grill all summer long." Like most guys, he loves to cook with fire. But Ray prefers a "good ol' cast iron skillet, a plancha — a flat, screaming-hot surface."
The host of The Rachael Ray Show explains that she gets a butter crust and a better experience from cooking burgers in a skillet. Ray notes that the "sugars caramelize immediately, and it's not so smoky that you can't taste the meat."
"I never pour oil in the pan," Ray explained. "I just rub it with a little bit of vegetable oil or a light olive oil. And then I put the burgers in when the pan is screaming hot. Don't mess with the burger until it's ready to be flipped. It needs that crust."
6. It's all about the shape
Ray says that the number one thing for her when making burgers is how to shape the patty. Before you begin, she advises to "put all of the mean in an even mound and mark it like a pizza pie." This helps you end up with burgers that are uniform in shape and size.
She also says to make your patties a little thinner at the center and thicker at the edges. There's two reasons for this – even cooking and ending up with a flat burger.
"Burgers will plump as you cook them," she says. "Most people end up with flying saucers that are burnt on the edges and still raw in the middle, especially if they're grilling. This fixes all that."
5. Rachael Ray is a 'firm believer in making your own sauce'
When it comes to burgers, Ray says that sauce matters. She's a firm believer that "a burger needs some juice." Her favorite burger sauce is made by combining sour cream, ketchup, Wickles pickle relish, Worcestershire sauce, celery seed, salt, pepper, and grated onion.
"That's my special sauce. I use it religiously on burgers," she says.
4. It should be a 'hot mess'
Ray loves that burgers are accessible and put everyone at ease. She says that a burger screams "lighten up. Stop taking yourself so seriously. Have fun, get messy." The TV chef believes that burgers should be a "hot mess."
"You should not have a clean face and clean wrists when you're done eating a great burger. You should be getting in there and making a mess of it. It's part of the fun, man! You don't need a knife and a fork," Ray says.
3. Go easy with the butter
Proper butter distribution is "extremely important," according to Ray. She says that you can use mayo or butter, like with grilled cheese. But don't throw it into the pan and let one side of your bread get "greasy, soggy, and gross" and the other side stay too dry.
Instead, she advises spreading a very thin layer of soft butter — or a paper-thin layer of mayo — on one side of the bread before putting it in the pan.
RELATED: Is Rachael Ray a Member of the 'I Hate Mayonaisse Club'?
"So I make the patties, I clean the griddle, keep the patties to the side and then I build the melts with the butter- or mayo-side out [so that they touch the pan]. Use moderate heat, so the bread gets really toasted well, with a good crunch and crust."
2. Get creative with cheese
American cheese slices are yummy when melted on a juicy cheeseburger. But, Ray says not to be a "cheese hater." She pointed out that there are "a million great cheeses out there." Don't be afraid to try smoked Gouda, or havarti with dill.
"The cheese is a layer of flavor, man. Get in there, play around with it, have some fun! It can't always be the same burger — that's burger boredom. I do pimento burgers, I do macaroni and cheese on a burger. Get really creative."
1. Rachael Ray says to stop manhandling the meat
Ray's last tip for fixing your boring burger problem is to stop manhandling your meat patties. She says you should never ever overwork the meat. Not with your hands or a mallet. The ground meat is fine "straight up," she says. Even with the burger patties where she adds stuff in, Ray says she mixes as little as possible.
The Rachael Ray Show airs weekdays in syndication.