Rachel Brosnahan Defends Midge's Lack of Parenting on 'Marvelous Mrs. Maisel'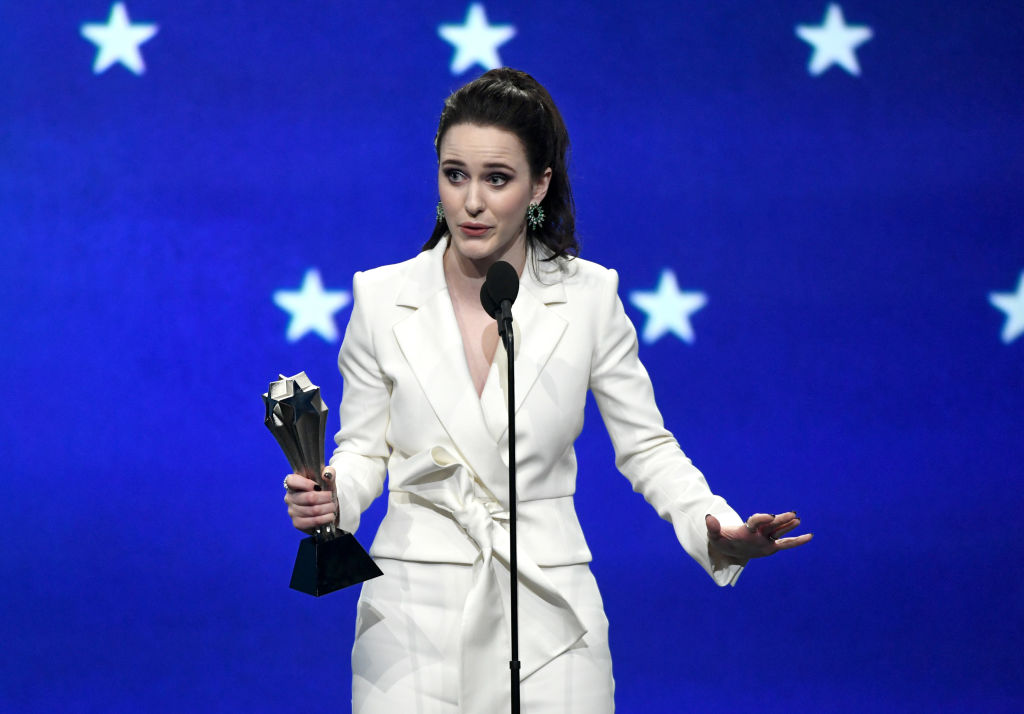 Fans of The Marvelous Mrs. Maisel are beyond smitten with Rachel Brosnahan's character, Midge, but some have found fault with the lack of interaction the ambitious comedian has with her children. Midge is often seen hustling to work or to a club, leaving her kids in her ex-husband's or parents' care and rarely is seen spending quality time with them.
Fans disputed Midge's lack of parenting
While articles have been written about how Midge doesn't seem that involved with her children, one viewer of the show took to Twitter to share her opinion.
The Twitter user explained: "Entertaining show. However, I am in the middle of season 2 and I am wondering what the point was in the writers deciding Midge should have two kids."
She added: "You saw them for 2 seconds when they arrived at the Catskills and that's it. They're an afterthought. She has no interest in being a parent so why have her be one? It makes her less likeable. Would have been more interesting to have them later."
Alex Borstein responded to the criticism
Alex Borstein, who plays Midge's manager Susie on The Marvelous Mrs. Maisel, tweeted her thoughts on the matter in response to the critical tweet.
Borstein tweeted: "Being likeable is for tweets. Women are complex creatures. We got a lot to do in a short amount of time on Earth."
Mrs. Maisel star Rachel Brosnahan weighed in
Brosnahan, who plays Midge, took to Twitter as well to share her perspective.
One Twitter user responded to the original criticisms by noting: "I agree and I GET what the show/writer's/etc. are trying to convey BUT it doesn't change the fact that as a viewer we can't sit and say to the tv 'love her, but she's a terrible mom!!'"
Brosnahan responded: "Absolutely. I'm not sure I would go as far as terrible, however she's certainly not winning 'parent of the year.' But it also doesn't change the fact that this was not one of the primary criticisms of Don Draper or Walter White who were similarly, single-mindedly ambitious."
The discussion waged on
Another Twitter user offered one possibility, tweeting: "Also, Midge might be spending time with their children 'off camera,' and we simply are not there to witness it. Because that would be mortally boring."
Brosnahan agreed, tweeting in response: "She definitely is. But her life as a mother is not the primary focus of our story."
In another tweet Brosnahan noted, "Midge isn't evil but she's sometimes blinded by her own privilege and can be self involved when it comes to pursuit of her new dream."
Brosnahan called Midge "deeply imperfect"
In a series of tweets, Brosnahan shared some more perspective on her character's relationship with her children, explaining, "Yes, sometimes they are afterthoughts. And Midge is a privileged primary caregiver whose children have 4 grandparents, a father who wants to be a part of their lives, a maid, neighbors and countless other places to turn for childcare."
Brosnahan continued: "She's a woman who achieved every dream she ever had and then it all falls apart. And then she gets a new dream, and it's completely at odds with her former life. This tension is something she frequently addresses in her sets and I expect she will continue to as it becomes more complicated. She's deeply imperfect on this journey."
The actress is happy with the portrayal, sharing: "Personally, I love that it's messy and not a character or journey I've seen before."