Rachel Lindsay Says She Does Not 'F**k With Garrett' Despite Being Friends With Becca Kufrin
After Garrett Yrigoyen published an Instagram post in support of law enforcement amid the Black Lives Matter protests, Becca Kufrin told Rachel Lindsay she does not know where her relationship stands with him. On the Bachelor Happy Hour podcast, Lindsay told Kufrin that she while she will be there for her as a friend, she does not "f**k with Garrett."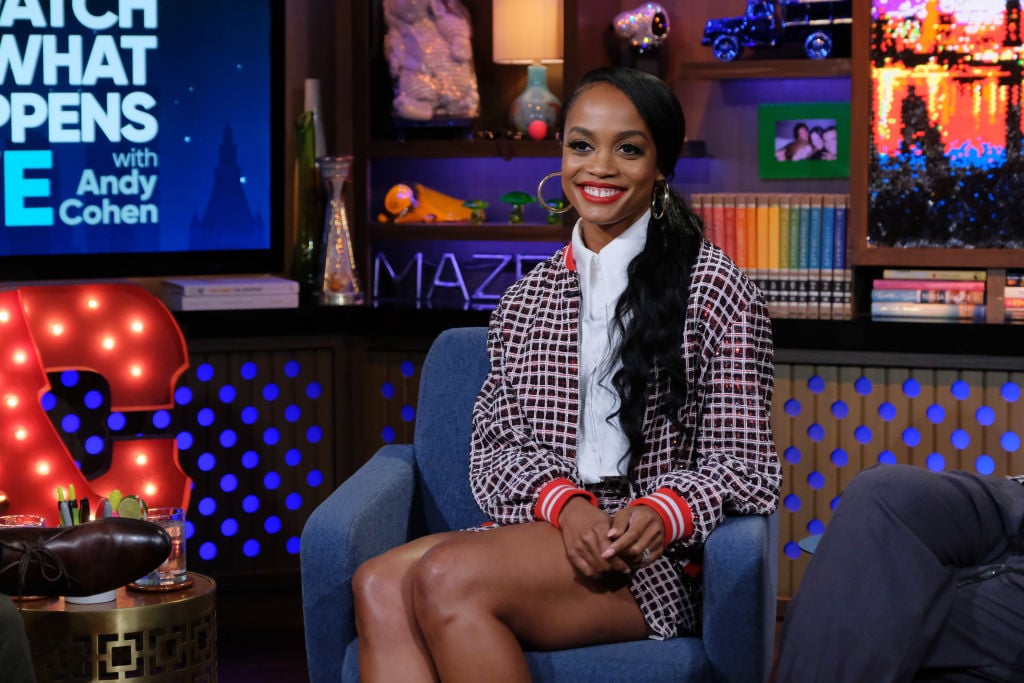 Garrett Yrigoyen caused controversy with his Instagram post
On June 4, Yrigoyen offended some fans when he voiced his support for law enforcement in an Instagram post.
"I've been pretty tore up the past week about everything going on. I've listened, learned, helped, supported, and grown. With so many friends and family in law enforcement I couldn't sit back and not support them and the hundreds of thousands of men and women of all races that represent this Thin Blue Line as well," Yrigoyen wrote.
He continued, "There have been over 300 injured, shot, or killed in just one week. They are suffering the consequences over an act they didn't commit. They continue to put in overtime away from their families, stay silent while being threatened, hated, and assaulted… Remember when they put on the badge they're still humans, with raw emotion, the more brutality they face the more on edge they become, they make mistakes, they have compassion, and no matter how terrible they are treated or whatever negative is said to them, they still show up for us when we need them!"
RELATED: Garrett Yrigoyen Jokes That He Talked to Mother Teresa After Becca Kufrin Hints Their Relationship Is Rocky
Becca Kufrin is unsure about their relationship going forward
In a Bachelor Happy Hour episode on June 9, Kufrin defended her fiancé but told Lindsay she did not share his views. On June 16, the two held another podcast episode and Kufrin admitted she did not know where things stood with Yrigoyen.
"I want to say to our listeners out there — because I'm sure many will hear this back and wonder and ask and have opinions — for those who are curious about my relationship with Garrett at this point, all I can say right now is I don't know," she said. "I can't give anything more than that. It's something that we are trying to work through and discuss and do work on at home at this time and that's where the work will remain and that's really the best can give you at this point."
Kufrin also offered an apology to Lindsay for not being proactive enough when it comes to diversity in the Bachelor franchise and the Black Lives Matter movement.
"But I wanted to share this — I know I've been rambling for a bit — but to give a little bit more context and to give you, Rachel, my apology and to really throw my voice and hat in the ring to say things need to change within the franchise and within myself as well," Kufrin told Lindsay.
Rachel Lindsay is here for Becca Kufrin
On Bachelor Happy Hour, Lindsay thanked Kufrin for her apology and promised to be there for her. However, Lindsay was adamant she would not do the same for Yrigoyen.
"What I really wanted this to be is an example of two friends who maybe have different perspectives, maybe have different backgrounds, upbringings, maybe didn't see things in the same way. But the fact is, is that when you have someone who's willing to learn, then as a friend who's willing to learn, how as a friend can I not be willing to help out and be there for you?" Lindsay told Kufrin. "Now Garrett, that's a different situation. I don't f**k with Garrett. I don't need to. But you and I have a different relationship and so I appreciate everything that you just said."