Rachel Lindsay Shares Whether She Thinks 'The Bachelor' Franchise Is Reverting Back to Its Old, Troubling Ways
The Bachelor has been a cultural force for two decades now. Its continued success is a testament to the power of reality TV. The series has brought fans plenty of captivating drama over the years, and its multiple spinoff shows have made it a far-reaching touchstone for the genre.
The Bachelor hasn't lacked controversy, of course. The franchise's troubling issues with race have been called out many times. After some serious efforts to diversify both the cast and production crew, is Bachelor Nation still making problematic choices? Season 13 bachelorette Rachel Lindsay recently weighed in.
'The Bachelor' franchise has faced serious controversies
A major draw of The Bachelor and series like it is that you get a glimpse into the personal lives of the real people who participate in the contest. Unfortunately, these looks can come with disturbing histories. Contestant Rachel Kirkconnell found herself in hot water when a picture surfaced from 2017.
The photograph showed her at an "antebellum party" while she attended Georgia College. Many found her apology for the incident to be lackluster at best. Kirkconnell's disturbing past was made all the more pertinent by the fact that she was competing for The Bachelor's first Black male lead throughout Season 25.
The controversy grew more intense when the show's longtime host Chris Harrison made excuses for Kirkconnell and derided those who were "tearing her apart" on social media. Harrison ended up having to apologize. He eventually stepped down after hosting The Bachelor and The Bachelorette for nearly 20 years. 
Rachel Lindsay was the first Black female lead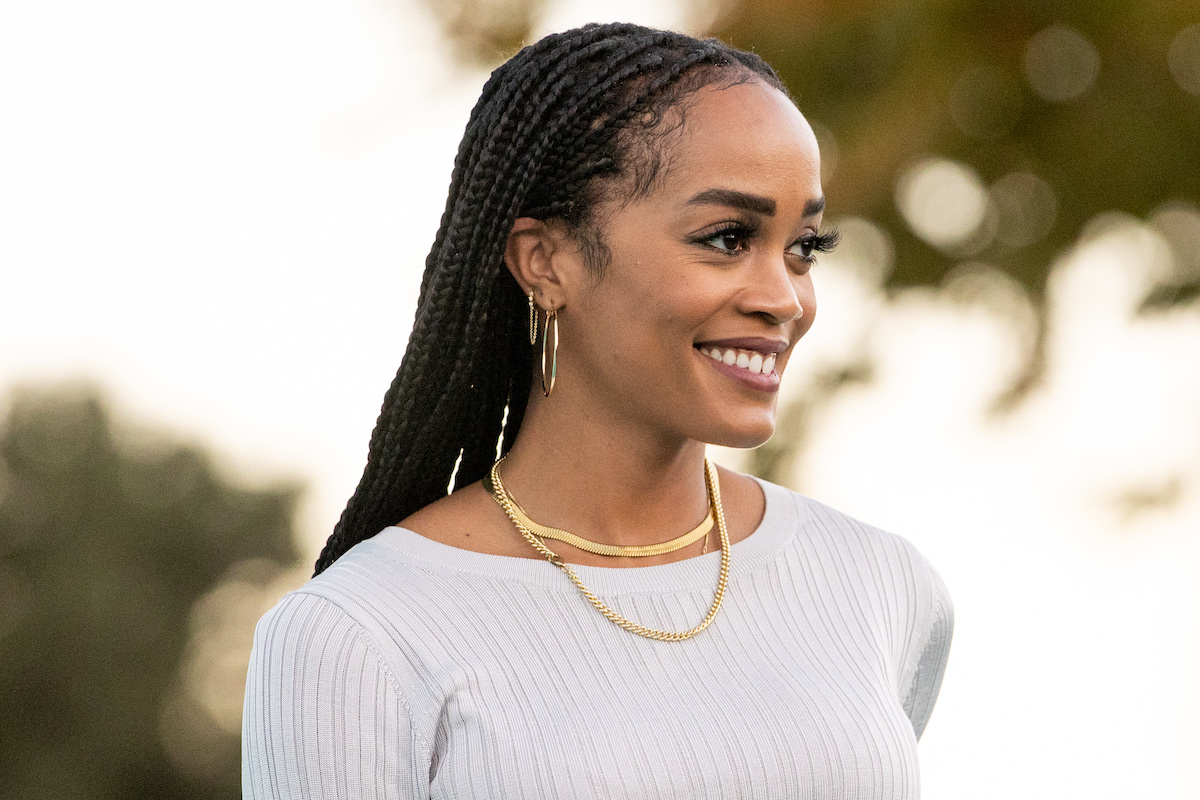 Following the controversies, the show took some sincere efforts to increase racial diversity both in front of and behind the camera. Rachel Lindsay, who was the first Black lead of The Bachelorette, happened to be the one who asked Harrison about his thoughts on the Kirkconnell controversy.
The Extra correspondent started a bigger conversation about the show's deeper racial inequities and spoke out about feeling like a "token" during her time on The Bachelorette. Shortly after, she stepped down as co-host for a podcast related to the franchise, cutting ties entirely.
Recently, Lindsay spoke with host Danny Pellegrino on the Everything Iconic podcast. When Pellegrino asked Lindsay about the show's current state, the 36-year-old admitted she no longer watches. However, she acknowledged that she saw some sincere efforts to change:
"I don't watch the show so I can't talk about storylines" she explained. "But I have to acknowledge that it's better because you've had Matt James. You've had Michelle Young. You've had Tayshia Adams — all leads of color." 
The efforts aren't only about visibility in front of the camera, either: "They've hired a diversity consultant," Lindsay elaborated. "They have a Black woman as an executive producer. All things that people that are fans of the show have pushed for — a change on camera, change behind the camera. So, they've taken steps."
The author of Miss Me with That: Hot Takes, Helpful Tidbits, and a Few Hard Truths has moved on from The Bachelor franchise. But she gives it credit for the changes. Lindsay continued, "Even if it is a result of public pressure, I'm still gonna acknowledge the fact that positive steps have been taken."
Rachel Lindsay thinks 'The Bachelor' could still return to its old ways
Those efforts both in front of the camera and behind the scenes might be short-lived. Lindsay pointed out that there was at least one troubling sign that the changes might not last. She said:
"With Michelle's season, her top four men were Black men. And they chose a white man [to be the next Bachelor] instead. So that has had people go, 'Oh gosh. Are we going right back to where we were before?' What happened to this system of 'you've gotta pick someone who's in the top three or four?' So I don't know. We'll see. They'll see. I'm not watching."
The Bachelor will enter its 27th season with its next star suitor. The Bachelorette will air its 19th season in 2022, with Rachel Recchia and  Gabby Windey starring. Both shows have the potential to continue a trajectory of increased diversity. But viewers will have to wait to find out which path they'll choose.
RELATED: 'The View': Meghan McCain Thinks Chris Harrison Was 'Dismissive' of Rachel Lindsay