Rachel Zegler Dressed as Oscar Isaac for 'Meme Day' — Mustache and Cheetos Included
Rachel Zegler is more than just the star of 'West Side Story.' She's also a massive fan of everything 'Star Wars' and Oscar Isaac related. Here's what we know about this actor.
Before she starred in West Side Story, Rachel Zegler was dressing as Oscar Isaac for her high school's "Meme Day." This costume wouldn't be the first time (or the last time) Zegler shared her love for the Star Wars cast member. Here's what we know about her admiration for the leading actor of Marvel's Moon Knight.
Rachel Zegler portrayed María in Steven Spielberg's 'West Side Story'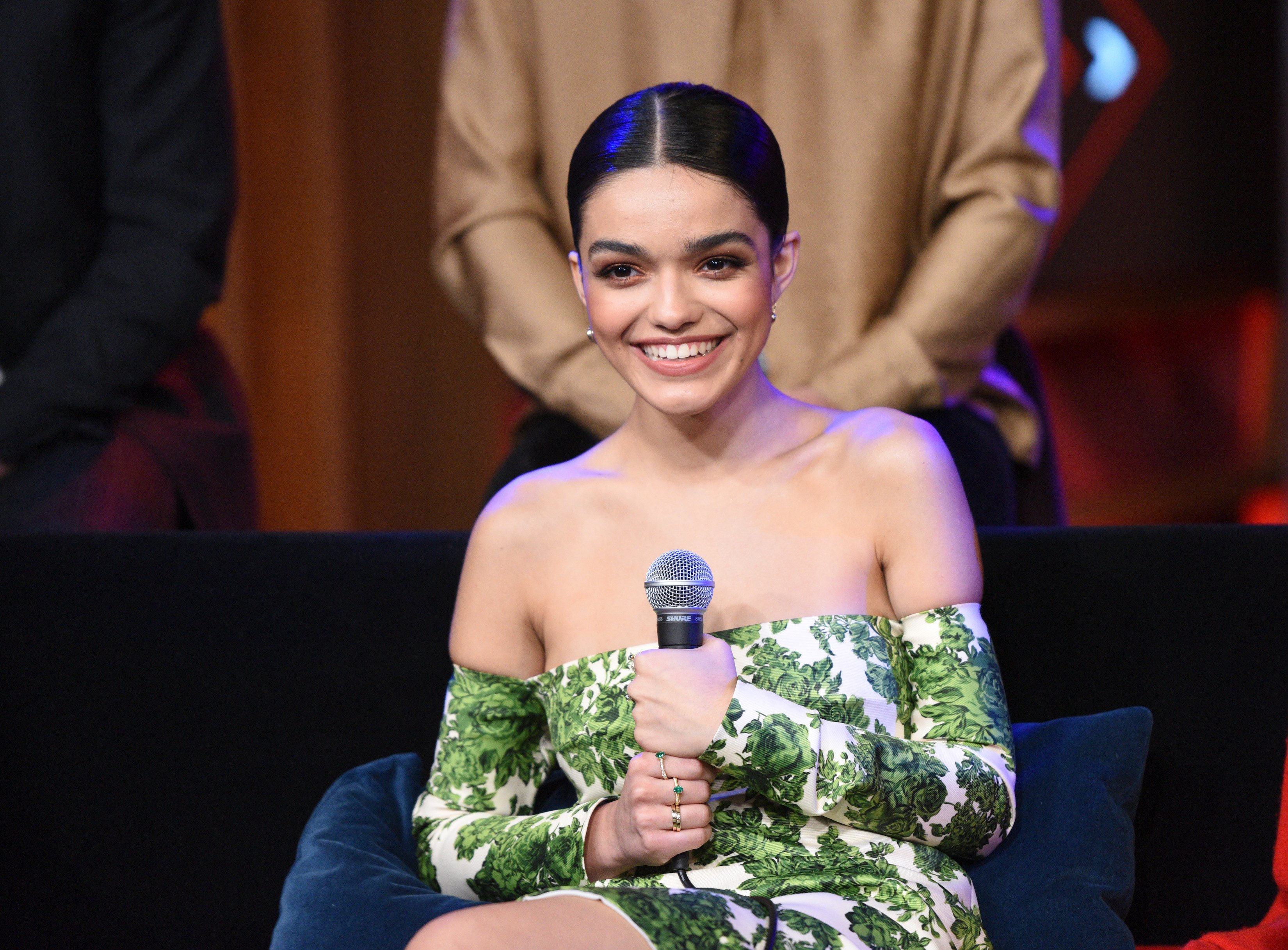 Plucked from more than 30,000 applicants, Zegler was awarded the starring role in Steven Spielberg's adaptation of West Side Story. With the film debuting in 2021, the actor was awarded a Golden Globe for her performance. 
She was also named Snow White in Disney's upcoming live-action adaptation of Snow White and the Seven Dwarfs. Outside of her musical theater life, Zegler is a massive fan of everything Star Wars. 
She visited Galaxy's Edge in Walt Disney World and even dressed as Rey for an Instagram post. One actor in the sequel trilogy who Zegler often highlights is Isaac, who portrays the rogue Resistance pilot named Poe Dameron. 
When asked about her acting inspirations during a Buzzfeed interview, Zegler responded, "Inside Llewyn Davis, directed by the Coen brothers, starring Oscar Isaac."
Another question asked who Zegler would enjoy working with. The actor said, "Oscar is my answer for everything! This is so embarrassing, oh my god." When Zegler's high school had a "Meme Day," it made sense that this actor chose an Isaac-themed picture to base her outfit on.
Rachel Zegler dressed as Oscar Isaac for her school's 'Meme Day'
Even before she was dressing as Snow White for Disney's live-action adaptation of the film, Zegler was dressing up. She sported a gray beanie, red shirt, and mustache for one Instagram post. In her hands were chopsticks and crunchy Cheetos. 
This costume was almost an exact copy of Isaac, who appeared in a similar picture munching on Flaming Hot Cheetos. Captioning the photo "Happy Meme Day," this post from January 2018 earned thousands of likes.
Rachel Zegler often shares her admiration for Oscar Isaac 
Isaac has a few celebrity fans — Zegler among them. In 2019, he responded to fan tweets, posing with physical posters of the Twitter messages. Zegler reacted to Isaac's mention in a separate Instagram post, posting a picture of Isaac holding Zegler's tweet. Additionally, she posted a video of herself reading his response.
"I can't breathe," Zegler said between laughing and crying. "First of all, it's my dumbest tweet ever. It just says 'I haven't tweeted this in a while, but Oscar Isaac' and he says, 'huge fan of yours.'"
It's unclear if Zegler has ever met Isaac. However, both performers have been considerably busy. While Zegler stars in the upcoming DC film Shazam: Fury of the Gods, Isaac appears in the Disney+ Marvel Studios series Moon Knight.