Rafael Nadal's $6 Million Custom Yacht Helps Him 'Restore Positive Energy' to His Tennis Career
With an impressive tennis career, we can't blame Rafael Nadal for his custom yacht purchase. If you've got it, flaunt it -- or float it.
It's hard to talk about men's tennis without highlighting the immense talents of Rafael Nadal. Since his pro debut in 2001, the Spanish native has racked up French Open wins and enough Grand Slam titles to ensure no one will ever forget his name.
Nearly two decades into his career, Nadal has faced disheartening injuries but is determined to not slow down. Many athletes of his stature let the fame go to their heads, but Nadal has found a way to stay ground: by getting off dry land. 
Rafael Nadal has amassed a fortune through tennis
For the Nadals, excelling at sports is a family tradition. According to Britannica, Rafa's tremendous success was foreshadowed by the careers of two uncles — one who appeared in the 2002 World Cup and one who introduced Nadal to tennis at just four years old.
The star-to-be remained fiercely loyal to this first coach. Uncle Toni remained his adviser even as Nadal took on pro tours. The duo clearly worked well together; Toni is credited with helping Nadal develop his killer one-handed forehand. 
Nadal's incredible dominance on clay courts earned him the unofficial title of "King of Clay." Despite the moniker, the Spaniard has shown his dominance across a wide variety of tournaments and surfaces.
To date, Nadal has claimed twelve French Open titles, with many other first-place finishes at Grand Slam competitions. As Sportskeeda recounts, he first reached the coveted No. 1 ranking in August 2008. In total, nearly 200 weeks of his career have been spent at the top position. 
When Nadal is not on the court, he's on the coast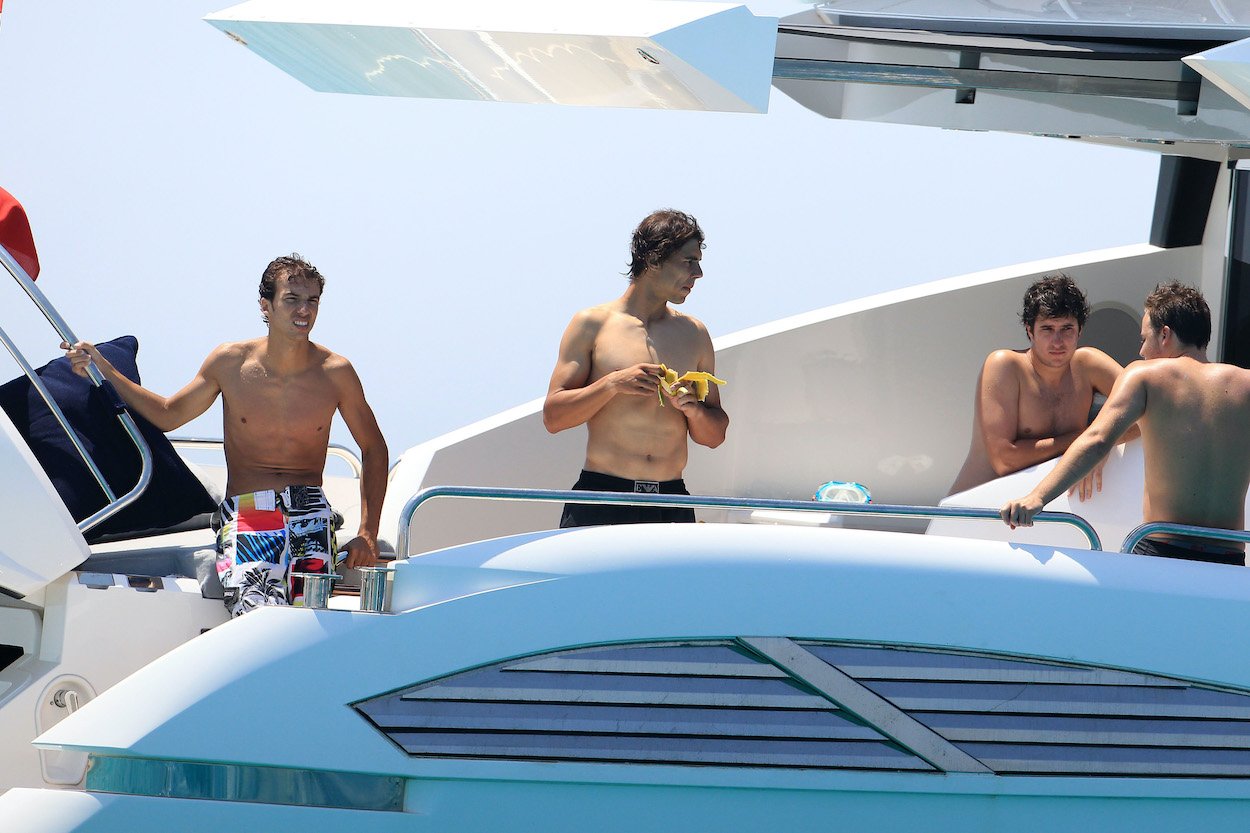 Nadal has won 19 championship titles in his two-decade tennis career. It's hard to imagine that he has any free time. Still, the star takes time to unwind with the help of his other passion: boats. 
According to Business Insider, Nadal has attributed his affinity with the sea to his home island of Mallorca. He spares no expense when it comes to unwinding on the water. He dines on "seafood, paella, and shrimp dumplings," that likely taste even better when consumed aboard a yacht. 
Until recently, Rafa's vessel of choice had been a 76-foot MCY 76 motor yacht. Delivered in 2016, the sporty behemoth was an upgrade to his previous Princess V62, per Robb Report. Though his frequent use of the yacht seemed to indicate a fondness for it, Nadal sold the boat for $3 million just three years after purchasing it. But he didn't lack a stylish sea cruiser for long. 
Rafael Nadal's latest yacht set him back $6 million
Now an experienced yachter, Nadal helped design his latest purchase. As Forbes reports, Nadal gifted himself a customized Sunreef catamaran for his 34th birthday. The 80-foot yacht cost a cool $6.2 million — a small fraction of his impressive $180 million net worth.
While some scorn the idea of spending so much money on a vehicle — typically a depreciating asset — Nadal stands by his decision. According to the Forbes interview, the yacht isn't just for cruising; it's a career move. 
Nadal explained, "It helps me restore positive energy. That's something that helps me move forward with my tennis career." He's found the catamaran style to be especially beneficial, as the spacious interior allows him to immerse himself in a new environment and take in all angles of the sea. 
With such an impressive career, we can't blame Nadal for the purchase, no matter his reason. If you've got it, flaunt it — or in this case, float it.