Rage Against the Machine's Band Name Might Have 2 Meanings
There's a rumor going around that Rage Against the Machine's band name might have a second meaning.
Rage Against the Machine is one of the most well-known American rock bands in history. The band, often abbreviated as simply Rage or RATM, was formed in 1991 and includes lead vocalist Zack de la Rocha, bassist and back up vocalist Tim Commerford, guitarist Tom Morello, and drummer Brad Wilk.
Like so many other rock bands out there, Rage uses their music to convey their emotions and are outspoken on political themes. The band expresses themselves via their lyrics and hold nothing back.
Plus, one rumored story shows that the name Rage Against the Machine might have two meanings.
The name Rage Against the Machine came from a song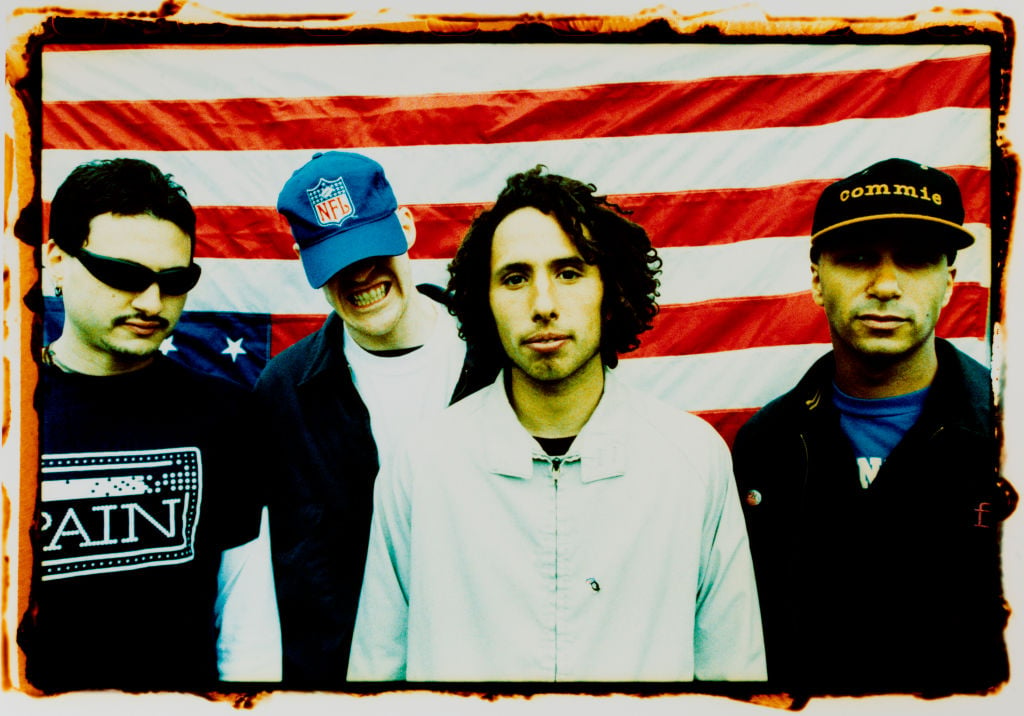 The band's name has origins in the unreleased song "Inside Out" that de la Rocha wrote for another band he was part of. The singer told the LA Times in a 1992 interview that his motivation behind the song and the name was extremely political, Revolver reported.
"I just felt it applied in the kind of message we were trying to put at the forefront of our music," he explained.
"I wanted to think of something metaphorically that would describe my frustrations toward America, toward this capitalist system and how it has enslaved and exploited and created a very unjust situation for a lot of people."
The machine, according to band members, is capitalism.
Does Rage Against the Machine have a second meaning?
There's a rumor going around that there's a second story behind the band's name, but so far it's unconfirmed. The blog Ponderings From Pluto claims that de la Rocha also admitted he was also raging against a 1979 Chevrolet van that kept breaking down.
"That piece of [expletive] was always breaking down," De La Rocha allegedly said. "I can't tell you how many times that van broke down back in 1991 when we were starting out, how many gigs we lost because it would quit working."
He continued: "We called that monstrosity every name you can think of and even invented a few new words. When we finally made enough money to buy a new van to house our equipment, the first thing we all did was take sledgehammers and beat the [expletive] out of that thing."
Did de la Rocha really name the band after a busted van? It's possible. But the real machine he and his bandmates were raging against was mostly capitalist society.
Some fans called Rage Against the Machine hypocrites
Many hard rock followers latched onto RATM's messaging and followed them religiously. But others were skeptical, claiming that the band "sold out" when they made millions off the same capitalistic society they claimed to hate.
The band Infectious Grooves released a song called "Do What I Tell Ya!" mocking Rage lyrics from "Killing in the Name" as hypocritical.
Rage is getting attention all over again following the Black Lives Matter protests thanks to their political statements. The band's 2020 reunion tour was put on hold due to the coronavirus (COVID-19) pandemic.