Rapper Natina Reed of Lisa "Left Eye" Lopes' Group Blaque Had The Unfortunate Similar Fate As Her Mentor
Lisa "Left Eye" Lopes was more than just the eccentric rapper of the supergroup TLC. Her group members have spoken openly about her being the creative force behind their image and sound and despite her personal turmoil and complicated romantic relationships, Left Eye proved to be a trailblazer in music. She decided to give back by managing other artists, one of which was the R&B group Blaque that featured rapper Natina Reed. 
Reed and Left Eye shared many similarities and formed a close bond. Unfortunately, their lives would end in a similar way. 
Lisa "Left Eye" Lopes discovered Natina Reed and formed the group Blaque around her 
Known as the most creative and artistic member of TLC, Left Eye was more than just the group's lyricist. She was the mastermind behind many of the group's wardrobe choices, music video concepts, and creative direction of their albums.
Related: 25 Years After TLC's Hit Single "Creep": Fun Facts About The Famous Song
After over a decade of success with TLC, Left Eye ventured out to lend her talent and experience to upcoming artists. She set her sights on creating a second-coming of her own group and struck gold when she discovered Blaque.
Just like TLC, Blaque was a trio that featured two singers and one rapper who had a fresh and bold style. Their debut album went platinum and the group collaborated on a crossover hit with N*Sync. The three members – Shamari DeVoe, Brandi Williams, and Natina Reed – were all talented but like her rapping mentor, Reed stood out.
Reed and Left Eye shared a similar rap style, were both edgy and brought something different to hip hop. Unlike their female rapping peers, both focused on lyrics of quality versus falling into the traps of being oversexualized. 
It was Reed that Left Eye was introduced to first and whom she became most fond of.
"My brother introduced me to Natina, she's the one who raps in the group," she told MTV in 2000. "They all say she's the next Left Eye. I knew her a couple of years before the group actually got together. She is a writer and wrote five of the songs on the album and her songs were so that I figured, 'Let's get a couple of girls and match them with you who can actually sing the songs that you wrote.'"
Both Lisa "Left Eye" Lopez and Natina Reed died in car accidents
As Blaque's career was taking off, Left Eye began traveling to Honduras as she became more interested in holistic living and connecting to her spiritual side. Her trips became more and more frequent and she'd often use them as a way to regroup in between major career projects. Blaque traveled with her, as did other artists Left Eye began managing. She used the trips as a bonding experience for her team.
In April 2002, Left Eye was in an automobile accident in Honduras. Along with her were her three-member group Egypt, her brother, sister, and two producers. Lopes was driving and was the only one who sustained fatal injuries. She died at 30-years-old. Years later, VH1 released a two-hour documentary, The Last Days of Left Eye, which chronicled her final trip and days in Honduras.
It was later revealed that Blaque was scheduled to be with Left Eye during the final trip to Honduras. All members of the group were devastated but Reed was particularly heartbroken as she was the closest to Left Eye.
"Every night, me and Lisa would just laugh and talk about old memories. We lived together previously within the last three months right before my son was born," Reed said in a BET interview following Left Eye's death. "She was the kindest person on Earth…she took very good care of me while I was pregnant."
Blaque struggled to find their footing after Left Eye's death and their second album was shelved. They appeared in the hit 2000 film Bring It On and showed promise but went their separate ways. They remained close friends. Sadly, Reed would meet the same unfortunate fate as Left Eye in 2012, just 10 years after Left Eye's passing.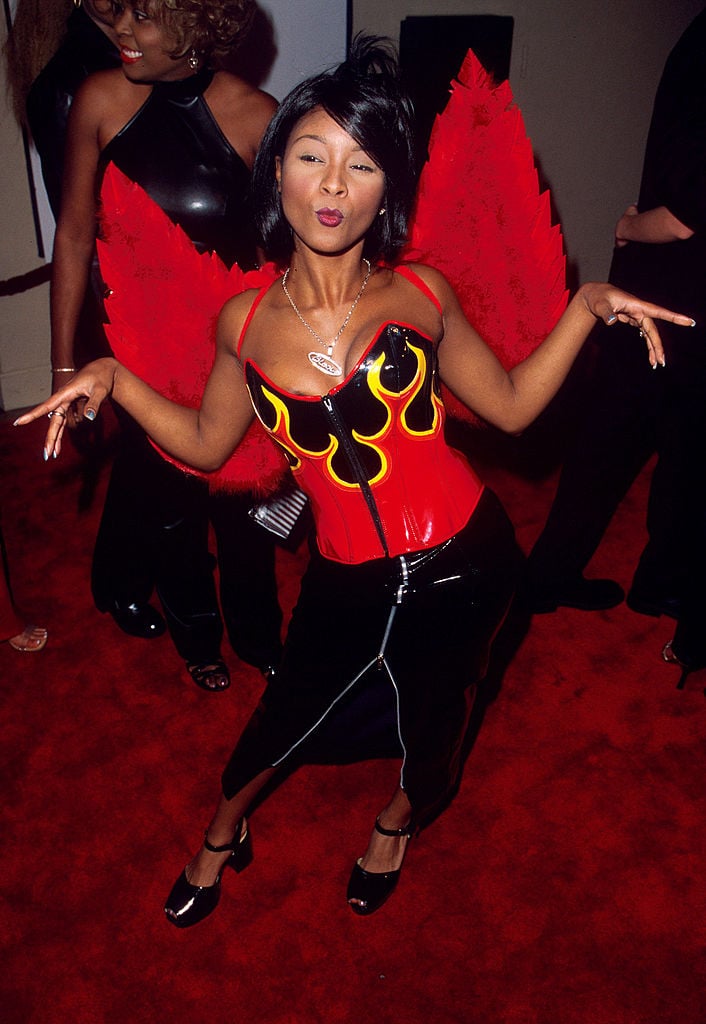 Reed was struck by a driver as she walked across an Atlanta street late one evening in October 2012. Reed's parents spoke with The Atlanta Journal-Consitution days after her death and spoke on the eerily similarities between Reed and Left Eye's deaths. "It was right before Lisa's birthday and here is now, we are facing it."
Reed was 32-years-old at the time of her death and had recently reunited with her group members to work on new music. Blaque has since resurfaced as a duo with no plans of replacing Reed, nor has TLC replaced Left Eye. Blaque performs in honor of both Left Eye and Reed.