'Ratched': Why Ryan Murphy Used So Much Red and Green in the Series
Find out what red and green mean in 'Ratched' and how these colors create suspense and intrigue in Ryan Murphy and Sarah Paulson's latest project.
Ryan Murphy's latest show Ratched is now available on Netflix. Sarah Paulson plays the title role of Mildred Ratched, a character based on Ken Kesey's novel One Flew Over the Cuckoo's Nest. Like other Murphy-made shows, Ratched uses color to give viewers context regarding the action. Here's what the colors red and green mean throughout Ratched. 
[Spoiler Alert: Some spoilers for Ratched ahead.]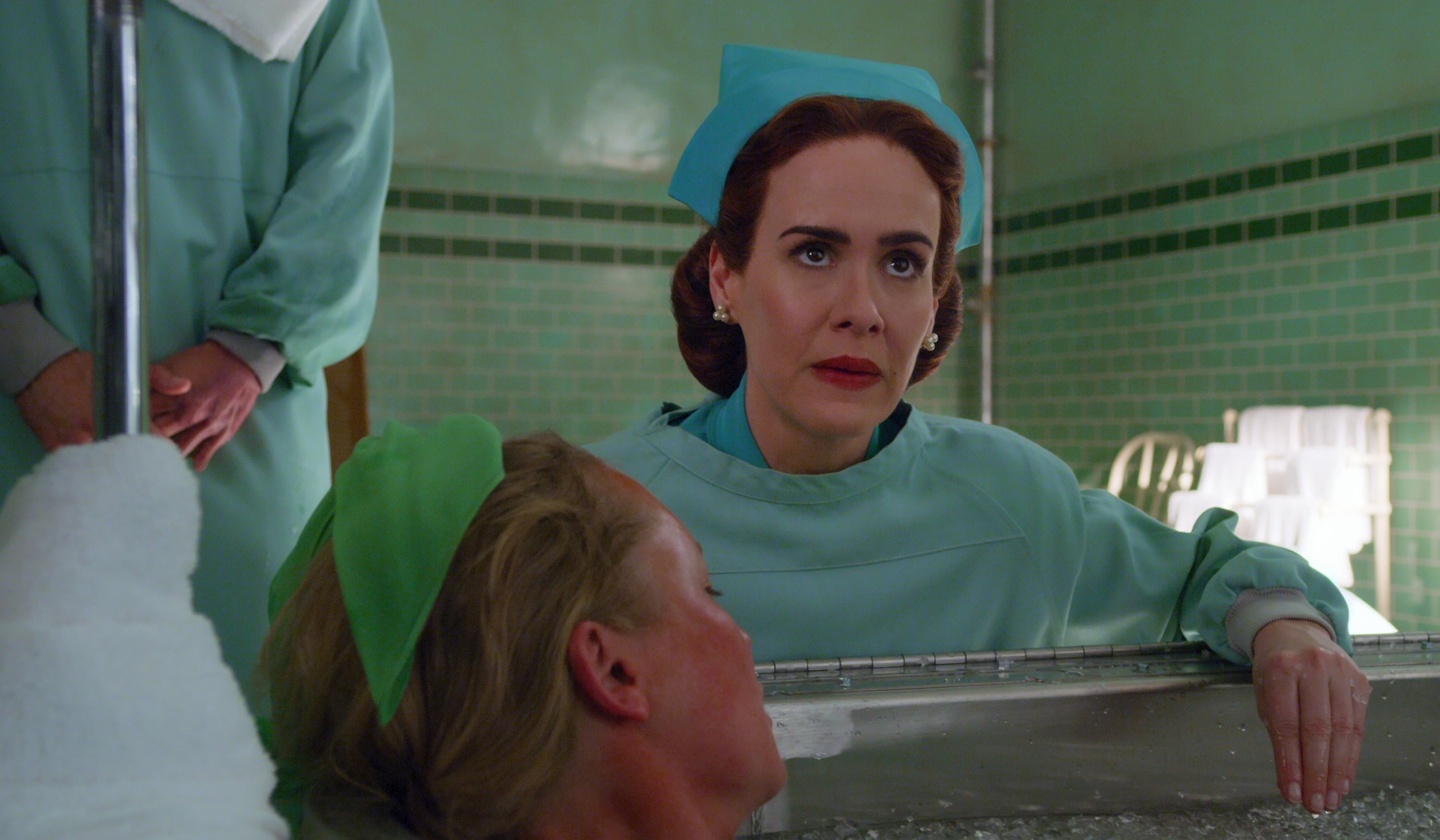 'Ratched' is based on Nurse Ratched from 'One Flew Over the Cuckoo's Nest'
In Kesey's novel and the 1975 film, Nurse Ratched is the main antagonist. Louise Fletcher's portrayal became an iconic stereotype for battle-ax nurses in film and television. In fact, Fletcher won an Oscar for the role in 1976. 
Murphy's Ratched is set in 1947, a few years before the Miloš Forman film. The series tells the beginnings of Nurse Ratched's career, which she spends trying to find her long lost adopted brother, Edmund Tolleson (Finn Wittrock). When she finds out he's in Lucia State Hospital, Mildred uses her aggressive nature to convince Dr. Richard Hanover (Jon Jon Briones) should be head nurse. In doing so, she's able to be there for her brother.
Green makes the viewer feel comfortable watching 'Ratched'
Throughout Ratched, Mildred is often seeing wearing powerful green jewel tones. What's more, the set is washed with shades of green and blue, as seen in the walls, drapes, and flooring of Lucia State Hospital. These cool, often serene color schemes helped contrast the insanity going on behind closed doors of the dysfunctional mental hospital. 
"Green was the predominant symbolic color we used on various characters for various meanings," costume designer Rebecca Guzzi told Fashionista. To capture the "violence, oppression, lust, envy, greed and evil" Murphy was going for, Guzzi collaborated with Lou Eyrich, who worked on Hollywood and The Politician, to infuse the costumes with color symbolism. 
As Eyrich explained, the vivid, cool color scheme helped heighten Murphy's unpredictable and suspenseful storytelling. "There's this idea of humane and progressive treatment of these people, who have been sidelined throughout history and not treated fairly," Guzzi added.
Red was another important color in 'Ratched,' but Ryan Murphy never wanted it used in clothing 
Red is often in the darker, more violent scenes of Ratched. Though it's never seen in the character's costumes — "[Ryan Murphy] didn't want red in clothes, other than to see blood at the hospital or lipstick on Mildred," explained Guzzi — red was used to symbolize a loss of control in several scenes. 
Throughout the series, any time red imagery pops up, that usually means something menacing is about to happen. For example, when Dr. Hanover gives in to his penchant for abusing the hospital's medication, a violent red light washes over him.
Nurse Ratched doesn't always wear green, thanks to Sarah Paulson
Paulson's character is often wearing her signature shades of green. But as an executive producer on the series, Paulson had a lot of input regarding the other colors her character wears, and more importantly, when she wears them.
"Sarah was really keen on [Mildred] dressing the part for the particular character or group she's interacting with, manipulating, comforting, consoling, whatever her goal was," Guzzi explained.
"That's why she has this variety of looks and silhouettes," she continued. "Sometimes it's soft, it's feminine, it's separates. Sometimes it's really structural and hard and tailored, like when she goes to have her interview at the hospital with Dr. Hanover."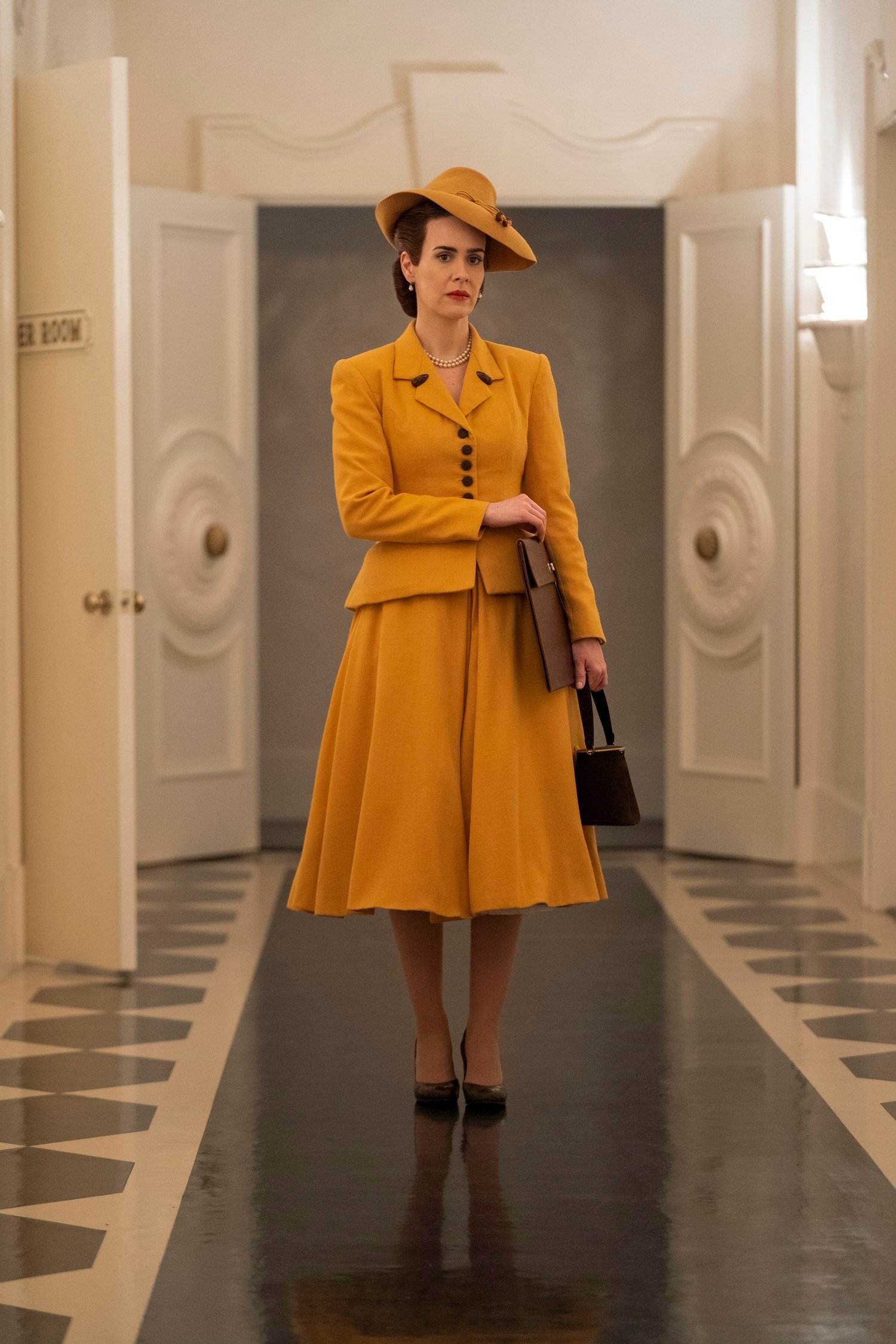 Fans of Murphy and Paulson will find more to love regarding the intentional use of color throughout Ratched. Stream the series on Netflix now.