R&B Singer August Alsina Confronted About Alleged Relationship with Jada Pinkett Smith
August Alsina was just called out about his alleged relationship with Jada Pinkett-Smith.
Will and Jada Pinkett Smith are one of Hollywood's most enduring couples, but their relationship has not been without controversy. Throughout the years, the couple has been plagued by all kinds of rumors — one being that Pinkett Smith had a secret affair with R&B star August Alsina.
Pinkett Smith and August Alsina have a relationship that some people say is a little too close for comfort. Although they've maintained that they're just friends, that hasn't stopped people from calling them out. Recently, an internet star confronted August Alsina about the alleged romance and urged him to come clean.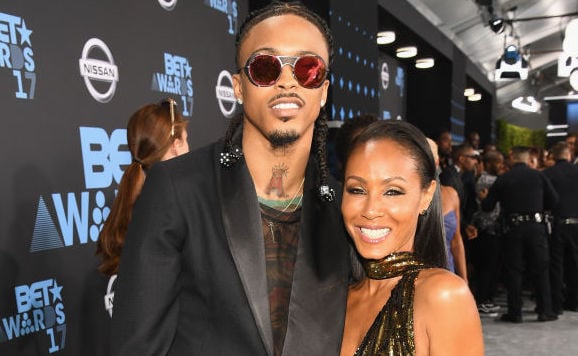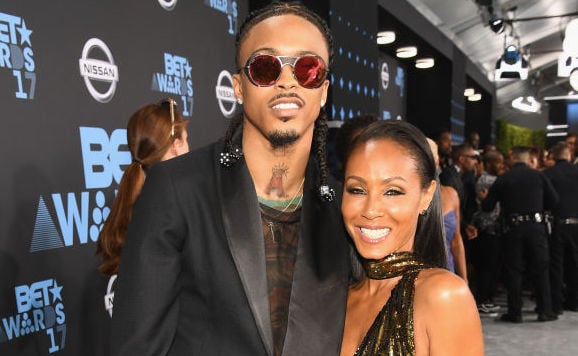 Wait, who is August Alsina?
In case this name isn't ringing bells, August Alsina is a singer who hails from New Orleans. He is best known for his 2013 song "I Luv This Sh*t" with Trinidad James. The track peaked at No. 48 on the Billboard Hot 100 chart and took home a trophy at the 2014 BET Awards.
It's his biggest single to date, but Alsina has had other successes, including the Nicki Minaj-assisted ballad "No Love" and "Ghetto" featuring Atlanta rapper Rich Homie Quan.
How did August Alsina and Jada Pinkett Smith meet?
The entertainers met at a festival in 2015 through the actress's son, Jaden, and went on to form a close-knit bond. August Alsina turned to her for "life advice" and credits her with helping him recover from a Percocet addiction.
August Alsina detailed his love and appreciation for the Set It Off actress in a post celebrating her 47th birthday back in September 2018, calling her "an example of God's divinity."
"A beautifully complex individual you are," he continued. "I️ could spend a lifetime decoding you. Thank you for your laughter. Thank you for seeing my heart and character & not measuring me based upon what I️ come from. You see me for who I am & what I'm gonna be, even when I️ can't see ME. Thank you for challenging me on a daily basis. You're A little piece of heaven here on earth."
"The Fortune in my cookie. The Vet to my Rookie," he continued. "You are LOVE personified. There hasn't been enough diction created to articulate or express the capacity of my love for you."
For comparison purposes (because we know you're wondering), Will posted: "Wow… 24 birthdays together! Happy Birthday, My Queen. Let's Go Get 24 more."
The post fueled romance rumors
The intimate tone of the post fueled speculation that there was more to their relationship than they were letting on.
The Testimony singer kicked those rumors into overdrive in March 2019 when he released the video for his song "Nunya," in which he laments over his split from a woman named Koren (Pinkett Smith's middle name). "You're just an actress putting on a show," he sings while texting a GIF of Pinkett Smith to "Koren."
He later denied the visuals had anything to do with the Girls Trip star.
In May 2019, however, August Alsina teased on Instagram that Will had caught up to him and beat him up over Pinkett Smith, posting a photo of his swollen face.
"Will finally caught up to me about all that Jada crap that was going on in the news," he wrote (via Complex). "Let's just say, he whooped my axs!! Guess that ALI training really paid off."
In reality, his allergies had gotten the best of him.
Rumors have persisted, but these two insist that they're just friends.
DJ Vlad calls out August Alsina
DJ Vlad, an internet star who runs an eponymous news website and YouTube channel, initially reached out to the singer on Twitter on Jan. 4 to set up an interview.
"I heard you the feds on low?" August Alsina said in response to DJ Vlad, who has been compared to the police over his interviewing style.
DJ Vlad chalked up the rumor to "nonsense" and said that it's "no different than everyone saying you were in a relationship with Jada Pinkett Smith." He then urged August Alsina to come on his YouTube series and talk about their relationship.
As of writing, August Alsina has not responded — perhaps because there's really nothing to say.