Which 'Real Housewives of Dallas' Star Has the Highest Net Worth?
Real Housewives of Dallas Season 4 picks up Wednesday, September 4, where viewers left off with the ladies. The Redmonds have adopted a baby boy, and Brandi struggles with parenting her three kids. Then, D'Andra Simmons, unable to convince her mother to retire so she can take over the business, comes to a crossroads in her friendship with LeeAnne Locken.
The former beauty queen also attempts to set her wedding date. However, she faces an unexpected betrayal and an offensive allegation. Additionally, Stephanie Hollman continues to live her life while dealing with depression, but an argument with her best friend complicates everything more for her.
Finally, D'Andra Simmons introduced the ladies to the newest Housewife, her neighbor, Kary Brittingham. All of the women have their own business ventures outside of Bravo and married very wealthy men. Which one of these Real Housewives of Dallas stars has the highest net worth? Keep reading to find out.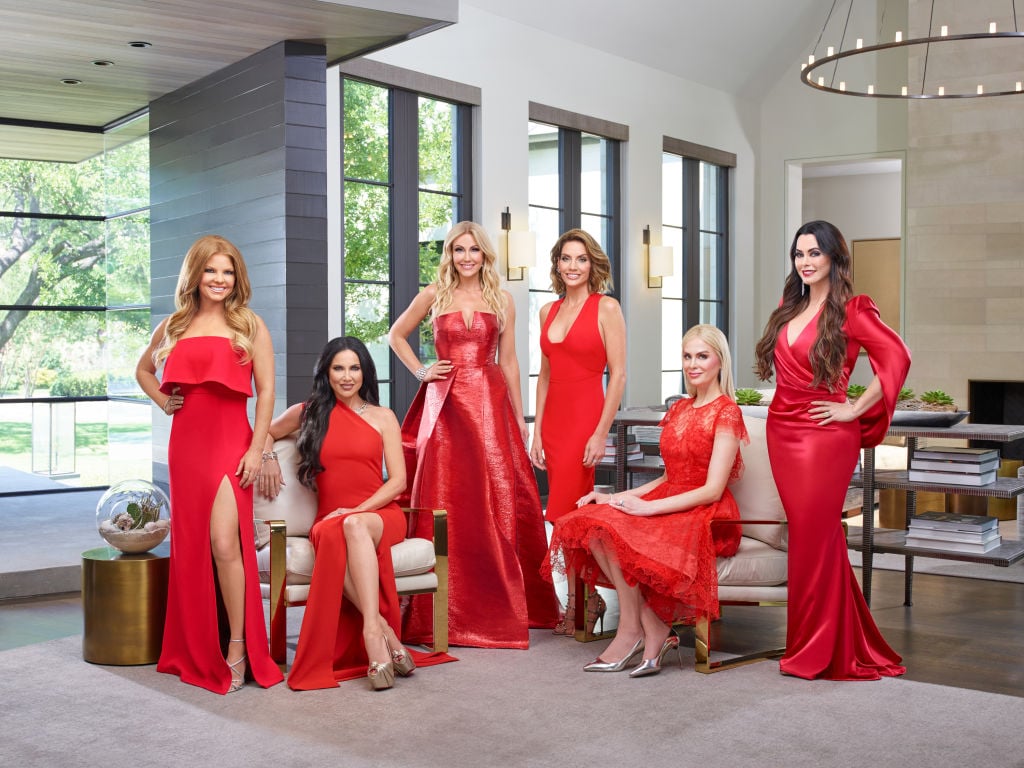 Kameron Westcott's net worth
Born and raised in Montecito, California, she attended Southern Methodist University in Texas where she met her husband, Court. They live in an exclusive neighborhood and parent two children and two fur babies. Obsessed with the color pink, Westcott is highly respected in the charity scene and has a wide social circle.
However, she fears that D'Andra Simmons could ruin her reputation after she becomes friends with Brandi Redmond. Before getting married, Westcott worked as a dog clothing designer and launched a brand. Her estimated net worth is around $4.5 million.
Brandi Redmond's net worth
After graduating from Texas Woman's University, Redmond remained in Texas for 25 years. She is also a former All-Star, Pro-Bowl, and five-time Dallas Cowboys Cheerleader before entering the Housewives world. Even though she seems to have a "love life" personality, her sense of humor has upset some of the RHOP ladies.
However, they came together after Redmond announced she and her husband adopted a baby boy. While the former cheerleader is happy with her son, she begins to get overwhelmed dealing with the baby and her 18-year-old and 10-year-old daughters.
In 2018, her net worth was an estimated $4 million.
Stephanie Hollman's net worth
Originally from a small town in Oklahoma, Hollman currently lives in Dallas with her husband and their two sons. She is approaching their tenth anniversary and ready to move on from last season's drama. After admitting they've struggled with depression, she found an unexpected friendship in LeeAnne Locken.
The mother-of-two married Travis Hollman, the chairman of his own company which manufactures fitness lockers, playing courts, and more. His 2018 net worth is an estimated $18 million.
D'Andra Simmons' net worth
Born and raised in Dallas, Simmons comes from a wealthy family. Married to Jeremy, a photojournalist, they live together in the same neighborhood as Kameron Westcott. Known for her chameleon-like ability to fit in with almost any situation, she and Mama Dee continue their power struggle over the family business.
After Simmons finds friendship in an unlikely Housewife, Brandi Redmond, the alliances within their elite group begin to change. Her net worth was an estimated $3 million in 2018.
LeeAnne Locken's net worth
This Housewife grew up in the spotlight and participated in the carnival circuit. She also placed in the Top 10 at the 1989 Miss USA Pageant. Additionally, Locken appeared in numerous movies and television shows, and now organizes charity events in Dallas, Texas.
The former pageant beauty recently launched an Infinity Dress clothing line which she claims the garments the can be worn in over 150 different ways. Locken also began meditating to change her hasty behavior, but, struggles to stay calm when she started butting heads with Brandi Redmond and D'Andra Simmons.
Even though Locken is engaged to Rich, and he hasn't set a wedding date in over a year, the other Housewives weren't sure if they would ever tie the knot. In 2018, LeeAnne Locken's net worth was an estimated $1.5 million.
Kary Brittingham's net worth
Joining Season 4 in lieu of Cary Deuber is self-proclaimed feisty Kary Brittingham. Originally from Guadalajara, Mexico, she now lives with her second husband and blended family in Dallas, Texas, in the same neighborhood as D'Andra Simmons.
After being introduced to the rest of the Housewives by Simmons, the mother-of-four quickly became friends with them, although she and LeeAnne Locken didn't see eye to eye at first. Now, Brittingham has been married for almost a decade and wants more financial independence.
However, she must get her husband on the same page first. Unfortunately, Brittingham's net worth is currently unknown as her husband's name has not been released ahead of Season 4.
Watch Real Housewives of Dallas Season 4 on Wednesday, September 4th, at 9 P.M. EST on Bravo!