'Real Housewives of New Jersey': Why Danielle Staub Is Getting a Divorce Months After Her Wedding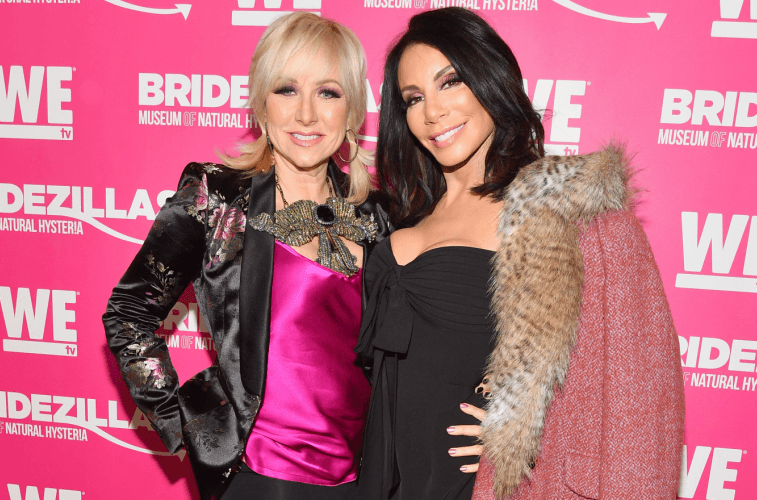 Danielle Staub and Marty Caffrey got engaged and it was all caught on Season 8 of Real Housewives of New Jersey. The two then got married on May 5 and some of her fellow cast members were in the bridal party. But it doesn't look like it'll be happily ever after because the two split less than four months after the wedding. So what happened? Here are eight things to know about the divorce.
1. Her husband Marty Caffrey served her with divorce papers
Caffrey served Staub with divorce papers four months after getting married, according to Page Six. A source claimed she is doing well considering the situation. "She is doing well, strong and ready to move forward with her life," said the source.
2. Caffrey claimed Staub's birthday party was 'the tipping point'
The divorcing husband also released a statement to Radar Online about his decision. "Her birthday party was the tipping point," he said. "I was left completely in the dark. I wasn't allowed to know who was invited. My family and friends were left out until the last minute only because I kept pressing the issue."
3. He reportedly didn't go to her birthday party in the end
Page Six reported that the two were having marital problems. In their report, Caffrey reportedly was absent from her masquerade-themed party.
4. He also accused her of financial, verbal and emotional abuse
He also claimed that she has been abusive in their relationship. "I bailed Danielle out of a really tough situation," he told Radar Online. "I gave her a platform to be relevant again. Because I believed in her and loved her. I still love her and still believe in her. And her payback is nothing but financial, verbal and emotional abuse. I've tried dozens of times to talk to Danielle about this but she just buries her head in the sand."
5. Staub said Caffrey has stopped speaking to her
Staub's response to her husband's accusation was that she was disappointed. "Danielle is very disappointed that Marty spent time composing a three-page statement for the media but won't sit down and talk with her about the situation," her representative told Radar Online. "She is also disappointed that he seems much more concerned about press coverage than he does about his marriage."
6. She reportedly still hoped everything will work out
There was another statement given to People after Caffrey's statement by a family member. "Danielle is having some difficulties with her marriage right now and is hoping everything will work out," Staub's mother told People.
7. She got a divorce lawyer after being advised to do so
Things seem to be moving along pretty quickly because Staub hired a divorce lawyer, according to Page Six. This was after she received a letter. "Danielle has received a letter advising her to retain counsel, which she has," her representative told Page Six.
The separated spouses had their lawyers already meet. "The two attorneys spoke and both sides agreed to keep this matter private," continued the rep. "It's disappointing to her that only 48 hours later that understanding is apparently no longer being honored."
8. They filed restraining orders against each other then withdrew them
This might be a sign that things are taking a turn between the two. The two filed restraining order requests against each other, then withdrew them a little over a week later, according to Us Weekly.
Staub previously claimed in the order that Caffrey came to her home on Aug. 12 and "he appeared to be under the influence of alcohol, agitated and confrontational." She also claimed he took some of her things and hid them in his car.
Caffrey claimed that night she "picked up [an] iron and raised it as if she was going to throw it." He also alleged she "threatened to stab [him] in the neck at least a dozen times" over the past year.
Read more: 'Real Housewives of New Jersey': Are Teresa and Joe Giudice Getting a Divorce?
Check out The Cheat Sheet on Facebook!