'Real Housewives of Potomac:' Monique Samuels' Rainbow Shower and the Meaning Behind It
Monique Samuels threw a rainbow shower on this episode of 'Real Housewives of Potomac.' What is a rainbow baby and what does it mean?
Monique Samuels threw a rainbow shower, instead of a baby shower, for everyone to celebrate the new life growing inside of her. She also finally received a long-awaited apology from her mother-in-law, Shirley, after not talking to her for two years. What is the meaning behind a rainbow shower?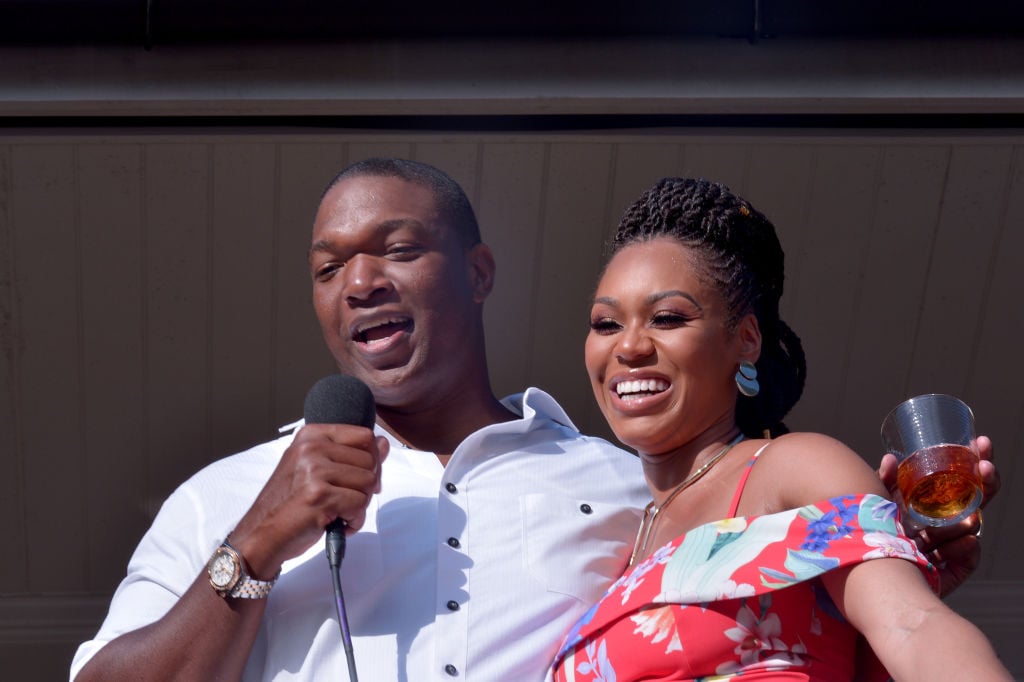 What is a rainbow baby?

A rainbow baby is a baby born after a miscarriage, stillborn, or neonatal death. It is called a rainbow baby because it signifies a rainbow after the storm or something beautiful coming after a scary and dark situation. If a mother is pregnant after losing a child, she has a rainbow shower instead of a baby shower. The term recently became popular from social media, and it symbolizes healing and hope.

Even though rainbow babies help parents heal after a loss, sometimes getting pregnant strikes fear in the woman, or they feel incredibly anxious or guilty. Experiencing the conflicting emotions of honoring the passed on child while getting ready for a new one can be difficult, so rainbow-baby expecting mothers often talk about it with others to heal.

Monique Samuels' rainbow shower

Gizelle Bryant did not attend Monique's rainbow shower because her daughter, Angel, was sick. Robyn Dixon also did not show up, presumably because she is trying to finish remodeling a house she wants to sell. However, Karen Huger, Ashley Darby, Candaice Dillard, came with their husbands to support Monique on an important day for her.

Even though Ashley and Monique got into a verbal confrontation last year, they're friends again, and Ashley feels like it's positive energy to be around. Karen said the rainbow shower puts everything in perspective because of all the losses the group experienced.

Monique has not seen her mother-in-law, Shirley Samuels, for two years because the last time they talked, she was rude to Monique and called her names. She attended the rainbow shower and publicly apologized to Monique for how she previously treated her.

Monique gave a speech about her rainbow shower and what it signifies. She admitted to not dealing with her miscarriage until she got pregnant again. Monique ended her speech by releasing several doves, honoring the babies who passed away. She then opened the floor to anyone who also wanted to share their story.

Ashley told the rainbow shower attendees that while she is happy for Monique, she can't help but think of the baby she miscarried. Michael also had a hard time with his emotions as he broke down at the table and walked away. Candaice later told Gizelle about Ashley's speech at the rainbow shower and claimed Ashley fake cried and lied about trying to have a baby.

Other celebrities who have had rainbow babies

In 2013, Beyonce had a miscarriage and wrote a song about it, called "Heartbeat." She has since had three children, twin 2-year-olds Rumi and Sir and 7-year-old Blue Ivy.
Mariah Carey admitted to experiencing a miscarriage with then-husband Nick Cannon. The two welcomed twins, Moroccan and Monroe, shortly later.

Teen Mom 2 star, Kailyn Lowry, had a miscarriage after her second child. She has since given birth to a son, Lux Russell.
Watch Real Housewives of Potomac 8 P.M. EST on Bravo!