'Real Housewives of Potomac': When Does Season 5 Premiere, and What Can Viewers Expect to See?
'Real Housewives of Potomac' Season 5 returns Sunday, May 3, 2020 at 8 p.m. EST on Bravo. Wendy Osefo joins the cast and more happens in the fifth season.
After nearly eight months without Real Housewives of Potomac, the popular installment returns in May in one of the most explosive seasons yet. While there were many arguments, none of the Potomac ladies got into any physical altercations during their first four seasons. However, Monique Samuels and Candiace Dillard put their hands on each other, upsetting and dividing the cast. Viewers will watch those tense moments play out; some relationships come together while others fall apart, and are introduced to a new full-time housewife, Dr. Wendy Osefo.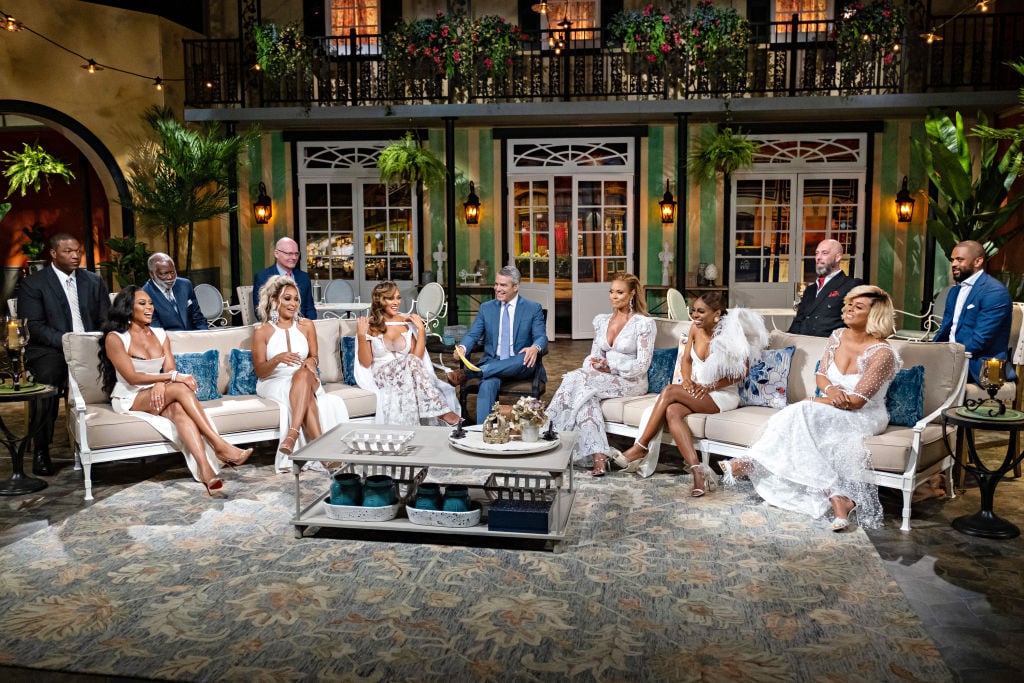 When does 'Real Housewives of Potomac' Season 5 premiere?
The reality show returns for its fifth season on Sunday, May 3rd, at 8 p.m. EST on Bravo.
Who is in the 'Real Housewives of Potomac' Season 5 cast?
Original housewives Gizelle Bryant, Ashley Darby, Robyn Dixon, and Karen Huger will return alongside Monique Samuels and Candiace Dillard. Reportedly, Charrisse Jackson Jordan, who stepped down after the second season, also makes an appearance.
Political commentator and assistant professor at Johns Hopkins School of Education, Dr. Wendy Osefo, joins the cast. Introduced by Candiace, she is a full-time housewife and appears in the official cast photo.
What happens in 'Real Housewives of Potomac' Season 5?
In the fifth season, viewers will see the highly publicized physical confrontation between Candiace and Monique play out in its entirety. Contrary to previous reports, the former Miss USA did not throw a glass in the podcaster's face. Instead, Monique seemingly provoked the fight by flipping Candiace's hair.
Gizelle expressed her disappointment in the physical confrontation because she believes they have consistently held themselves "above the stereotype," but "in five minutes, she took it away."
While it's not clear who "she" is, it's assumed the former first lady is referencing Monique because Gizelle reportedly refused to film with the mother-of-three to get her fired.
The cast, without Monique, took a trip to Portugal while the podcaster revealed she's having a hard time with her kids without the help of her husband.
Candiace introduced her friend, Dr. Wendy Osefo, as someone who "can read a book" and "read you down," and the political commentator gets into a couple of heated exchanges with Ashley.
Robyn and Juan Dixon, as well as Gizelle and Jamal Bryant, are depicted working on their relationships in the trailer, while the Hugers and the Darby's seemingly fall apart.
Karen asked her husband point-blank if he's in love with her, and Ray admitted, "over time things change," to which the Grand Dame turned and walked away. In another scene, she bluntly told Monique and Candiace that she "should have left in an f*****g heartbeat."
After giving birth to their first child, Ashley revealed to her husband that she no longer had the same sex drive. The trailer then showed Candiace receiving a text message explaining Michael allegedly hung out with "several strippers" in a room.
Someone also texted Ashley and informed her the Australian-native asked around to find who he could take to a hotel. At a dinner, Ashley confronted Michael about the allegations, and he admitted, "we ended up going back to a hotel."
It's unclear from the trailer whether he cheated or not, but Ashley didn't look happy after the shocking reveal. Real Housewives of Potomac Season 5 premieres May 3rd at 8 p.m. EST on Bravo.