'Real Housewives of Salt Lake City' Episode 10: Heather Gay Uses 'Ozark' to Explain Jen Shah's Arrest for Alleged Money Laundering
'The Real Housewives of Salt Lake City' episode with Jen Shah's arrest is finally here - who knew there'd be so many 'Ozark' references.
The Real Housewives of Salt Lake City episode where federal agents arrest Jen Shah has finally aired. Now, fans have a better idea of what took place in March 2021 when homeland security, the New York Police Department, and the FBI showed up in front of Beauty Lab and Laser to arrest the real housewife. Heather Gay explains Shah's arrest and alleged money laundering charges in The Real Housewives of Salt Lake City Episode 10, "Highway to Vail" with references to the popular Netflix series Ozark.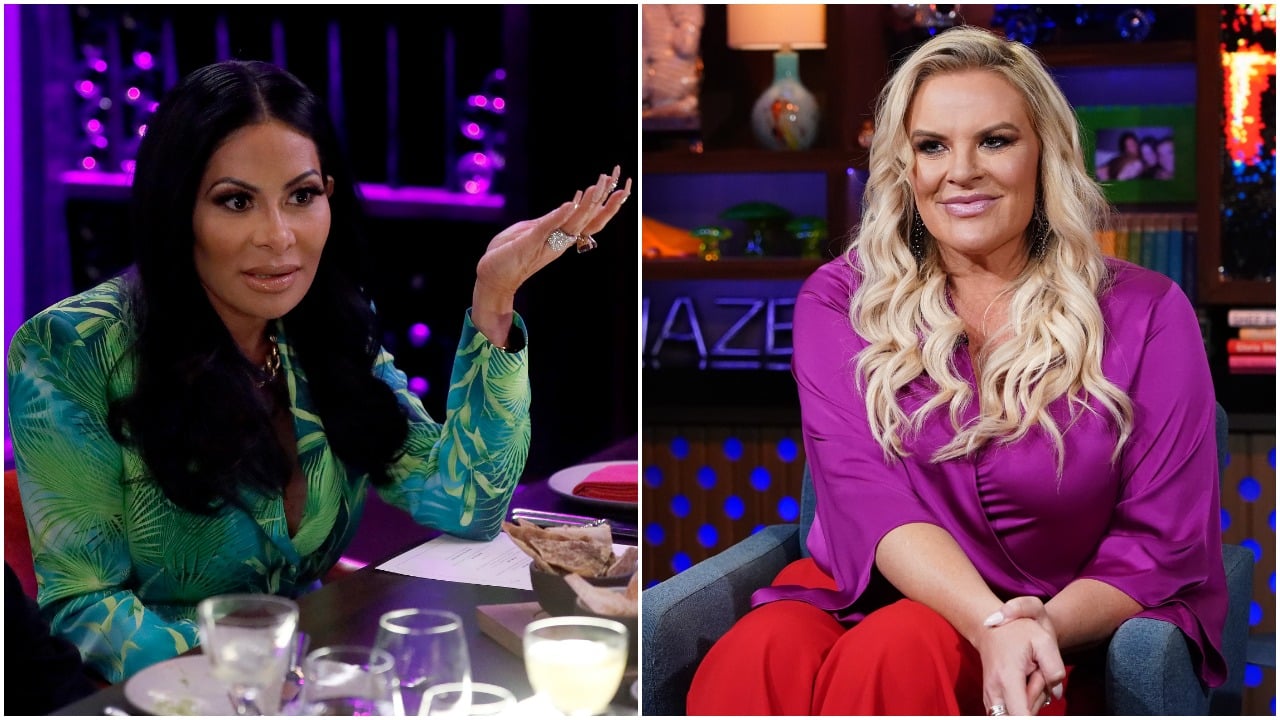 Jen Shah's arrest in 'The Real Housewives of Salt Lake City' Episode 10
In March 2021, the RHOSLC stars were headed to Vail, Colorado, for a girls' trip courtesy of Meredith Marks. Shah, Jennie Nguyen, Whitney Rose, Lisa Barlow, and Gay all gathered at Beauty Lab and Laser to board their luxury bus. 
Suddenly, Shah received a call about her husband, Sharrieff, who was allegedly in the hospital for internal bleeding. Moments after Shah left the parking lot, federal agents arrived in pursuit of the Bravolebrity. 
Confused, The Real Housewives of Salt Lake City cast and crew informed the authorities of what they knew. Eventually, the feds caught up with Shah, who faced federal conspiracy charges to commit wire fraud and money laundering. She was arrested in Salt Lake City on an indictment out of a Manhattan federal court. Shah's assistant, Stuart Smith, was also indicted in the alleged scheme (via NBC New York). 
Heather Gay explains Jen Shah's arrest with 'Ozark' references in 'RHOSLC' Episode 10
After the RHOSLC cast gets wind of Shah's arrest, they head to Vail without her. On the way, the housewives learn more about their friend's arrest from media reports. 
As a fan of the Netflix series Ozark, Gay felt she understood the wire fraud and money laundering charges Shah faced. "It's wire fraud because you're fraudulently selling services to a vulnerable person with their card," Gay explains in the RHOSLC episode, continuing: 
"Well, I've learned from watching Ozark that there's a couple [of] ways you can launder money. Construction's a big dark hole. Any cash-based business. Strip joints — another humdinger … and Shah Squad merch." 
In Ozark, Jason Bateman's Marty Byrde launders money for the Navarro drug cartel by investing in the Ozarks, a hot spot for Missouri tourism. By making renovations to the Blue Cat Lodge and the use of multiple shell companies, Marty is able to launder money for the cartel. Shah's charges are vastly different from what the Byrde's do in Ozark, but the idea of allegedly "cleaning money" through shell companies is similar.
"It makes sense!" Rose interjects, adding to Gay's explanation. "That's why she always starts companies. You can dump cash into a start up … you get to expense it as loss on your taxes. You can literally dump a million dollars into a startup and claim zero profit for almost five years."
'Real Housewives of Salt Lake City's Jen Shah explains Shah Squad Marketing 
In January 2021, Showbiz Cheat Sheet spoke with The Real Housewives of Salt Lake City star about the show and her many business ventures outside of it. When we asked about Shah Squad Marketing, she explained it as such: 
"Anywhere that I can acquire a customer [and] build out a re-marketing cycle to continue to add value and offer products and services to [them] once they've been acquired based on a specific brand or content. That's where I carved out my niche in the direct response marketing space."
Jen Shah's court date is in March 2022 
According to Page Six, Shah and Smith pleaded not guilty in April 2021 to their charges for a widespread telemarketing scam spanning six states over 10 years. Their trial will take place in March 2022. 
In the meantime, Shah remains free on a $1 million bond. She could face up to 30 years in prison if convicted. 
Watch The Real Housewives of Salt Lake City on Bravo Sunday nights at 9 PM EST.