4 'Real Housewives' Stars Who Were Accused of Staging Scenes for TV
There is always a question of how much of the Bravo shows are real. Even the stars themselves accuse their co-stars of staging scenes for their shows. But which Real Housewives were accused and why? Here are four who were accused of staging things for the show.
1. Denise Richards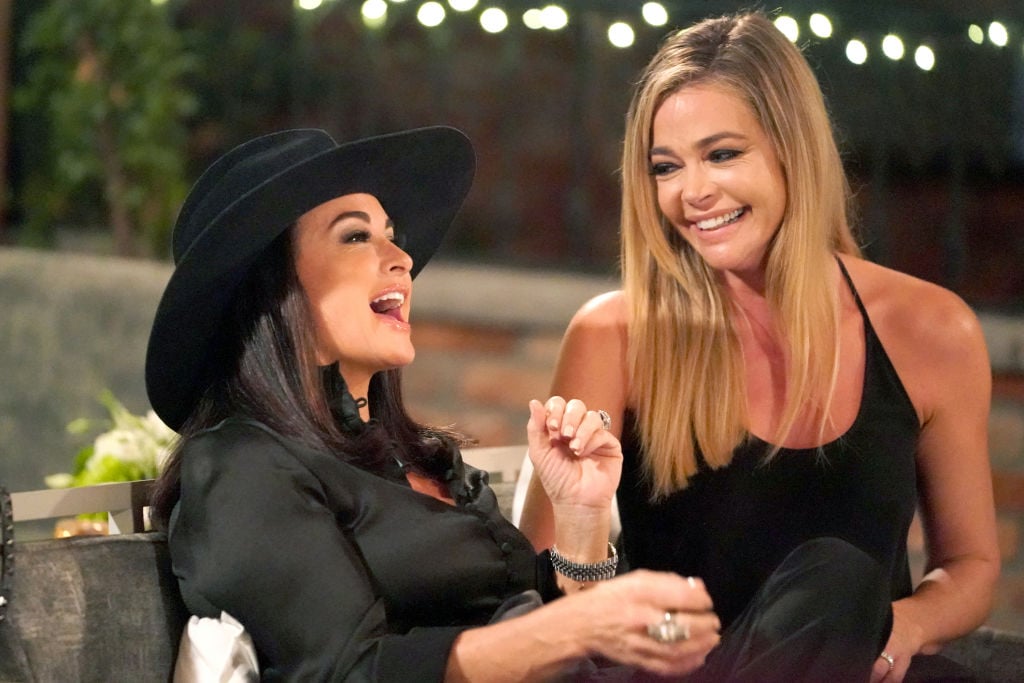 It's not unusual for the Bravo stars to talk about their co-stars with their family members. However, Kyle Richards wasn't buying Denise Richards' scene with her daughter, Sami Sheen talking about them on Real Housewives of Beverly Hills.
"This feels like a set up to me… Clearly Denise had this conversation with her daughter prior to this and decided to have this conversation on camera," Kyle Richards tweeted during the episode "Let The Mouse Go!"
Denise Richards denied this by tweeting, "No Kyle… it actually happened on camera twice. Ask our producers."
2. Kelly Dodd
RELATED: 'RHONY': Sonja Morgan Calls out 'Housewives' That Flee Filming Like Lisa Vanderpump, Denise Richards
Kelly Dodd of the Real Housewives of Orange County previously accused Tamra Judge and Vicki Gunvalson of being "stale" in an interview. This was after Gunvalson was demoted and Dodd suggested Judge will also probably have the same fate.
Gunvalson responded to this on Instagram. "I used to feel sorry for her, now I don't. She is an angry, volatile person," she wrote according to Reality Blurb.
Her comment continued, "Regarding her stating we are stale and don't have story lines…. Listen up girl! Our lives are always evolving and changing. We don't have 'storylines.' It's a 'reality show' … our reality!! Not fake stories like you."
3. Kenya Moore
RELATED: 'RHOA': Nene Leakes Claps Back at Haters Saying Her 'Reads' Are Scripted
Kenya Moore previously dated Matt Jordan, but that relationship ended. He claimed him destroying her home was staged. Jordan went on to accuse the Real Housewives of Atlanta star of faking things for the show.
"It was a real relationship to me, but I felt like it was strictly for the purpose of a storyline," he told Radar Online. Jordan also accused her of manipulating him.
"If producers said, 'We want to do a scene of you and Matt,' she would kiss me and be like, 'Baby I love you,'" he claimed. "If they said, 'We want arguing,' we are going to argue even if we're on good terms."
He claimed that she would plan relationship issues for them. "She would book our rooms in separate hotels to make it seem like we really weren't together," Jordan said. "We would have a few good days and then something would happen. She's good at keeping me in dark."
Moore was granted a restraining order against him. She then got married to Marc Daly.
4. Lisa Vanderpump
Lisa Vanderpump was accused of leaking stories about her RHOBH co-stars. She decided to clear her name by doing a lie detector test.
Fans and her co-stars couldn't believe it. One fan tweeted, "That looked super set up and John Sessa there? So weird." Kyle Richards responded with, "I mean I don't think the FBI was behind this."
Erika Jayne was also asked what her thoughts are on the scene on Watch What Happens Live with Andy Cohen. She said the lie detector test was "not the way to do it… Who does that?"
Fans may never know how much of the show is real and if any of it is stage. But these four stars were accused of staging things at one point to clear their name or cause drama.