The Real Meaning Behind 'NCIS: New Orleans' Star Shalita Grant's Tattoo
It's been a while since Shalita Grant graced the NCIS: New Orleans set. Her character, ATF Agent Sonja Percy, was a force to be recocked with. It's no coincidence Grant has the same ferocity in real life. Fans may have noticed a large tattoo on Grant's chest in some of her Instagram photos. It turns out, the ink has a pretty significant meaning.
Social justice is important to Shalita Grant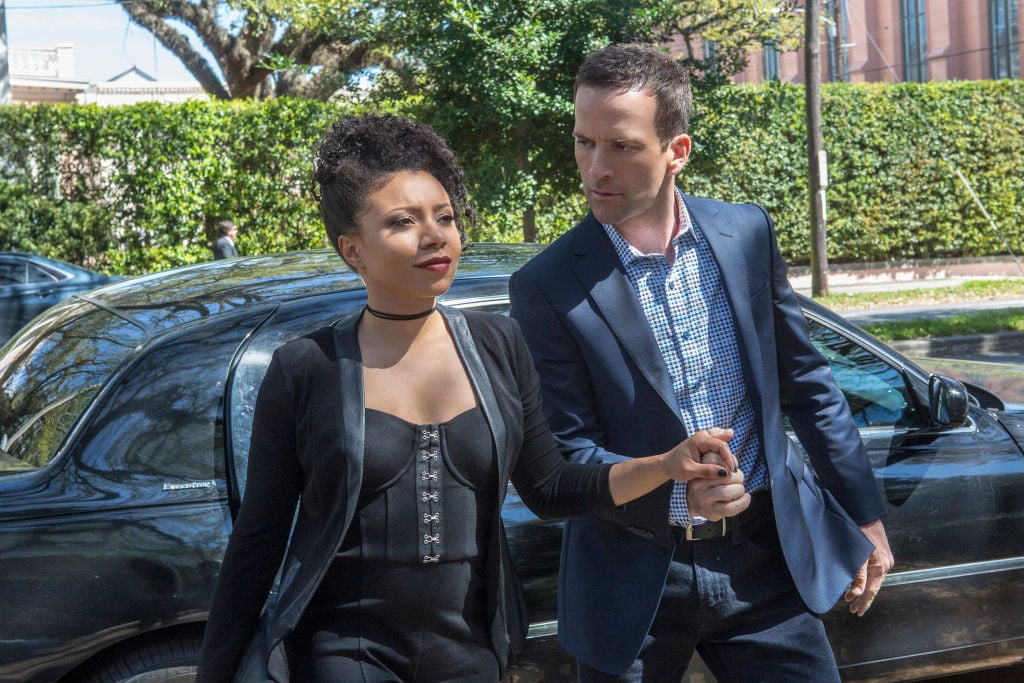 Shalita Grant may not be a household name, but the star has a lot to say. During her time on NCIS: New Orleans, Grant played a tough ATF Agent who joined Dwayne Pride's (Scott Bakula) team in 2015.
Percy's spunk, determination to get the job done, and undercover resume spoke volumes. Those traits are likely why Grant is just as successful today.
One of the many things that sets Grant apart from other Tony-nominated, Julliard-educated actresses is her advocation for social justice. Once off the NCIS: New Orleans set, Grant spoke out about feeling ostracized at times due to her Type 4 hair.
Grant claims on her Four Naturals website she'd had a "traumatizing job experience," in which she spent three years "on a show that decimated my natural hair and my self-image."
That aside, in other interviews, the NOLA star has opened up about feeling out of place in New Orleans at times, such as during debates over removing monuments and fighting for equality in general.
One interview with Lenny Letter revealed Grant's small stature wasn't small enough, alluding to the age-old Hollywood standard Grant felt she couldn't meet. Still, she kept going.
What is Grant's tattoo and what does it mean?
The Santa Clarita Diet actress often posts pictures to her Instagram and Twitter pages that reveal the tattoo across the middle of her chest. The ink looks to be two swords intersecting with a bumblebee hovering above.
Grant told Lenny Letter that the art is a play on the phrase "honey-dipped machete." It's something she learned from a baba while working in New Orleans.
"You don't have to fight rough, you can fight sweet," she said about the meaning of her first tattoo. "You don't have to let the fight callous you."
She added that the image is more than a tattoo; it's a reminder that she's one cog in the machine, "fighting for racial and gender equality."
"I believe in the good of people, which is why I talk about social justice so much," she said. "It's like a little reminder to me that in this moment, I am OK, I am fine, and I can keep fighting but not wear the battles."
Social justice is one aspect of the former NCIS: New Orleans star. She's even chosen projects based on characters with those struggles — such as the PBS series, Mercy Street.
Grant's perseverance shows on and off-screen
It's been said before, but Grant's road to fame wasn't short or easy. After a risky move to Los Angeles from New York, Grant had 59 failed auditions while working side jobs to stay afloat.
NCIS: New Orleans wasn't even supposed to be the big break. Originally, Agent Percy's role was meant for a three to five-episode arc. Lucky for fans, that turned into a recurring, series regular part.
"I realized that you can fight for something, fight for something, fight for something, but to what end? What's the next mountain?" Grant said about persevering through rejection and doubt while doing theater work in New York.
"So I was like, "I'm going to LA. I quit this town. I'm going to go to another town, and I'm going to start a new fight'. And when I got out there, it was sort of like, Tony who? Julie what? Can you do regular acting, or is it just the Broadway thing? I was like, Wow, OK, this might be harder than I thought it would be."
Hollywood didn't care that Grant was a Tony-nominated actress. She revealed some executives hinted she wasn't right for roles due to her size.
"I had in my mind what women do to get themselves [thin], and I said, 'I'm definitely not going to f*cking do that to myself'. I had too much love and respect for myself," she said.
She knew she had to play the game to get anywhere in the industry adding, "I know that I'm not bad; that I'm not the problem."
Grant went on to land more roles and she did it her way. It may not have started on the path she first thought, but now, she's using her voice more than ever. That tattoo is her daily reminder she can fight sweet and still win out in the end.
NCIS: New Orleans returns Sunday, Feb., 16 on CBS.