The Real Reason Prince Harry Didn't Marry Chelsy Davy
Prince Harry seems extremely happy with Meghan Markle. And although the two look like a match made in heaven, he actually dated someone else for an extremely long time: Chelsy Davy. However, Harry and Chelsy's relationship never turned into a marriage. And there's a reason for that.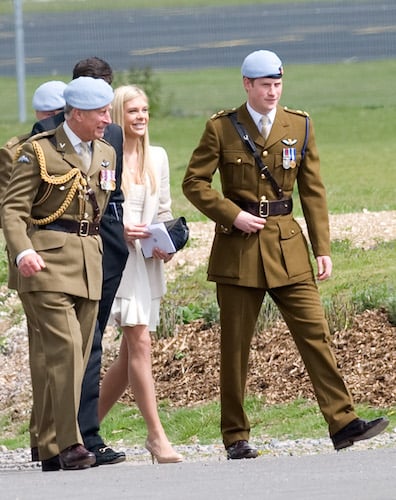 Harry and Chelsy first met back in 2004
Harry reportedly fell for Chelsy within a few days. The two first met back in 2004; at the time, Harry had just finished up studying at Eton College, a boarding school for boys aged 13-18. He had enrolled at a military academy in Sandhurst, but Chelsy completely swept him off his feet. Chelsy was the daughter of a Zimbabwean billionaire, and the two were nearly insperable once they began dating. Chelsy even spent time with Kate Middleton (before she was a duchess), since they were both dating the brothers. However, she and Harry had a very on and off relationship through the years.
The couple was linked as late as 2015
The couple broke up in 2009, but things weren't completely over between them. When Prince William and Kate Middleton were getting married, Harry wanted Chelsy to be his date to the wedding. He invited her to attend, and the romance was rekindled, but the two ended things once more just a few months later. Four years later, in 2015, Harry spent a month in Africa on a conservation trip and was once again linked to Chelsy, who is originally from Zimbabwe. But sparks never fully ignited between the two, and they never got back together. About a year after that, Harry was introduced to Meghan Markle.
Harry and Chelsy never married because Chelsy didn't want to be a part of the royal family
It's possible that Harry and Chelsy could have ended up together — had she wanted to become a part of his family. However, Chelsy broke up with Harry shortly after attending William and Kate's wedding. She has admitted that the publicity surrounding Will and Kate's new life together would have been too much for her. Plus, with so many royal rules and traditions to follow, Chelsy felt it wasn't a lifestyle where she'd truly be happy. Will and Kate's wedding was so over the top, especially in terms of the public and paparazzi, that it completely turned Chelsy off to a royal life. "It was so full-on: Crazy and scary and uncomfortable," Davy once said in an interview, according to Harper's Bazaar. "I found it very difficult when it was bad. I couldn't cope."
The two have remained on good terms, and Chelsy attended Harry's royal wedding last May
Although Harry may have married Chelsy had she been willing, it looks like things worked out for the best for each of them. The breakup was amicable, and they remained on good terms. When Harry wed Meghan in an extravagant ceremony last May, Chelsy was in attendance. Chelsy has since been linked with other men, but she remains unmarried. However, it appears she was certain that Harry wasn't "the one."
Check out The Cheat Sheet on Facebook!