Reba McEntire Called 'Does He Love You' Duet With Dolly Parton 'Like Confrontation on Valium'
When Reba McEntire and Dolly Parton recorded McEntire's hit duet "Does He Love You," they reimagined the relationship between the people singing so it differed from the original. Parton stepped into the role of the other woman to McEntire's main squeeze, and the result was "confrontation on Valium."
Read on to find out a major difference between McEntire's approach to her version of the song from the '90s and her rendition with Parton in 2021.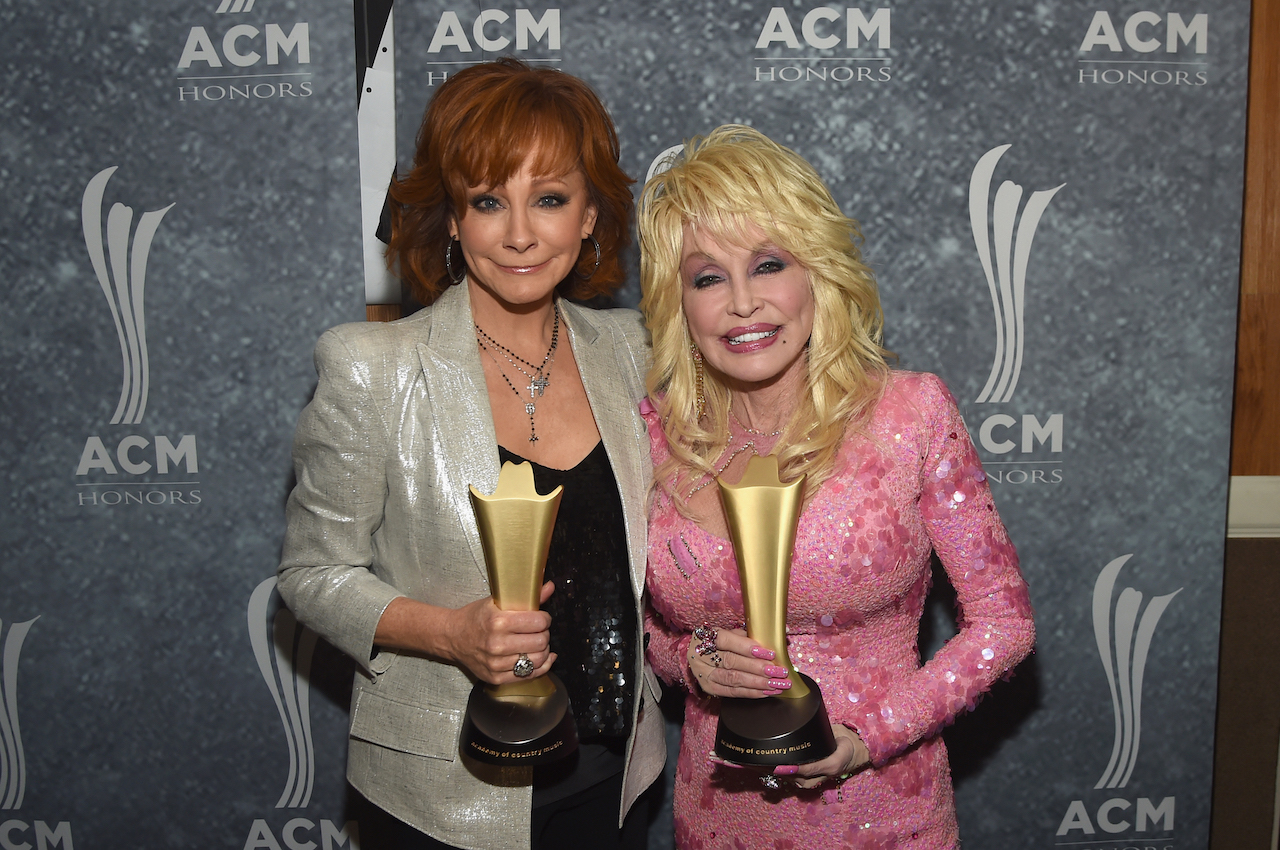 Reba McEntire said the original 'Does He Love You' duet was 'like catfight city'
When McEntire first recorded "Does He Love You" in the '90s, she had Linda Davis sing on the track with her. In approaching that version, McEntire said, "It was like catfight city." (Per Billboard.)
The explosive music video conveyed that message. The song versions of McEntire and Davis were not on friendly terms over their shared love for the same man when it was all said and done. But the singers were friends in real life.
McEntire revealed in her autobiography, Reba: My Story, that she knew the song would be great for Davis when she heard it. But Narvel Blackstock — her ex-husband and former manager — advised her that higher ups would want her to have a partner that was more established.
She shared there were originally talks to have a big name like Wynonna Judd sing on the track with her. But she said her people never heard back from Judd's people. So, talks eventually came back to Davis, who ultimately recorded the duet and music video with McEntire.
Reba McEntire said Dolly Parton duet for 'Does He Love You' was 'like confrontation on Valium'
When McEntire and Parton re-recorded the song for their duet in 2021, they approached it differently. The music video shows the two sitting down together and discussing their differences. There's no catfighting or exploding boats to be seen, as was the case with the '90s version.
McEntire said to Billboard, "The way that Dolly and I approached it, it's like confrontation on Valium. It's kind of like, 'I know you. You know me. We're adults.'"
She felt the 2021 version was far less combative and more mature. She further explained, "… It's like, 'I don't like him. Do you like him? You can have him.' So it was totally different. It was confrontation, but not hatred."
Reba McEntire thought the timing of her duet with Dolly Parton 'worked out perfectly'
McEntire told Billboard she spent years wishing she could sing a duet with Parton. "Every time I'd hear Dolly doing a duet with somebody else, I would get a little sad or a little jealous, like, 'I want to do a duet with Dolly,'" she explained.
So, she held hope that it would happen someday and had her people reach out when she felt the time was right. "Everything happens for a reason and timing is everything," she concluded. "So it worked out perfectly."
RELATED: How Reba McEntire Felt About Flying After Her Band's Plane Crashed