Reba McEntire 'Fascinated' Johnny Carson With 1 Unique Word on 'The Tonight Show'
When Reba McEntire met Johnny Carson for her first interview on The Tonight Show, the host was intrigued by how she spoke with an Oklahoma accent. It was her third time on the show but her first time joining Carson at his desk for a chat. And he was so "fascinated" by how she pronounced one word that he had to return to it before moving on. Keep reading to learn what word McEntire used that transfixed the television legend.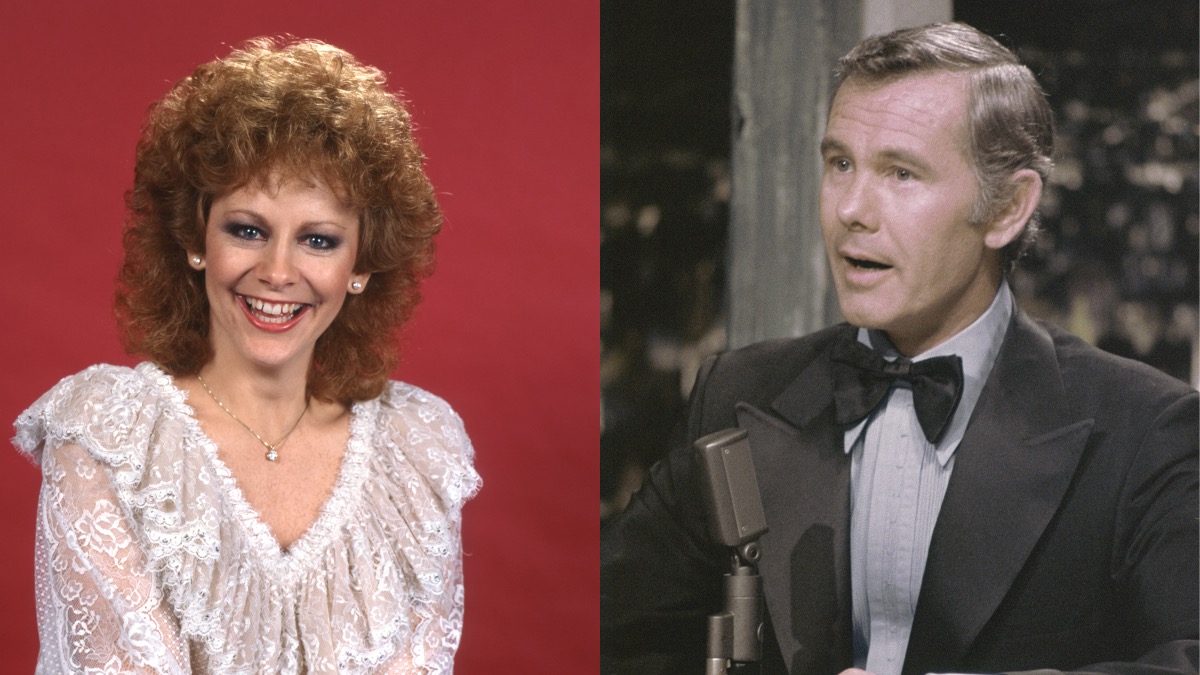 Reba McEntire appeared on 'The Tonight Show' twice before her first interview with Johnny Carson
In Reba: My Story, McEntire's autobiography, she wrote about meeting Carson for the first time in the early '80s. She appeared as a musical guest twice before she was ever interviewed. And she had high praises for Carson, whom she called "the late-night king himself and the host of the granddaddy of all the network television shows."
For her first appearance, she wore a dress given to her by Johnny Cash for a previous television special. That decision had two reasons. First, she thought it would be good luck to wear the dress again. She also couldn't afford to buy anything as nice so early in her career.
"Naturally, I was a bundle of nerves," she recalled, "but when I met Carson backstage before the show, he was very nice and gracious."
Johnny Carson was fascinated by the way Reba McEntire said 'barrel'
When McEntire did finally get the chance to sit down for her first interview with Carson, he questioned her about her background in rodeo as a barrel racer. But his curiosity about that subject didn't distract him from his interest in McEntire's strong accent.
"He seemed fascinated by the way I said 'barrel' and kept asking me to repeat it, impersonating me and making fun of how I said 'barrel,'" she shared in her autobiography. But she didn't hold the "making fun" against him when she looked back. She pointed out he was from Nebraska and "that's about as rural as Oklahoma."
"I guess he lost his Nebraskan accent a long time ago," she said. She added that "in hindsight," she recognized he "meant no harm [and] he was just trying to break the ice."
Reba McEntire has been on 'The Tonight Show' with 4 hosts
Since McEntire's career has spanned more than four decades, she's been interviewed by every host of The Tonight Show since Carson, including Conan O'Brien.
She shared with fans on Facebook in 2015, "1981 was the first time I was on The Tonight Show with Johnny Carson. Last Wednesday night I got to be on The Tonight Show Starring Jimmy Fallon. Jimmy, thanks for the super hospitality!"
And the late-night hour is an excellent time for McEntire to show how funny she is, like when she joined Fallon in a close-up serenade for one lucky fan. She said it was her first time giving such a performance, but she handled it like the professional entertainer she is.