Reba McEntire Hardly Quit Working for a Wedding With Narvel Blackstock
When Reba McEntire married her ex-husband Narvel Blackstock in 1989, she packed the big day into an already crammed schedule and hardly stopped long enough for a wedding.
When Reba McEntire planned a wedding with her second husband, Narvel Blackstock, she crammed the momentous event into a busy schedule. And she ended up performing more than once on her big day. Keep reading to learn a little about her wedding-day plan, how she told the world she was married again, and where they went on their postponed honeymoon.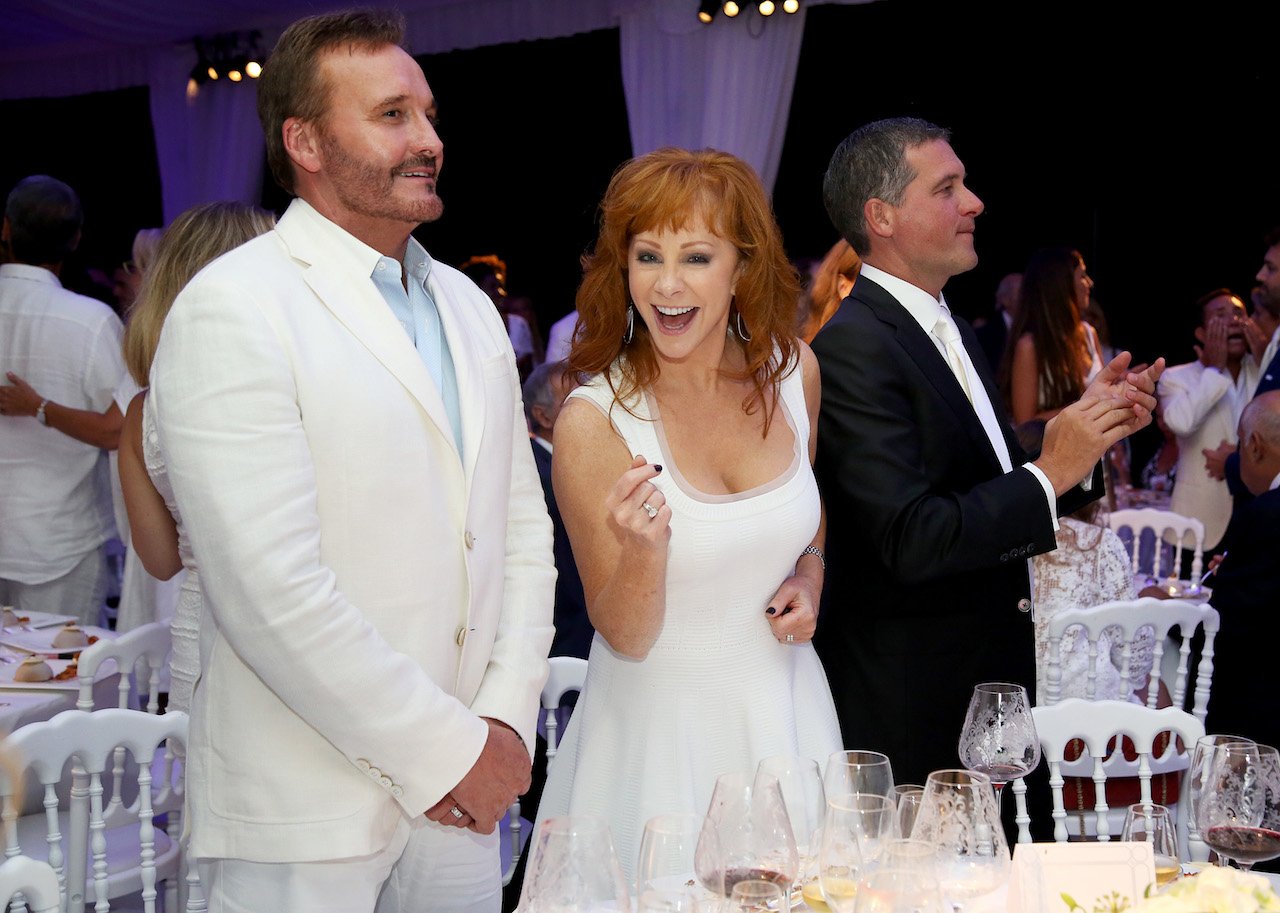 Reba McEntire almost didn't have a wedding with Narvel Blackstock
McEntire shared the details of falling in love with Blackstock in her autobiography, Reba: My Story, and said their love story had a slow start. They were married to other people when they met in 1980 when he joined her band.
Blackstock was a teenage husband and father. McEntire, on the other hand, married in her very early twenties to a man 10 years her senior. He had two children and she said she didn't have any desire to have kids of her own in that marriage.
Eventually, McEntire left her first husband, Charlie Battles, and Blackstock's divorce soon came. According to her, the choice was one she made for herself, not Blackstock. And he said his marriage also grew increasingly unhappy and confrontational, and that had nothing to do with her.
Though there were sparks between the soon-to-be couple, they didn't think they meant anything at first. But after about nine months of being divorced, the friends decided to give romance a try.
They didn't think they'd get married again at that point. But McEntire found herself wanting a life and family with Blackstock in ways she hadn't with Battles. And in 1989, while she was filming Tremors and touring on the weekends, he asked if she would marry him in Lake Tahoe.
McEntire agreed without canceling any of her other obligations. So, the "Ring on Her Finger, Time on Her Hands" singer had a ring on her finger, an impromptu wedding date, and no time on her hands.
Reba McEntire played two shows right after her wedding with Narvel Blackstock
McEntire's mother flew out to be with her on the Tremors movie set in California and they left for Lake Tahoe together. She performed a show in Reno, Nevada, then traveled the rest of the way and had a wedding the following afternoon.
They married on June 3, and after a wedding toast, McEntire performed her first show that day. Then, they had a reception and she performed another show. After that, she and Blackstock sent their families on a bus back to Reno to fly home.
Following their wedding, the newlyweds returned to Nashville for a televised awards show. McEntire won "Female Vocalist of the Year" and sat for a press conference after the show. "… I held up my wedding ring," the country music icon wrote in Reba: My Story. "That was my first official announcement that Narvel and I had gotten married."
Reba McEntire postponed her honeymoon after her wedding with Narvel Blackstock
Once they were married, McEntire had to return to filming Tremors, so their honeymoon was postponed. But eventually, they took off for Cancun, Mexico. And once they were back home in Nashville, she learned that her illness on the trip was from pregnancy. Their son, Shelby Blackstock, was born in 1990.
But after 26 years of marriage, McEntire and Blackstock split. She's been in a relationship with actor Rex Linn since 2020.