Reba McEntire: Tammy Wynette Set the Standard for Country Songs About Heartbreak
Reba McEntire and Tammy Wynette are both icons of country music. They solidified their places as women in a "boy's club" while singing about heartache from their perspective.  
And according to McEntire, Wynette set the standard for singing about breakups and sadness. So, she paid tribute to one of her "heroes" through a song called "Tammy Wynette Kind of Pain."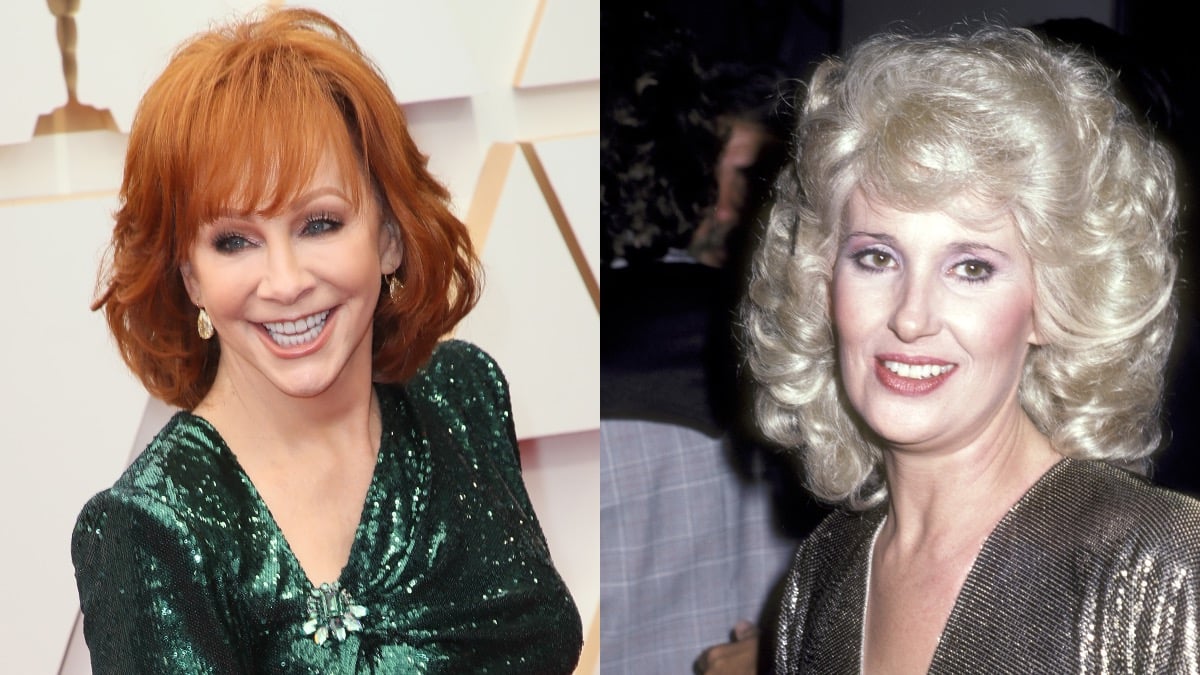 How many times did Tammy Wynette get married and divorced?
Wynette married the first time when she was 18, but the union didn't last. She left her first husband when she was pregnant with their third child.
Soon, she married again. And she later found out it was too soon and that marriage wasn't valid. But that was good news for her since she wanted a divorce. She moved on with her third husband, country music icon George Jones.
Wynette and Jones became a country fan-favorite couple. But their marriage didn't last, and they were divorced in 1975. After a period during which she was linked romantically to Jones and Burt Reynolds, she briefly married her fourth husband. 
After that divorce, she married her fifth and last husband, George Richey, in 1978. But her daughters claimed the union wasn't always blissful and was sometimes violent. According to them, Wynette concocted a kidnapping story in 1978 to excuse severe bruising on her face that was truthfully a result of his violence.
Throughout Wynette's career, the themes in her music often mirrored the comings and goings in her personal life. But she and Richey made their union last until she died at 55 in 1998.
What does Reba McEntire think a 'Tammy Wynette Kind of Pain' is?
In McEntire's 2019 ballad "Tammy Wynette Kind of Pain," she mentioned some of Wynette's songs and how she created a threshold for singing about emotional pain. In her own life, she came to find the words "I'm hurting" to be somewhat synonymous with Wynette's name and songs.
"Your mind goes to all the Tammy Wynette songs that she recorded and had out. All the monster hits that she had," McEntire explained in a behind-the-scenes video available on YouTube. She shared, "That's an adjective for pain — a Tammy Wynette kind of pain."
McEntire then shared she thought Wynette was precious and counted her among her "heroes," along with Dolly Parton and Loretta Lynn.
Has Reba McEntire divorced more times than Tammy Wynette?
Though not written by McEntire, the song is about divorce, something she went through herself. But that was an arena Wynette was more experienced in, as the "Fancy" singer has only married twice.
She left her first husband, Charlie Battles, after over a decade. She then married her second husband and manager, Narvel Blackstock. But he requested a divorce in 2015 after 26 years of marriage.  
So, some fans raised a suspicious eyebrow in Blackstock's direction when McEntire sang, "Standing by your man/That's a broken plan/When he breaks your heart/And all your trust/With his two cheating hands. So it's D-I-V, O-R-C-E/And you don't want him to see you crying/So you're crying in the rain/And this is Tammy Wynette/We're talking Tammy Wynette/Kind of pain."
In better news, McEntire has been smitten with boyfriend Rex Lin since 2020.
RELATED: Reba McEntire and Narvel Blackstock 'Struggled' and Argued Through 1 Important Process