Reba McEntire Told Miranda Lambert to 'Have a Drink' for Her to Celebrate a 'Long Overdue' Win
Reba McEntire and Miranda Lambert shared a sweet Twitter exchange during which McEntire requested Lambert "have a drink" to celebrate a shared success for her.
Country legend Reba McEntire gave a shout-out to Miranda Lambert and her collaborator Elle King to celebrate the success of their duet, "Drunk (And I Don't Wanna Go Home)." And while having a hit song is arguably enough to be happy about, this one had a special connection to McEntire that inspired her to ask Lambert to "have a drink" for her.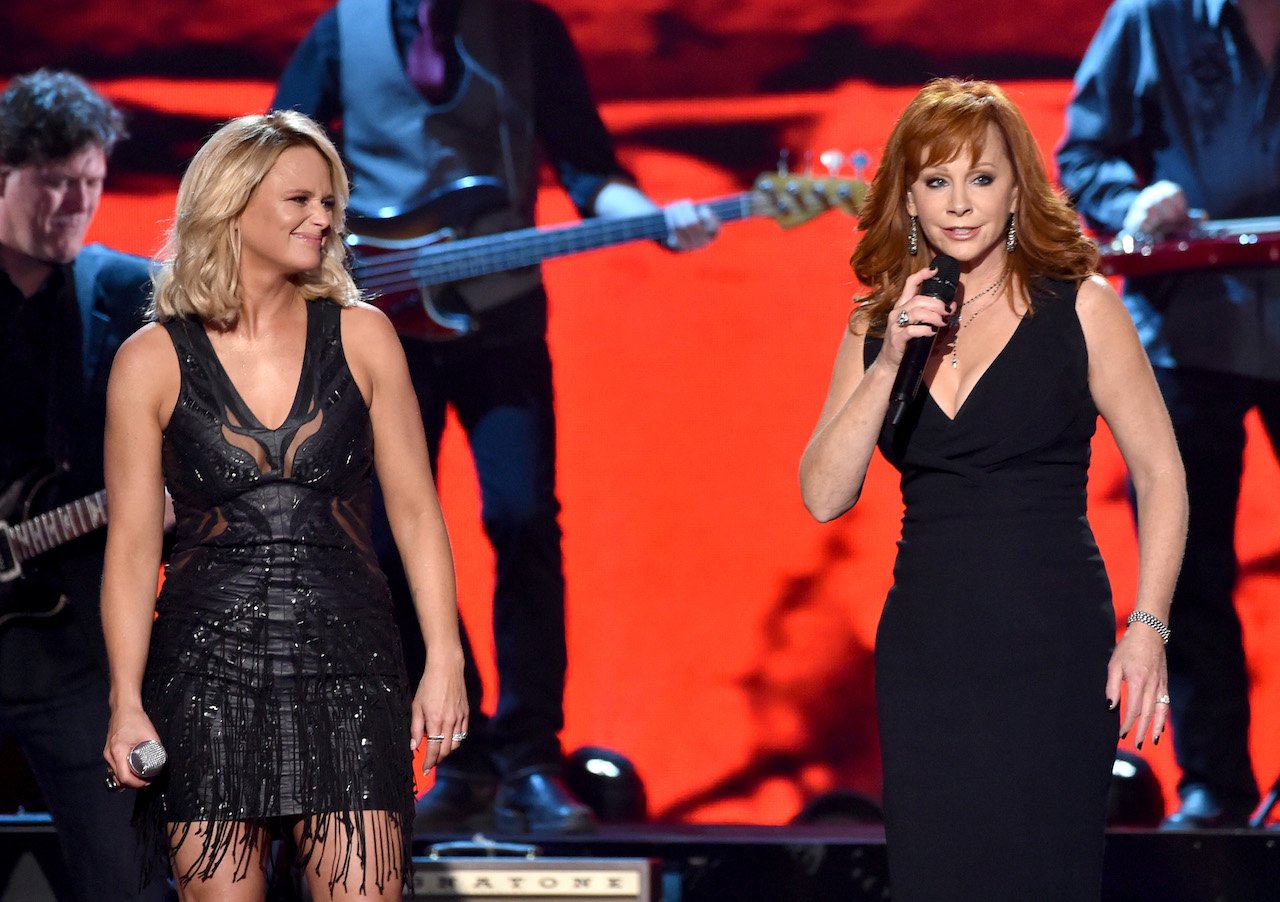 Elle King and Miranda Lambert's 'Drunk (And I Don't Want to Go Home)' was the number 1 song in country music
Lambert took to Twitter to announce the success of her song with King. "Drunk is number 1!!" she wrote. "[Elle King] is one of my favorite artists and one of my favorite people to be around."
She gushed she's "proud" of King as a friend and "so glad" she asked her to work on the song. "Elle I love you [and] your spirit," the country superstar stepmom declared.
King has also opened up about her "wild friendship" with Lambert. "Miranda is someone I have looked up to as a songwriter, musician, performer, and human being for a long time," she said per Rolling Stone.
"So our tumbleweed snowball story of getting to know each other is the ultimate real deal kinda thing," she added. "Nobody revs me up, kicks my a** on stage, or treats me more like family than Miranda Lambert."
Of course, it's always great to see two good friends succeeding. But Lambert pointed out something about this specific success she thought was "crazy," and it's related to McEntire's career.
Linda Davis and Reba McEntire's 'Does He Love You' was the last number 1 all-female duet in country music
Lambert tagged McEntire in her second tweet and pointed out her iconic duet with Linda Davis, "Does He Love You," was number one in 1993. Notably, she wore her famous red dress to perform the song at the CMA Awards that same year.
But most importantly, that was the last time a duet featuring two women was at the top in country music, which Lambert added is "crazy to her."
"So the fact that we got here today means even more because it's bigger than us," she explained. "Thanks [Reba McEntire and Linda Davis] for paving the way. Now let's get drunk and not wanna go home!"
Later, McEntire responded with a tweet of her own, congratulating Lambert and King on the "long overdue" accomplishment. "Have a drink for me!" she insisted.
Reba McEntire wanted Wynonna Judd to sing with her on 'Does He Love You'
A little-known fact about "Does He Love You" McEntire shared in her autobiography, Reba: My Story, is Davis wasn't supposed to sing on the song initially.
McEntire and her producer originally hoped Wynonna Judd would sing it with her. But they heard Judd wasn't keen on singing about marital problems.
So, McEntire reached out to Judd's people but she never heard back. So, she recorded the duet with Davis instead, and the rest is country music history.