'Red Table Talk': Jada Pinkett Smith Compares Willow Smith To Olivia Jade While Opening up About Celebrity Kids Who Suffer in Silence
On Dec. 8, Olivia Jade Giannulli joined Jada Pinkett Smith, Willow Smith, and Gammy (whose real name is Adrienne Banfield-Norris) on Facebook Watch's Red Table Talk to discuss the college admissions scandal for the very first time.
While the social media influencer was remorseful and self-aware during the discussion, Gammy wasn't sold on her narrative and didn't think she deserved the support of three Black women.
Though Gammy was not open to hearing what Giannulli had to say, Pinkett Smith definitely was as she reminded her mother that all celebrity children suffering in silence deserve the chance to be heard and accepted, regardless of their advantages in life.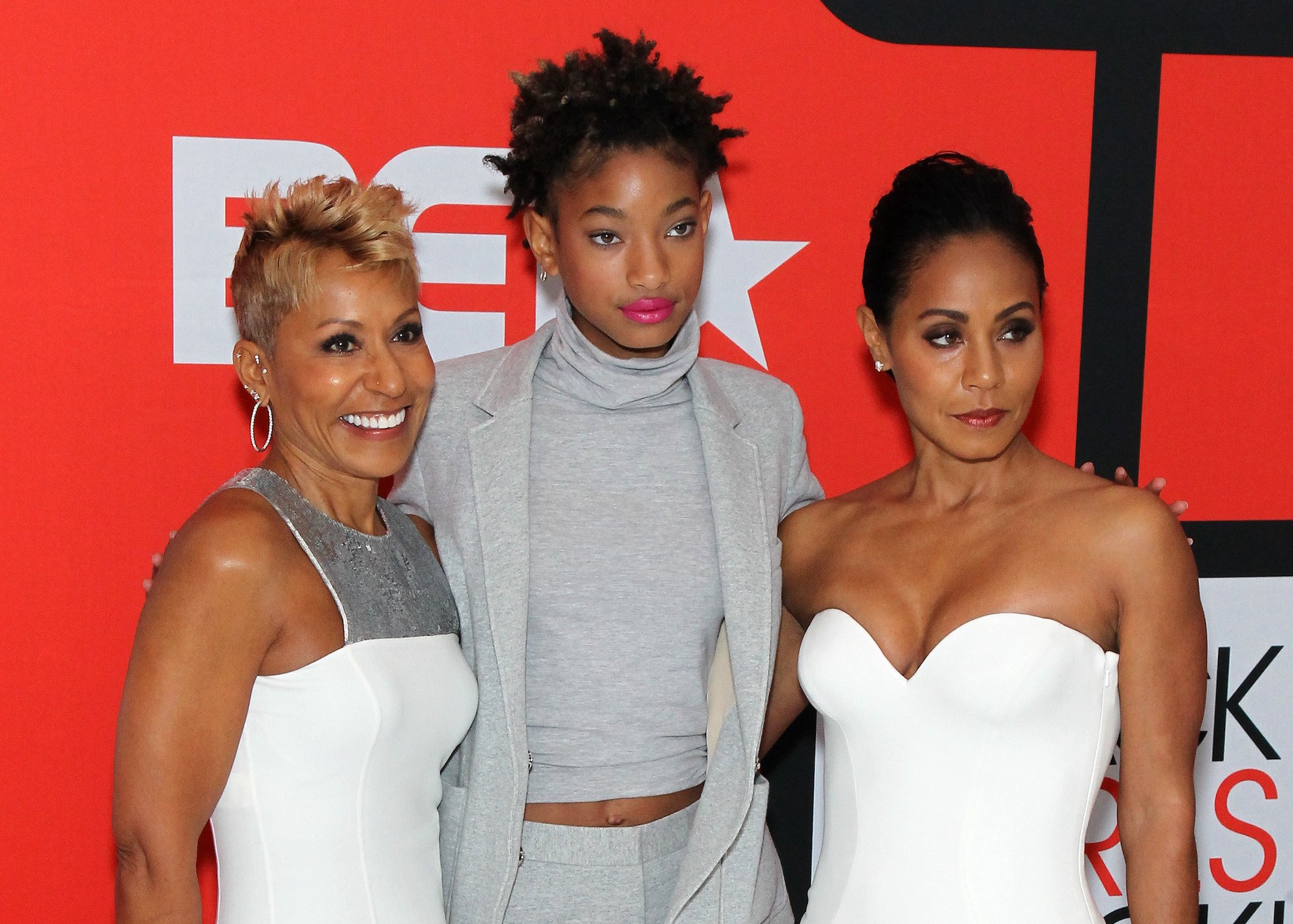 Adrienne Banfield-Jones was against Olivia Jade appearing on 'Red Table Talk'
Jade Pinkett Smith and Willow Smith may have been a little understanding toward Giannulli's situation, but not Gammy.
During the latest episode of Red Table Talk, the disgraced social media influencer — who previously made international headlines after her parents, Lori Loughlin and Mossimo Giannulli, conspired to get her accepted into USC by emphasizing her non-existent ability to row crew — was pressed by Pinkett Smith's mother as she addressed the infamous controversy.
While Jada and Willow were open to hearing what Giannulli had to say, Gammy, on the other hand, didn't think the makeup guru deserved to redeem her narrative on the show.
"You know, I fought it tooth and nail," Gammy said of Olivia Jade's appearance. "I just found it really ironic that she chose three Black women to reach out to for her redemption story. I feel like here we are, [a] white woman coming to Black women for support when we don't get the same from them. It's just, it's bothersome to me on so many levels. Her being here is the epitome of white privilege to me."
Gammy went on to say that Giannulli would have healed without their help, noting that her situation is not that bad.
"It's not our responsibility to raise her consciousness," Banfield-Norris said during the episode. "At the end of the day you're gonna be OK because your parents are gonna go in, and they're gonna do their 60 days, and they're gonna pay their fine, and you guys will go on and you'll be OK and you will live your life … and there's so many of us that it is not going to be that situation. It just makes it very difficult right now for me to care. In this atmosphere that we are in right now."
Jada Pinkett Smith compared Olivia Jade's struggles to those of Willow Smith's
After Gammy shared how she felt about Olivia Jade's presence on the show, Pinkett Smith countered by explaining how relatable Giannulli's situation actually is.
Though the actor understood where her mother was coming from, she didn't want to be what white women have always been to her toward Gianulli: uncompassionate.
"I understand where you're coming from, but let me just be clear, I never want to be the thing that was done to me by white women. I never want to be that," Pinkett Smith explained. "I also believe that these are the kind of attitudes that feed the same thing that we're fighting. It's like, people look at us, they say you're Black and you're female and they automatically put us in a category. So looking at her as being white, young, and privileged, and then putting her in a category. It's the same thing. So I just see it as this cycle." 
Pinkett Smith also reminded Gammy that just because Olivia Jade has privilege, it doesn't exempt her from experiencing struggles in life.
"Maybe. Maybe not. That's not something we could say," she continued. "It's like this, just because you have privilege, it doesn't exempt you."
The actor even made a connection between Gianulli and Willow, who has also had to suffer silence due to the stereotypes society has placed on the children of celebrities.
"The fact that Willow, for so long, suffered in silence and even turned to self-harming herself because she didn't feel like she had a right to be hurt," Pinkett Smith said. "I've had to deal with that part as well. People go, 'Your kids are gon' be fine 'cause they rich. We don't care.' And that's painful. And it's not true. I feel like Olivia deserves a space."
Still, Gammy wasn't moved by Olivia Jade's narrative
While we could understand Pinkett Smith's point about people believing privilege exempts individuals from struggle, Gammy still wasn't buying it and later interrogated Olivia Jade over her ignorance and advantages in life.
"I'm exhausted with everything that we have to deal with as a [Black] community, and I just don't have the energy to put into the fact that you lost your endorsements," she told Giannulli.
To her credit, Olivia Jade seemed to agree and repeatedly said during the discussion that she wasn't there to receive pity. Instead, she appeared at the Red Table to listen and learn, which the Smiths helped her do.
Going into the discussion, Olivia Jade wasn't aware of her privilege. But by the end of the episode, she had become conscious that social inequalities exist in the world, which is precisely what Pinkett Smith, Willow, and Gammy wanted her to take away from their conversation.