Ree Drummond Fans Shocked by How Grown Up 'The Pioneer Woman' Star's Youngest Son Todd Is Now
'The Pioneer Woman' star Ree Drummond's fans can't get over how grown up her son Todd is now. And he's so tall, too!
Todd Drummond is all grown up! The Pioneer Woman star Ree Drummond shared a Todd appreciation post on Instagram and her fans couldn't believe how old (and tall!) he is now after watching him as a kid on her Food Network show.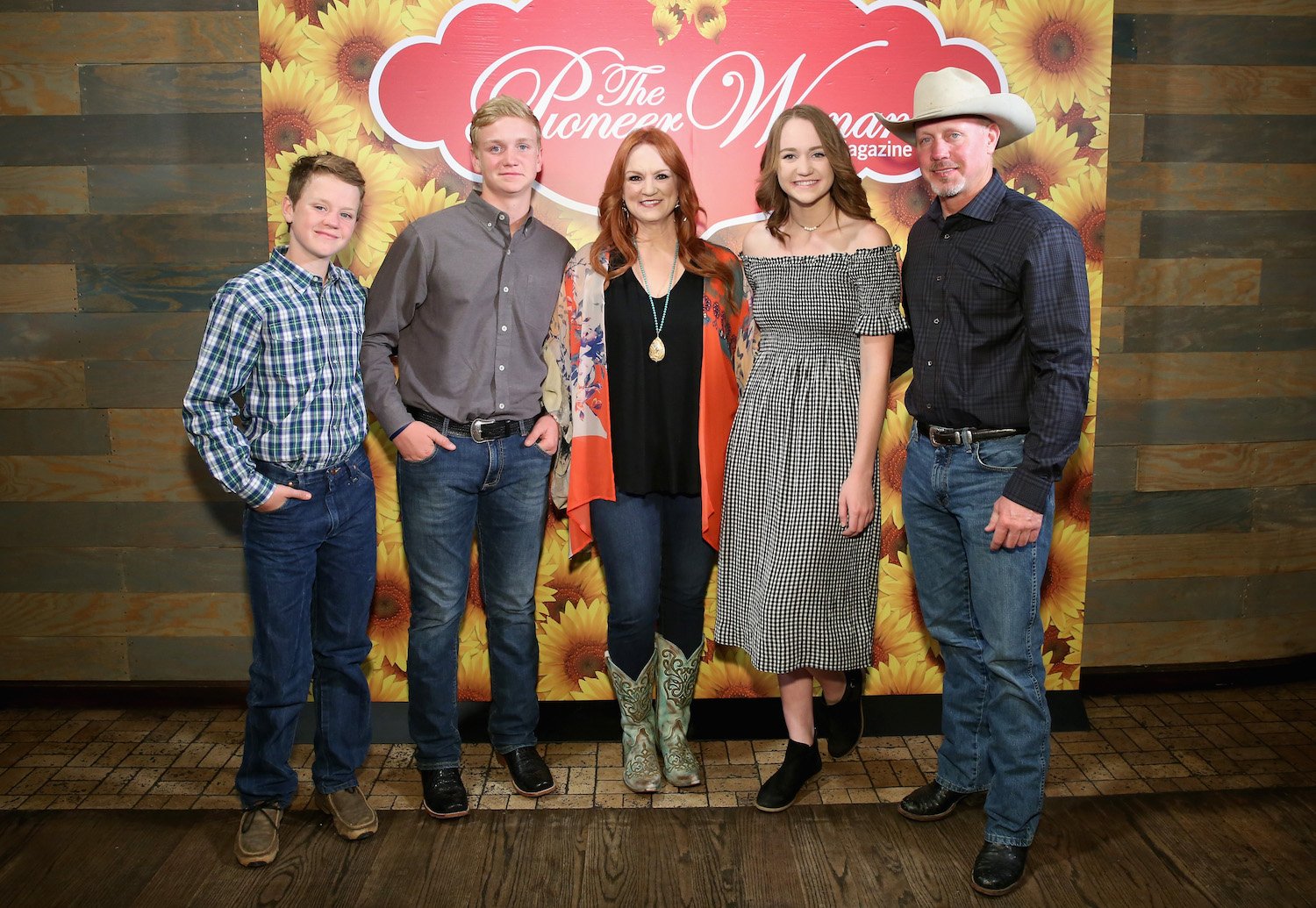 Ree Drummond posted a photo of her and Todd
On Dec. 13, Drummond posted a photo on Instagram of her and Todd smiling and she had some sweet words to say about her youngest child.
"Todd! My youngest kid, my favorite high school quarterback, and basically one of my favorite people on earth," Drummond wrote in the caption. "He's a gift! He's very tall. He likes funny t-shirts, I get him three or four every Christmas. He's got a cannon for an arm [football emoji]."
The Pioneer Woman star continued, "He's a lifelong Marvel fan. And he likes downtime … finally, a child who's aligned with my extroverted introversion. Anyway, this post was stream-of-consciousness; just wanted to share a few things about this dude."
Ree Drummond's fans were shocked to see Todd all grown up
Drummond's fans who have watched The Pioneer Woman cooking show all these years have witnessed Todd growing up on TV. Many people were surprised by how fast time has gone and how mature and tall he is now.
"I can't believe how big and grown he is!" one fan wrote in the comments. "I still remember watching your older cooking show episodes and how little he was! Don't blink! That's what they say!"
Another fan chimed in, "I remember when your show first started and how little Todd was and wow, he's all grown up.
Others took it all the way back to the show's first season. "I remember when your first season came on and he was so young!" one of her followers commented. "You and Ladd have done such a wonderful job, Ree. I'm so excited to see what else your five beautiful children accomplish!"
One fan noted the old "time flies" saying. "Gosh, I remember watching your show when your kids were way younger and now they are all grown up. Time sure does fly."
Of course, it was evident that Todd now towers over his famous mom and fans were floored that he's so tall.
Fans left comments such as, "Did he grow overnight??? I don't remember him being so tall!," "Can't believe how tall he is now. Wow!," and "Oh my word — he is an entire head taller than you, Ree!"
When one fan pointed out, "Ree, he's sooo tall!!" she responded, "I know!"
Other followers remembered how Todd loved his mom's cooking on the show
Many of Drummond's fans took a little trip down memory lane and recalled how Todd always praised his mom's cooking.
"So handsome. I remember little Todd always saying 'This is the best whatever food I've ever eaten,'" one fan recalled.
Another one of Drummond's followers pointed out, "You forgot his famous saying. He always said 'This is the best thing I ever ate.' Such a cutie he was."
One fan also remembered Todd's kindness for his mom's food. "I think of him as the sweetest little boy that said everything you made was his favorite!" they commented.
Drummond responded, "Only he will ever know whether he truly meant it or not. Either way, it was part of his little boy charm."