Reese Witherspoon and Ryan Phillippe's Advice on Marriage, Divorce, and Co-Parenting
Reese Witherspoon's fame and stardom seems like it's only just beginning thanks to her media company Hello Sunshine and its hit shows like Big Little Lies and The Morning Show. When she was getting her start in the 1990s, she was part of a pack of young actors, many of whom didn't quite make the transition from teen films to lasting stardom. One of these actors was her then-husband Ryan Phillippe, and the two were a media sensation. Now they live very different lives, but managed to successfully co-parent their two children together.
Reese Witherspoon met Ryan Phillippe on her 21st birthday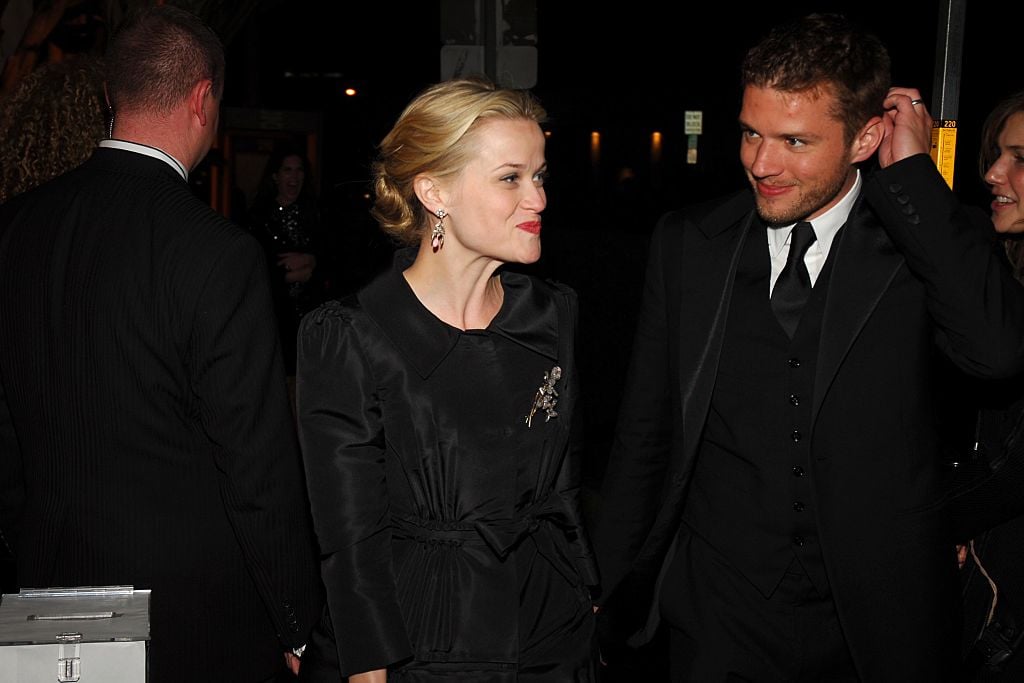 Contrary to the popular narrative that the couple fell in love during the filming of Cruel Intentions, they met long before she'd committed to the film. Phillippe was among the people that convinced her to do the film in the first place.
When it came to their courtship, Witherspoon was reportedly the first to approach Phillippe. After a few too many drinks at her 21st birthday party she admitted she told him, "I think you're my birthday present."
The couple were engaged a year later and married in 1999 in Charleston, South Carolina a few months after the film's release. Three months after that their first child, Ava, was born. They had their second child, Deacon Phillippe, in 2003.
Reese Witherspoon and Ryan Phillippe divorced in 2007
Witherspoon and Phillippe divorced only a few years after Deacon's birth. The reason for the split? They gave the classic celebrity divorce line: "irreconcilable differences." Many assumed that wasn't the full story, and there were unconfirmed rumors of an affair between Phillippe and actress Abbie Cornish, who he dated for several years just after the split.
In Phillippe's 2015 Larry King interview, when asked about the divorce and if it was caused by the pressures of Hollywood, Phillippe replied: "I think more of the problem was age. When we got together we were so young."
One of Witherspoon's interviews echoed a similar sentiment on age: "I got married when I was 23 and I had two kids by the time I was 27. So I don't know, you know, sometimes it's good to know yourself." She added that she wouldn't change a thing.
How have Reese Witherspoon and Ryan Phillippe made it work with the kids?
For a time, it seemed like Witherspoon and Phillippe were doing a great job of openly staying amicable and co-parenting their two kids together. They reportedly shared holidays and had a system that worked for them.
In 2011 Witherspoon married her second husband, Jim Toth, a Hollywood talent agent. The two later had a child of their own, Tennessee Toth, in 2012. Things seemed to be going well for all involved.
"I always tell my kids, 'You're so lucky cause it's not just your mom and dad who love you. You have grandparents that love you, a stepdad that loves you and it's always such a great opportunity to have as many people in your life nurturing you and carrying you and guiding you in this life,'" she said in 2011.
It appeared their arrangement maintained its strength years later, with Phillippe telling ABC News in 2014: "It's a feeling out process and I think we've gotten to a really great place. She's happy and remarried and our kids are incredible. I'm proud of the way we've handled it and who our little people are."
How is Reese Witherspoon and Ryan Phillippe's relationship today?
The couple hasn't spoken much publicly on their co-parenting in recent years. It's possible the reason is lack of interest due to Phillippe's fading star, or the fact that their kids are nearly grown now (Ava is 20 and Deacon is 16). However, it may be just as likely that it's due to Phillippe's assault accusation.
In 2018, he made headlines for a lawsuit involving his ex-girlfriend, Elsie Hewitt. She claimed he assaulted her to the degree that multiple injuries were caused. The LAPD "deferred the matter" and no criminal charges were pursued.
Witherspoon also made headlines in the case because she was set to be called as a witness for Hewitt's side. A settlement was reached in October of 2019, so the trial and Witherspoon's testimony never came to be.
Witherspoon is a big proponent of #MeToo and #TimesUp, but hasn't made any public statements about the allegations or lawsuit.