Regé-Jean Page Teases 'Bridgerton' Season 2 Cameo Reprising Duke Role
Bridgerton is a pop culture phenomenon. Fans love the historical drama/romance series, and they love the characters. Bridgerton has only run for one season, but season two will be coming soon.
One beloved character has already left the show, much to many fans' dismay, but it's possible that we haven't seen the last of him yet. Regé-Jean Page has dropped some hints about the fate of his character. 
Regé-Jean Page played the Duke of Hastings in season one of Bridgerton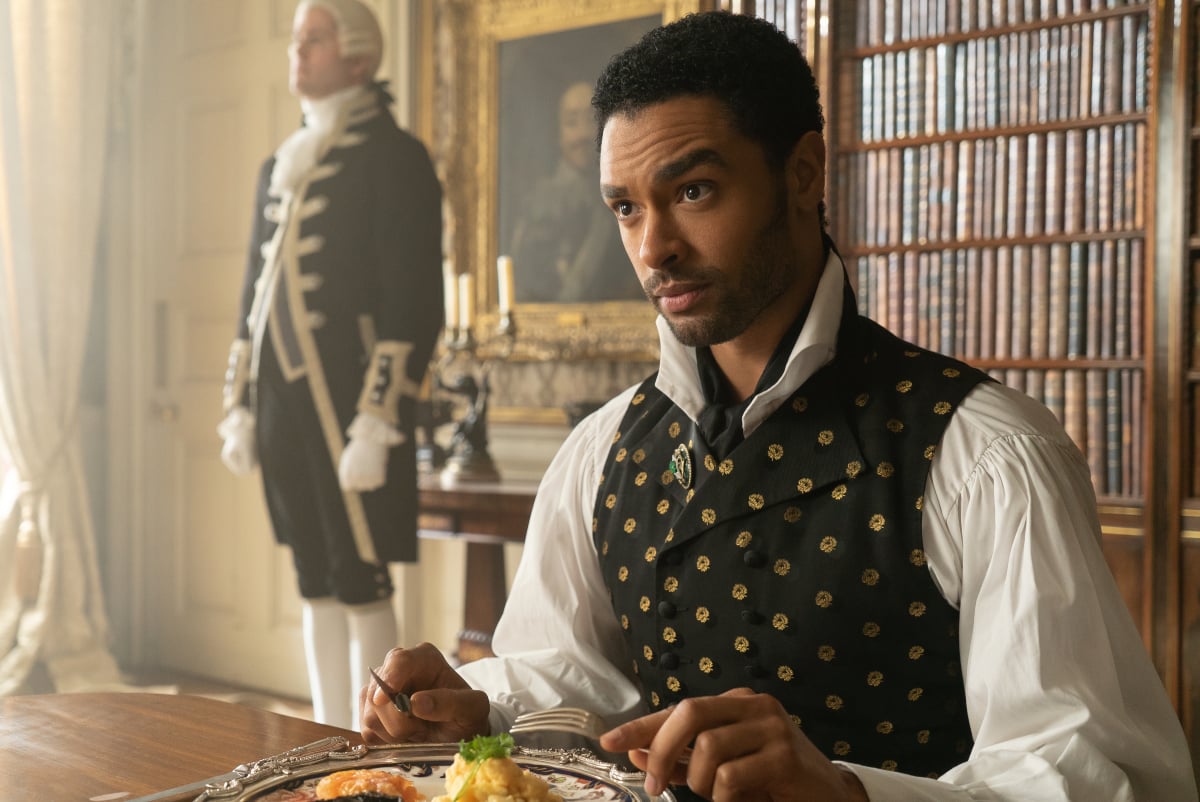 The Duke of Hastings was an integral character in season one of Bridgerton. Bridgerton focuses on the siblings of the Bridgerton family in Regency-era London. The Duke of Hastings is a big part of daughter Daphne Bridgerton's story.
The Duke of Hastings is determined to remain a bachelor and let his family's name die with him. Daphne, the oldest Bridgerton daughter, helps him do just that while he helps her find a suitable match for marriage. Eventually, the two fall in love and get married.
Page earned an Emmy nomination for his portrayal of the Duke of Hastings. Regé-Jean Page plays the part in such a way that fans were devastated to hear that he wouldn't be back for season two.
The Duke of Hastings will not be back for season two
When it was announced that Regé-Jean Page would not be back as the Duke of Hastings for the highly anticipated season two, fans felt as if they had been blindsided by the news. But showrunner Shonda Rhimes confirmed that Page had only ever been signed to a one-season deal. 
The official show Twitter sent a message on social media that read "we bid adieu to Regé-Jean Page, who so triumphantly played the Duke of Hastings. We'll miss Simon's presence onscreen, but he will always be a part of the Bridgerton family."
While many fans were blindsided, some remembered that in the second book that inspired the television series, the Duke of Hastings wasn't present. Still, though, even Rhimes was shocked by the amount of angst over Page's leaving;
"I was really shocked, because usually that happens when I've killed off somebody that's been around for a while. Like, we didn't kill [the Duke], he's still alive!" 
Will we see the Duke of Hastings again?
Here's where it gets interesting, though. Regé-Jean Page had a few things to say about his departure, and about his possible cameos in the future. According to TVLine, Page danced around direct questions but gave just enough hints that maybe we'll see the Duke of Hastings in the future.
After denying that he could say anything about it, Page said something interesting. "Isn't there something wonderful about being surprised by what you weren't suspecting?" Page said. Fans definitely are hoping that means that Page is returning for season two cameos. 
Rhimes also chimed in on the possibility. Page has been invited to return for cameos in season two and even said that the paycheck is $50,000 per appearance. She went on to say that he's a busy man. According to TVLine, there have been some reports that Page declined appearances. 
Those reports don't seem to be in line with what both Rhimes and Page have said though. There's definitely a chance that we'll see the Duke of Hastings in season two of Bridgerton. Season two began filming in the spring of 2021. There is no date for the premiere yet, though.