Regime Change: When Led Zeppelin Bumped The Beatles for the No. 1 Album in 1969
If you ever listen to the outtakes and studio chatter from the Beatles' Let It Be sessions (January 1969), you might catch an interesting exchange between George Harrison and someone else in the studio. In the conversation, Harrison is asked if he wants to hear the new Jimmy Page album.
"Jimmy Page," Harrison replies. "Is he the one that was in The Yardbirds?" After he learns that, yes, it's that Jimmy Page, Harrison asks if lunch is ready yet. Clearly, this album by Page, who'd recently played on a chart-topping Beatles cover, sparked little interest in Harrison.
But Harrison and other members of the Fab Four would soon take notice of Page's group, which he'd named Led Zeppelin (with an assist from Keith Moon). In fact, by the end of '69, The Beatles would watch as the Zeppelin knocked their band out of the top spot on the Billboard album charts.
Led Zeppelin quickly gained steam with its debut '69 album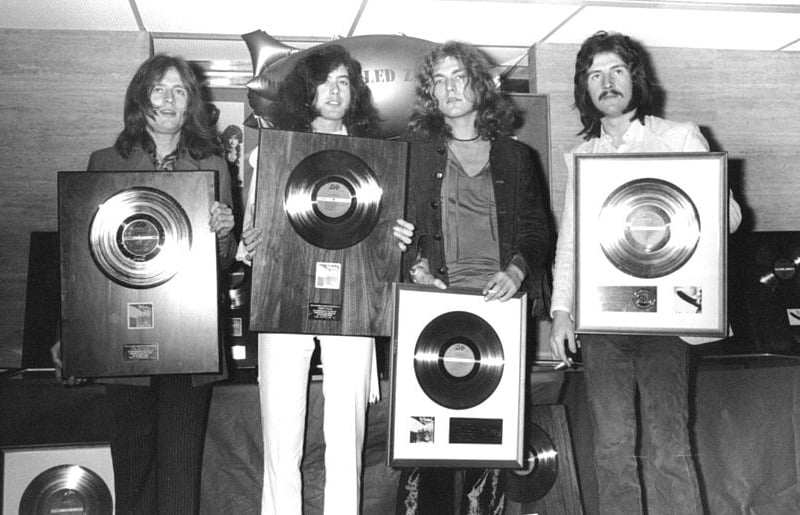 While it would take a few more years before Led Zeppelin began eclipsing Beatles box-office milestones, Atlantic Records knew the hard-rocking act had immense commercial appeal right from the start. That became clear in the Zep's first record deal, signed in 1968.
The pact, which gave Page and his bandmates complete artistic control over their recordings, also gave Zep the biggest advance an unproven band had ever got. (It was the equivalent of $1.63 million in today's money.) And the deal immediately started paying dividends for Atlantic.
Led Zeppelin, the band's explosive debut, hit record stores in January '69, right when Harrison and his bandmates were moping around Twickenham studios filming rehearsals for their next album. Eventually, the eponymous Zep record hit No. 10 on the Billboard charts.
By the summer of '69, it had achieved gold status. While on tour supporting the record, Zep recorded its second album, which took things to another level via "Whole Lotta Love," "What Is and What Should Never Be," "Heartbreaker," and "Ramble On." That record would force the issue on the charts with the Fab Four.
'Led Zeppelin II' nudged 'Abbey Road' from No. 1 in December '69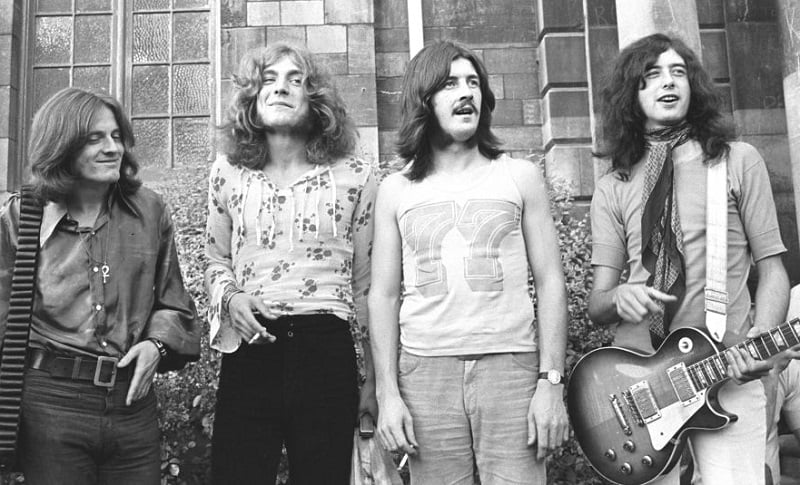 As rock fans digested Led Zeppelin and got a load of the band's knockout live performances, demand for the group's second album was intense. Hundreds of thousands of advance copies of Led Zeppelin II had been sold by the time of its October 22, 1969 release.
Coincidentally, the final Beatles studio album (Abbey Road) hit record stores a month earlier, and by November it took No. 1 on the U.S. pop charts and stayed there until the third week of December. But by Christmas week of '69 Led Zeppelin II took that top spot from Abbey Road.
The Zep reign didn't last long, though. For the first two weeks of 1970, Abbey Road retook No. 1 before alternating with Led Zeppelin II for the last three weeks of January. Then Zep had all of February to itself, making it a total of seven weeks at No. 1 since its release.
Beatles releases weren't officially done, though. Let It Be arrived in May '70 and spent four weeks at No. 1 early that summer. But Led Zeppelin III landed later in '70 and took the Zep to No. 1 for another month, making it 10 weeks atop America's pop charts (three more than the Fab Four).
Once the blockbuster Led Zeppelin IV arrived in 1971, no one had to wonder about the top-selling band on the scene. In retrospect, that late '69 chart battle looks like regime change. At that moment, the biggest band of the '70s shoved the reigning force of the '60s aside. Zep never looked back.
Also see: The Groundbreaking Eric Clapton Recordings Jimmy Page Produced in 1965