Reps for Foo Fighters Deny Claims Taylor Hawkins 'Couldn't F***ing Do It Anymore'
Foo Fighters frontman Dave Grohl invited Taylor Hawkins to join the band in 1997. From that day on, Hawkins was under a lot of pressure. He was the drummer for one of the best drummers of the 1990s. It intimidated him and made him scared to record music. Hawkins was also constantly trying to prove himself by always playing perfectly, and had stage fright.
Playing and recording perfectly and trying to be the best drummer were only some of Hawkins' pressures. His friends claim he was always trying to keep up. They say Foo Fighters' hectic touring schedule wore Hawkins thin.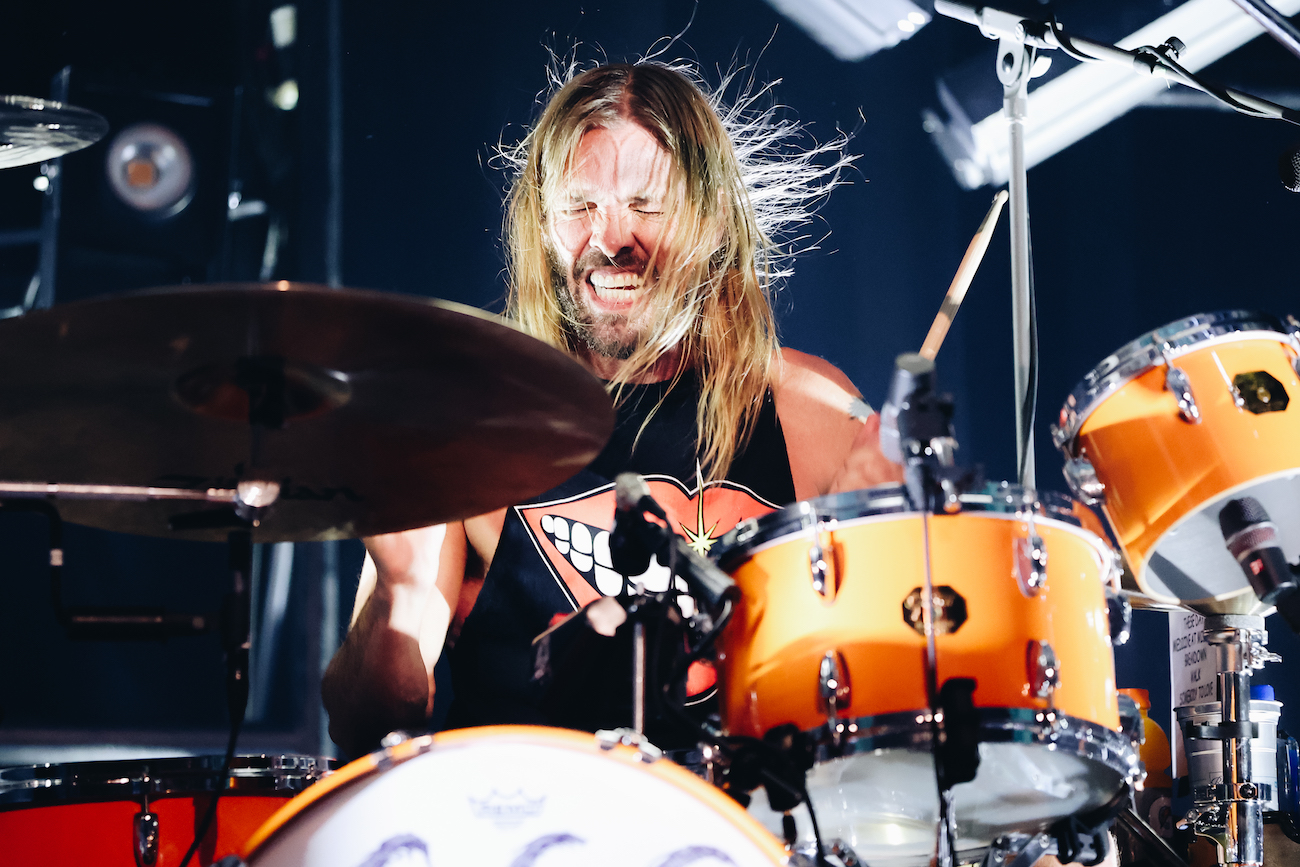 Reps for Foo Fighters deny claims that Taylor Hawkins 'couldn't f***ing do it anymore'
Since Hawkins' death on March 25, Rolling Stone has interviewed some of his closest friends. Interestingly, most of them said the same thing about the end of Hawkins' life.
They claim that months before his death, Hawkins had reached his breaking point as the drummer of Foo Fighters. He constantly vented about how tough it was, constantly touring. He often contemplated whether he could go on.
Pearl Jam's drummer Matt Cameron claims Hawkins confronted Grohl about the fast-paced touring. "He had a heart-to-heart with Dave and, yeah, he told me that he 'couldn't f***ing do it anymore' — those were his words," Cameron said. "So I guess they did come to some understanding, but it just seems like the touring schedule got even crazier after that."
A rep for Foo Fighters denied Hawkins felt that way and that he'd talked to Grohl. "No, there was never a 'heart-to-heart' — or any sort of meeting on this topic — with Dave and [Silva Artist Management]."
Meanwhile, Hawkins' friend and former boss, singer Sass Jordan said, "Honestly, I think he was just so tired. Tired of the whole game."
An anonymous colleague and friend of Hawkins claim, "The fact that he finally spoke to Dave and really told him that he couldn't do this and that he wouldn't do it anymore, that was freeing for him. That took f***ing balls. That did take a year of working up the guts to do."
Hawkins' friends knew he wanted a change, but how big is disputable.
Cameron believes that despite Hawkins wanting to scale back touring, he was willing to continue for his band. "He tried to keep up," Cameron says. "He just did whatever it took to keep up, and in the end he couldn't keep up."
RELATED: Why Dave Grohl and Taylor Hawkins Weren't Allowed Entry Into Pantera's Strip Club
Foo Fighters drummer Taylor Hawkins struggled with stage fright
Despite what the rep for Foo Fighters said, the evidence that Hawkins was getting tired of touring was apparent. He had serious stage fright and was thankful for a rest during the pandemic.
In June 2021, on the day of Foo Fighters' first post-lockdown gig, Hawkins told Rolling Stone, "I'm really nervous about tonight. I have major stage fright — major, major, major. Like, today is, like, I'm in hell right now. I've been on the road 28 years, literally, so I had a year and a half off from this feeling I have today."
Rolling Stone pointed out, "Eddie Van Halen said a lot of his substance abuse was because of performance anxiety." Hawkins, who replaced his drug use with mountain biking after a heroin overdose in 2001, replied, "Oh, because he was f***ing scared, dude. Scared. Just scared. "
Despite all the exercise Hawkins did, his stage fright made him feel physically weak. "I'm just not having a good day," he said. "I feel like everything in my body is wrong. My leg doesn't feel right and all that kind of s***. Like all these kind of crazy psychosis kind of things that you go through to get yourself prepped enough just to play a little club show.
"I was feeling nice not doing anything. It's nice being a loser for a year and a half; it really was."
Hawkins also said he was "trying really hard to figure out how to continue to keep the intensity of a young man in a 50-year-old's body, which is very difficult."
Multiple friends of Hawkins say he lost consciousness onboard a plane in Chicago in 2021, which reps also denied. "He just said he was exhausted and collapsed, and they had to pump him full of IVs and stuff," his friend, Red Hot Chili Peppers drummer Chad Smith claimed.
After the incident, Smith says, Hawkins told him, "I can't do it like this anymore." Hawkins started mountain biking less to avoid overexerting his heart, which had doubled in size by his death.
RELATED: The Foo Fighters Song That Had Paul McCartney on Drums and Taylor Hawkins on Vocals
The drummer also put a lot of pressure on himself to play perfectly
Hawkins' put pressure on himself to play perfectly in and out of the recording studio.
He told Kerrang!, "It's really with Foo Fighters shows. I do shows with my other bands, but I just feel a certain way when there's 100,000 people waiting for you to go onstage. I put a big burden on myself to play perfectly – whatever that means – and keep in perfect time."
Hawkins was under a lot of pressure since his early days in Foo Fighters. When he joined the band, he knew it would be hard being the drummer for one of the best drummers. He had to be on his A-game the whole time because he knew Grohl didn't need him in the recording studio.
When Hawkins recorded with Foo Fighters for the first time, he was nervous. Hawkins told Rolling Stone, "I was so scared when we went to go do [the third Foos album] Nothing Left to Lose. I had red-light fever so bad. … At one point I just said to Dave, 'Listen, dude, I just don't think I can do this.' … I was just so scared."
"One time he called me, and he said, 'You know how much pressure it is?'" Stevie Salas, who backed Jordan with Hawkins, says. "He was like, 'Do you know how I f***ing feel when I'm sitting there struggling, trying to get a track, and I just know that Dave can put the guitar down and come sit on my drums and do it in one take?'"
Grohl didn't care how Hawkins played; he knew he wanted to be friends with Hawkins. Still, Hawkins' friends claim he never thought he was a good enough drummer.
Salas says, "I believe Taylor wanted to be great so bad, and I believe he never believed he was great. I believe Taylor would sit down every day and think that he wasn't good enough, and he would work and work and work at being great. I used to tell him, 'Dude, you can relax now. Everything's good.' But I don't believe that he ever really did relax and feel great about himself as a musician."
However, Hawkins found his place in the band eventually.
"The fact that [Dave] trusted Taylor to run that engine says a lot," Jesse Tobias, who played with Hawkins in Alanis Morissette's touring band, says, "And I don't think any of that was wasted on him. I think he was well aware that it was a huge honor and was going to knock it out of the park no matter what."
However, Hawkins' friends say knocking it out of the park was getting harder for Hawkins toward the end of his life. Rolling Stone writes that Foo Fighters played roughly 40 shows in 2021 and already had nearly 60 more planned for 2022. When other bands were slowing down, Foo Fighters were everywhere at once, touring the world, making appearances, recording, and making films with little breaks in between.
Multiple friends saw how daunting Foo Fighters' schedule was by looking at a frail Hawkins. "In the last few months, he was getting into lifting weights and drinking these electrolytes and was really trying to do things to help play at the level that he wanted to play at," Smith says.
Hawkins' cause of death is still unknown, as is the fate of Foo Fighters, but Hawkins' legacy will live on.
RELATED: How Taylor Hawkins and Dave Grohl's Drumming Differed