'Return to Amish': Are Sabrina and Jethro Still Together?
Breaking Amish and Return to Amish stars Sabrina and Jethro have had plenty of difficulties both on and off the show. Notably, Sabrina's heroin use and stint in rehab caused major distress for the young family, and even resulted in custody changes for the mother. Now, the couple is expecting another baby, bringing the total up once more, and leaving fans wondering how things will shake out for the two this time.
Sabrina signed away custody of two children
RELATED: 'Return to Amish' Season 6 Cast Members Revealed
Breaking Amish star Sabrina came face-to-face with drug addiction for several years prior to the current season of Return to Amish. In 2018 she left prison for the third time in less than one year, and decided that her children needed a different home.
However, when her colleague and castmate Jeremiah found out on Return to Amish, he was livid with her.
"I signed my kids off because it was the best thing to do for them," Sabrina said at the time. Jeremiah was not having it.
"Or was it because you couldn't stop doing the heroin? Exactly, because you made that more important. And you, as a kid being adopted, you should f*cking know when you're adopted — you don't do that sh*t to them. That's why the hell I'm p*ssed off," he told her.
"My kids deserve way better than what I've given them. I want them to have someone to look up to. I don't wanna be another junkie or another statistic that succumbed to addiction and died," she wrote on Facebook per InTouch.
"Honestly, if I died today, I would not be satisfied with the life I've lived or the legacy I would leave behind, which is why I'm working on changing and becoming someone my daughters can hopefully be proud to call their mother someday."
'Return to Amish' stars preparing for fourth child
With Return to Amish Season 6 hitting TLC, fans are waiting to see what the future holds for Sabrina and Jethro — especially since Sabrina is now expecting her fourth child. For the couple, it would be there second child together.
Sabrina has expressed some concern over her fourth pregnancy. She's worried about complications during childbirth, specifically citing her last experience going through labor. Sabrina says she "ripped" that time, and doesn't want it to happen again.
Are Sabrina and Jethro still together?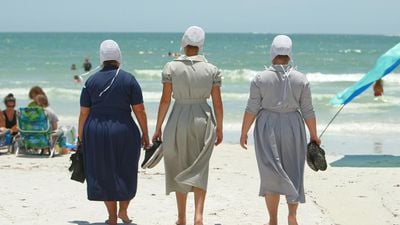 Since Sabrina's time in rehab, the Return to Amish and Breaking Amish star has been working hard at maintaining sobriety, as well as juggling motherhood and her relationship with Jethro.
Jethro seems eager to get married to Sabrina, but Sabrina doesn't seem entirely convinced that Jethro is being as honest with her as he should be. She claims that he's "lying again."
[Warning: possible spoilers ahead.] Despite the rough patch, it seems as if Sabrina and Jethro may have made things work. According to Starcasm, Jethro wrote that the two got engaged in July of 2020, and shared a photo of Sabrina in October.
Unless something drastic happened during the five months since October leading to a split, it seems unlikely that the rough patch during filming results in the Return to Amish couple calling it quits. 
How to get help: In the U.S., contact the Substance Abuse and Mental Health Services Administration helpline at 1-800-662-4357.