'Return to Amish' Season 6 Cast Members Revealed
The hit TLC Breaking Amish spinoff, Return to Amish, is back with Season 6. That means that viewers can expect a bevy of new drama among the Return to Amish cast, some of whom will be recognizable faces. However, there are also some new cast members joining the franchise — two younger Amish hoping to see what the "English" world might hold. Here's what we know about the Return to Amish Season 6 cast. 
'Return to Amish' cast members return, new faces arrive
Return to Amish cast members for Season 6 includes some familiar faces. Notably, Sabrina and Jethro are back this season, and pregnancy is once again a focus for the couple. 
Jeremiah and Carmella will be making a return to the show as well. Return to Amish Season 6 will also include the arrival of two new faces to the show. Rosanna and Maureen are two Amish teens who will be leaving to experience the "English" world for the first time. 
For these two, that means a lot of firsts. Maureen even explores a relationship outside of the Amish world.
"Rosanna's sheltered life hasn't prepared her to deal with the stress of the English, or non-Amish, world, but she's determined to soak up her new surroundings. Maureen is similarly excited to experience the English world, and a budding relationship has the potential to help her acclimate even faster," reports TLC.
'Return to Amish' Season 6 sees new drama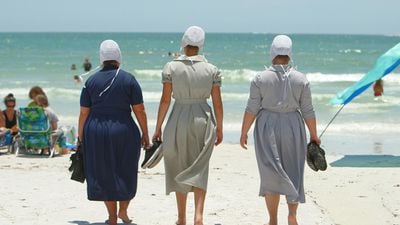 Return to Amish Season 6 brings with it a bevy of new drama — how could it be any other way? When some individuals attempt to return to their Amish communities, or reintegrate themselves to some degree, they can encounter pushback or resistance based on their behavior during their time away. The opportunities for drama are ripe. 
The Return to Amish Season 6 premiere is on Monday, March 22 at 10 pm ET. And TLC says there's plenty to look forward to in terms of drama. 
"Jeremiah and his wife Carmella are back, with Jeremiah on the hunt for his biological family, but false leads and tragedy threaten to derail his search," reads the TLC press announcement. 
Sabrina will also be returning, an interesting turn of events following her absence from the show in the past. This was due to her having a child out of wedlock — something other cast and family members took major issue with. 
"Sabrina also returns, and this time she's juggling a fourth pregnancy and her relationship with the father, Jethro, and celebrating a year of sobriety," TLC added. 
New faces dish on their motivation 
Leaving the Amish world is a big deal for some individuals who have spent their whole lives in the community. For Rosanna, leaving was a matter of getting out of their strict lifestyle. 
"I want to leave the Amish because really all we do is work and sleep, and we're not allowed to really go out and have fun. We live a strict and simple life to be closer to God," the new Return to Amish cast member told People.
"It's a really hard decision to make, because you don't get to see your family anymore. You don't get to see your nieces and nephews."
She went on to add that she fears her family will essentially disown her as a result of her decision. 
My biggest fear is I'll get shunned, or my parents won't talk to me anymore. They'll just consider me not their child — that's the biggest part that I'm afraid of," she explained.