'Return to Amish' Season 6: What to Expect
Return to Amish has been off TLC for two years since it's Season 5 finale in 2019. Fans of the show have been wondering if it will ever come back at all, given that the cast has changed so much since its original iteration. However, TLC has since confirmed that Return to Amish Season 6 is on the way — and soon. Here's what we know about Season 6 of the hit TLC franchise so far, including what to expect and who is returning to the show. 
What is 'Return to Amish'?
For those who are not already fans of the TLC franchise, Return to Amish and Breaking Amish might seem intimidating to watch, given its lengthy backlog. Return to Amish features ex-Amish who have chosen to leave their religious communities in order to experience the "English", or non-Amish world.
Many of these individuals find themselves unprepared for life outside of their Amish origins. There are culture clashes, social issues, new technology and fashion to discover and utilize, and more. Suffice it to say, there's usually plenty of drama to go around. 
Eventually, some of these individuals have decided to try and return to their Amish communities, but things wind up getting in the way in one fashion or another. Since then the show has also grown to encapsulate other aspects of the lives of those who return, choose to leave, or choose not to return to their Amish community. 
'Return to Amish' Season 6 includes new stories 
TLC officially confirmed that Return to Amish Season 6 will be hitting fans' televisions in 2021. In fact, it's about to air, with its premiere date on Monday, March 22 at 10 pm ET. That being said, there's a lot of new drama to look forward to. 
"Jeremiah and his wife Carmella are back, with Jeremiah on the hunt for his biological family, but false leads and tragedy threaten to derail his search," reported TLC in their press announcement. 
"Sabrina also returns, and this time she's juggling a fourth pregnancy and her relationship with the father, Jethro, and celebrating a year of sobriety," TLC added. 
Sabrina was notably absent for some time following her first child, which she had out of wedlock. This was a big problem for many of her family members and members of her community.
Season 6 sees some new faces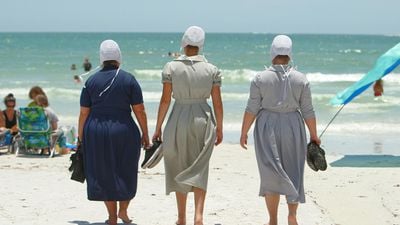 "Viewers will be introduced to Rosanna and Maureen as they leave their tight-knit Amish communities for the first time, traveling to join Jeremiah, Carmella and Sabrina to experience many "firsts" in the non-Amish world."
"Rosanna's sheltered life hasn't prepared her to deal with the stress of the English, or non-Amish, world, but she's determined to soak up her new surroundings. Maureen is similarly excited to experience the English world, and a budding relationship has the potential to help her acclimate even faster."