Reva Originally Died in Early 'Obi-Wan Kenobi' Scripts
Obi-Wan Kenobi premiered on Disney+ on May 27, and the miniseries concluded on June 22. Throughout the series, Reva (Moses Ingram) proved to be a complex character. In the finale of Obi-Wan Kenobi, Reva survives and what she decides to do next is left unknown. However, Obi-Wan Kenobi writer Stuart Beattie recently told The Direct that Reva died in an early version of the Star Wars show.
[Spoiler Alert: This article contains spoilers for the first season of Obi-Wan Kenobi.]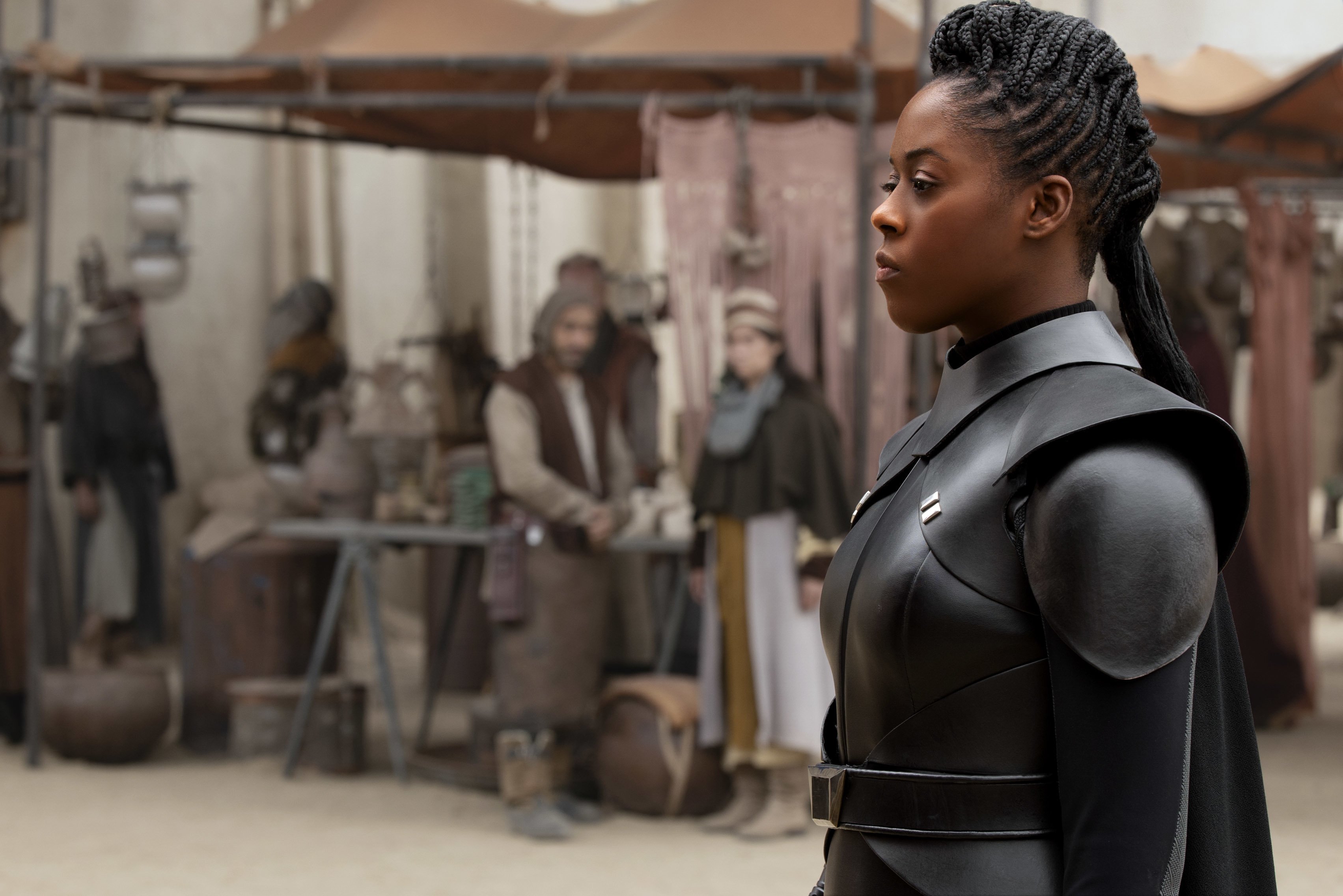 How Reva was originally conceptualized in 'Obi-Wan Kenobi'
In Obi-Wan Kenobi, Reva is an Inquisitor for the Galactic Empire who knows Darth Vader (Hayden Christensen) is actually Anakin Skywalker.
While this plot point was important to Reva's arc on the show, Reva originally did not know Darth Vader's former identity. According to Beattie, Reva originally saw the Jedi as the enemy.
Speaking with The Direct, Beattie shared:
"Yeah, except the only little difference in mine was she didn't know Darth Vader was Anakin. Cause I was like, 'How'd she know that?' All she saw was Anakin as Anakin because he hadn't changed in the suit yet, right? So Anakin killed her friends, put the scar on her, almost killed her, left her for dead, basically. So, in her mind, the Jedi Council were the biggest villains in the galaxy. She believed the lies that they were plotting a coup to overtake and get power and all that, but they were stopped by the Clones. So she believed that's why she's hunting Jedi, because she believed the Jedi are the worst, basically."
RELATED: 'Obi-Wan Kenobi': Three Different Actors Are Playing Darth Vader in the Suit
Darth Vader killed Reva in an early version of the 'Star Wars' series
In Obi-Wan Kenobi, Reva's true goal is to enact revenge against Darth Vader for killing Jedi younglings during Order 66, as Reva witnessed her friends being killed by him.
After being unable to kill Darth Vader, she sets her sights on killing his son Luke Skywalker (Grant Feely). When she cannot go through with killing Luke, she turns away from the Dark Side.
In an early version of Obi-Wan Kenobi, Reva is killed by Darth Vader as a way to protect Obi-Wan (Ewan McGregor) after learning that Darth Vader is actually Anakin.
Beattie told The Direct:
"Because I figured, 'How would she know that this thing in a mechanical suit that everyone calls Darth Vader is the guy who killed her, or tried to kill her?' So, it was Obi-Wan kind of letting her in on that secret and that revelation that makes her kind of go, 'Oh my god, I've been wrong this whole time.' And so she goes and basically saved Kenobi by sacrificing herself, telling Vader, 'I killed Kenobi.' And then Vader killed her, [with her] knowing that Vader would kill her. So, that kind of completed her arc. So just a little bit different that she was, yeah, absolutely, the Inquisitor hunting Kenobi all the way through and driven by her own personal demons."
RELATED: Ewan McGregor Hilariously Calls Out Toymakers for His 'Obi-Wan Kenobi' Action Figure
The 'Obi-Wan Kenobi' writer 'felt' Reva 'had to die'
In Star Wars, a common trope is a character redeeming themselves and dying shortly after. It appears this was originally the plan for Reva.
"I wanted her story to end," Beattie told The Direct. "You know, she ended the obsession Vader had with Kenobi. She claimed it was over, it's done. So that was, that was her role to play. And she'd done so many terrible things, I felt she had to die [laughs]. You can only redeem so much."
By Reva not dying in the Obi-Wan Kenobi finale, the character went against expectations for the franchise.
RELATED: How 'Obi-Wan Kenobi' Fits Into the 'Star Wars' Timeline