Revealed: The Adorable Reason Princess Charlotte Stuck Her Tongue Out at Prince William and Kate Middleton's Sailing Event
Princess Charlotte nabbed headlines earlier this month while at parents Kate Middleton and Prince William's King's Cup Regatta when cameras caught her pulling a cheeky move — sticking her tongue out at the crowd after her mom told her to wave. Turns out, there's an adorable story behind the gesture.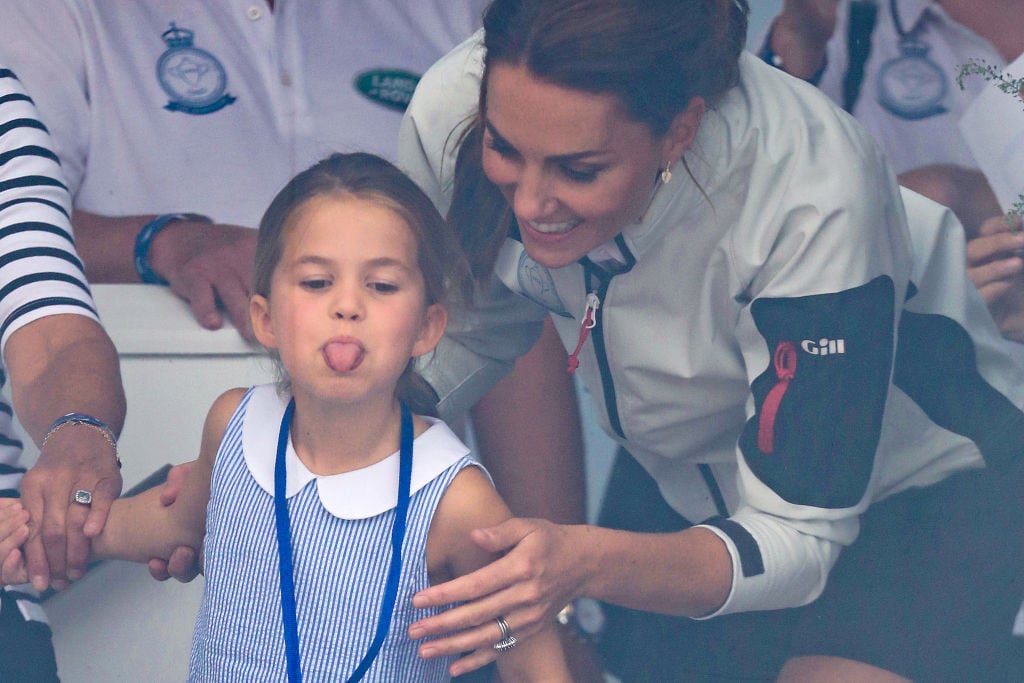 There was a mixed reaction
While some people thought that the four-year-old royal was behaving as children do and having a little fun, not everyone found Charlotte's gesture that cute.
Many people were appalled at how the young princess was behaving, with comments about how rude she was being at the event.
One person commented: "Sooo, she's rude to people and it's playful??? This right here is what's wrong with the 'news' nowadays!!!"
Another critic was left unimpressed as well, tweeting: "In the tabloids today, journalists gushing over 4 yr old Princess Charlotte sticking her tongue out at spectators. Jurno's call it cute & adorable. I call it BRAT."
Others, however, chalked it up to typical kid stuff, as one person tweeted: "There's not a kid alive that hasn't done that! Royalty or not, she's just a kid being a kid!!"
One supporter pointed out: "Charlotte is a kid, she's 4. anyone who thinks she's been rude or being a brat yesterday for simply sticking out her tongue @ the crowd (who probably find it cute too) didn't have a happy childhood and is a sad adult! that's the only explanation."
Another person pointed out that she's usually very well behaved, noting: "They sound like idiots who have never met any real children. Charlotte has been so well-behaved everytime they attend an event. Sticking her tongue out once doesn't make her brat. She is just being cheeky. She is a 4 year old child!"
Middleton handled the situation calmly
Mom Middleton seemed unphased by Charlotte's actions, as she was seen attempting to get her daughter to wave below and instead she stuck her tongue out. She caught the princess in the act and had a laugh, then moved her away from the window — no scolding or worry in her face over how the young royal would be perceived.
A longtime royal observer noted how "Kate just handled it wonderfully," adding, "She just laughed, and it was really lovely to see. For once you looked at them and thought, 'They're a family,' rather than 'the royal family.'"
A source told PEOPLE: "The Cambridge kids are really lively," adding, "You can see Kate is a great mom. Clearly the kids are having fun."
There's a reason Charlotte stuck out her tongue
It turns out that Charlotte's sassy gesture was meant for someone and not just directed at the crowd or the photographers in attendance.
She did it towards her grandfather, Michael Middleton, who was on hand to help babysit the grandkids with wife Carole during the event!
It appears to be a bit of a go-to move for the young princess — she stuck her tongue out at the Royal Air Force 100 event and again at Prince Harry and Meghan Markle's wedding in 2018.