Revealed: Queen Elizabeth's Amazing History With Royal Racehorses
Queen Elizabeth's love of horses is well-known, as is her outstanding record as a racehorse breeder and owner. Today, we're going to explore a little deeper into the Queen and her beloved horses.
Queen Elizabeth makes more money than you think from horses
Queen Elizabeth and the late Queen Mother (also Elizabeth) shared a love of horses and horse racing. In fact, the royal family has enjoyed a long history with horse racing. Queen Elizabeth still uses the racing silk colors her father and great-grandfather used. The royal racing colors are scarlet and purple accented by gold braid. Very regal, indeed!
The Queen was only 23 years old when one of her horses first won a race way back in 1949. That was the first of her many wins since. Her horses won 20 races in 2017 and made the Queen more than $500,000 in just that year alone!
Queen Elizabeth has loved horses all her life
Queen Elizabeth has been a rider almost since she could walk. Her first horse was a sturdy Shetland pony named Penny that she started riding at the tender age of just 4 years old. Penny was the first in a long line of royal riding horses. In fact, Queen Elizabeth was seen riding two days after her 92nd birthday!
The queen's love of horses is apparently hereditary. Her great-grandfather, King Edward VII, and father, King George, were both racehorse owners. The Queen Mother was enamored with National Hunt racing. The queen's daughter, Princess Anne, and granddaughter, Zara Phillips, were both world-class eventers and Princes William and Harry are both accomplished polo players.
The queen's great-granddaughter, Princess Charlotte, is apparently following in her royal grammy's footsteps. The little princess started riding at just 17-months and already seems to thoroughly enjoy it. We can only imagine how proud her great-grandmother is of her!
Not all of her favorite horses raced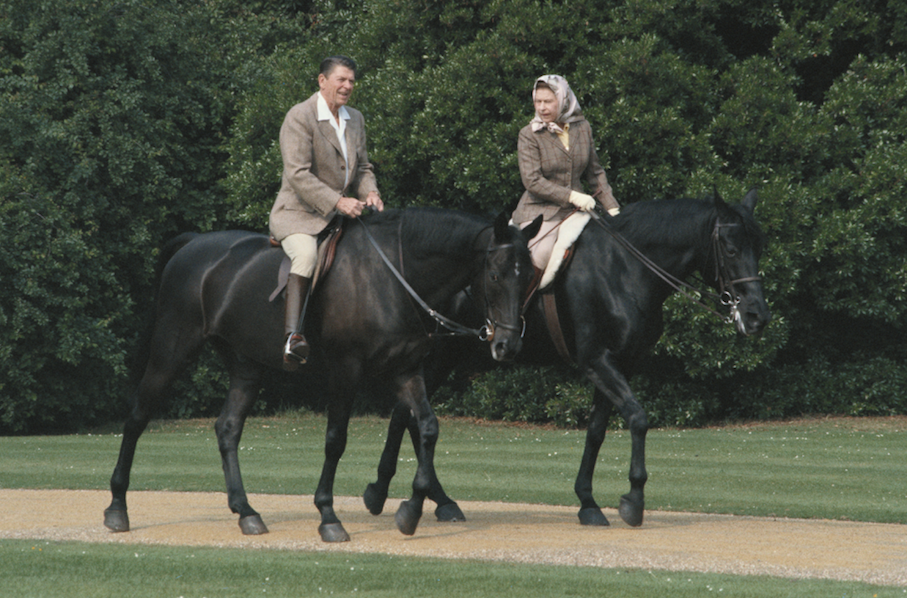 Besides breeding racehorses, Queen Elizabeth has stables and paddocks full of other breeds of horses, too. It's a good thing she has plenty of land on which to indulge her hobby. Her horses have done well in horse shows, eventing, polo, and even carriage driving. In fact, it's hard to think of a horse-related activity in which the queen hasn't shown an interest.
Some of her favorite riding horses (after Penny, of course!) were Betsy, Sanction, and Carltonlima Emma. In the 1950s, the queen bought Betsy, a black mare, from a farmer. Stud groom Terry Pendry remembers Betsy: "She had a bit of character — but the Queen loves a horse with a bit of personality."
Sanction was a bay gelding Queen Elizabeth bred herself. She rode him for many years and Pendry describes their bond: "The Queen used to think the horse was near-telepathic, and she doted on him. She only had to think of going somewhere and he'd go."
The Royal Canadian Mounted Police (RCMP) have given the queen four horses. The first of these gifts was a mare named Burmese. Queen Elizabeth rode her in the Trooping the Color parade on her birthday for 18 consecutive years. Don't think the mare loafed around the stable for the rest of the year. She served in the Metropolitan Mounted police, instead.
Carltonlima Emma is currently one of the queen's favorite 'hacks' (or riding horses). She is a sturdy and sure-footed Fell pony.
Queen Elizabeth's most famous racehorses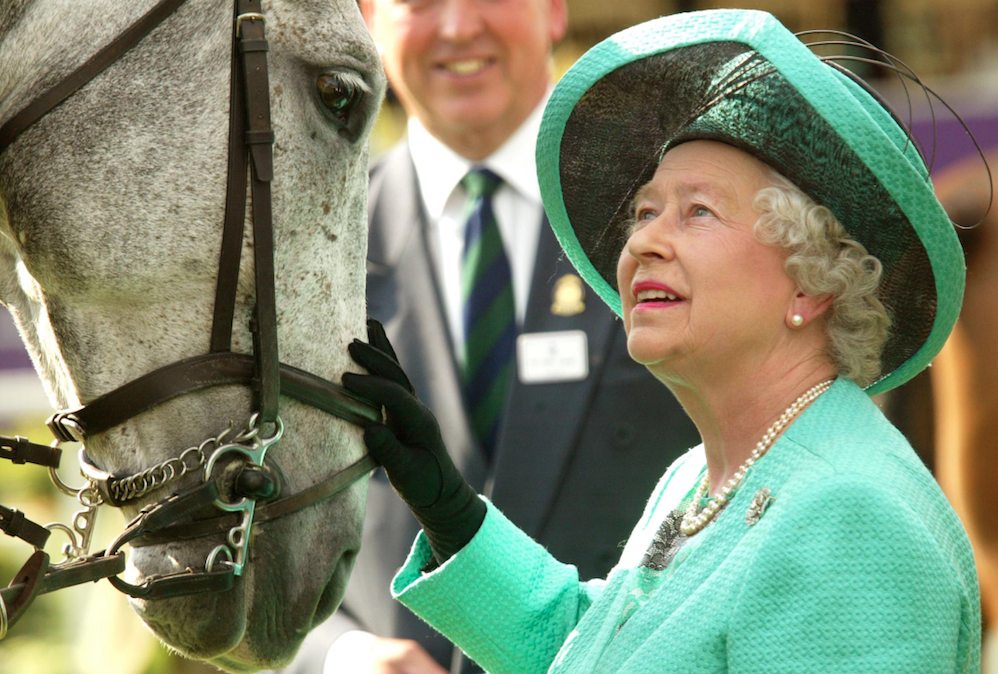 The queen co-owned Monaveen with her mother when she was quite young. Sadly, this great steeplechaser was killed during a race. Maybe that was why she switched to flat racing. She probably couldn't stand the idea of another of her beloved horses being injured while racing.
King George bought and raced a mare named Feola. Upon her father's death, the queen inherited this mare, who was the mainstay of breeding operations at the Royal Stud.
She also inherited Aureole from her father upon his death. He was the grandson of Feola and finished second in the Derby. He then went on to become a famous sire.
Highclere was a great-granddaughter of Feola. She was an outstanding racehorse and even better broodmare.
Dunfermline was another great racehorse. In fact, she was once described as "probably the best horse the queen has ever owned" by Sir Michael Oswald, former manager of the Royal Stud. During the queen's silver jubilee in 1977, Dunfermline won two major races. Maybe it was her way of helping the Queen celebrate 25 years on the Throne!
Carlton House was a present from Sheikh Mohammed al Maktoum. He started as a Derby favorite but unfortunately finished third.
Estimate finally gave the Queen a Gold Cup win at Royal Ascot in 2013. The filly's win was the first time a reigning monarch had won the race in its 207 year history!
Her phenomenal success as a racehorse breeder and owner
Queen Elizabeth's racehorses have earned over $8 million dollars for their royal owner. As if that wasn't proof enough of her ability to judge horses, she has also been named the British flat racing Champion Owner twice! She won this prestigious award in 1954 and again in 1957. Even after her many decades of success, there is no indication that the queen plans to give up her interest in horses and racing anytime soon!
Check out The Cheat Sheet on Facebook!