Revealed: Why Taylor Swift Writes So Many Songs About Her Ex-Boyfriends
Taylor Swift has built a musical empire thanks to her talent on the mic. The singer is one the of sweetest and is not afraid to wear her heart on her sleeve for the sake of her music. She's brought together millions of fans because of her infamous break up tracks. The songs become anthems for people worldwide who are struggling with heartache.
Right now she has locked arms with Joe Alwyn, and the two seem to be getting along swimmingly. Hopefully their relationship lasts a bit longer than the strings of boyfriends she's had in the past. If they don't fans can at least look forward to Swift bringing out another powerful heartbreak ballad they can run on repeat. Below are some tracks the talented singer has dedicated to her exes.
'Last Kiss' for Joe Jonas
Joe Jonas and Swift started dating in July 2007. They were only together for three months before Jonas called it quits over a 27-second phone call. The news shocked fans as the couple looked like they were going strong. The heartbroken songbird wrote Last Kiss and Forever and Always in response to their relationship. Her heart was obviously raw in the beginning but then Swift made Holy Ground which took on a different perspective. In the latter song, Swift reflects on the positive side of dating the fellow star.
'Back to December' for Taylor Lautner
Swift wore the hat of the dumper when it came to actor Taylor Lautner. The two hooked up in August and stuck it out for two months before the Billboard topper called it quits. In the song Back to December Swift apologizes to one of her exes who has tan skin and a sweet smile for a really rough night that occurred during their relationship.
'Dear John' for John Mayer
At the end of 2009 Swift took a chance on John Mayer. The two lasted two months and apparently ended on a nasty note. Considering the age gap, Swift thought she could count on Mayer to treat her right…but she was wrong. She didn't even try to hide her hurt; she titled his anthem Dear John. The song calls out Mayer for messing with the heart of a young girl. The lyrics are so abrasive that the rocker said he was humiliated by the country gals heartbreak hit.
'Mine' for Cory Monteith
In the spring of 2010, it seemed that Swift and Glee star Cory Monteith might have been dating. While rumors were never confirmed early on, the two did react suspiciously when called out on their closeness. Swift's song Mine does mention a guy that she had an intense connection with. While the song is deep, it's light-hearted compared to the sad breakup songs she's known for. While we don't know for sure if the song is about Monteith, it shows not all Swift's songs need to be shrouded in pain.
'We Are Never Ever Getting Back Together' Jake Gyllenhaal
Velvet Buzzsaw star Jake Gyllenhaal dated Swift back in October 2010. They broke up in January 2011. The whirlwind relationship most likely inspired more than one track but there is one that stands out, We Are Never Ever Getting Back Together. The hit single talks about an actor who loves indie music which matches Gyllenhaal perfectly, but that's not the most significant connection. In the music video, Swift wears a scarf that she rocked in public while on a date with the actor. Another song that may have been about him was The Last Time, a song chronicling her experiences with an unreliable boyfriend.
'Begin Again' for Conor Kennedy
Swift's single Begin Again is about the aftermath of a bad breakup. The song covers the feelings that occur when the dust settles. Around the same time of the song release, Swift was head over hills with Conor Kennedy so the song could very well be about him. The two lasted from July to October in 2012.
'I Knew You Were Trouble' for Harry Styles
Swift seems to have a habit of hooking up at the end of the year. Swift and One Direction's Harry Styles started dating in December 2012 but broke it off the following month. There are rumors that the two had a fling the previous Spring, right before Swift released I Knew You Were Trouble. After the breakup, Swift confirmed the connection when she tweeted a lyric from the song.
Other songs reference Styles include Style, if his last name isn't enough the male leading looking a lot like him should be. Two years after the breakup Swift also released Out Of the Woods which has some references to a December romance that closely aligns with theirs.
'Look What You Made Me Do' forCalvin Harris
Calvin Harris was caught up in Swifts magnetic pull between February 2015 and June 2016 making him her longest lasting boyfriend. Considering their time spent together, it finally looked like things were looking up, but unfortunately, everything that goes up must come down. Their relationship ended in an ugly train wreck that all the world was able to catch glimpses of on Twitter.
Look What You Made Me Do, clearly points a finger at Harris. In the video, Swift crawls out of a grave. Next to her is a headstone that says Nils Sjoberg. What's the connection? This is the pseudonym Swift used to keep her identity a secret on Harris and Rihanna's hit track, This is What You Came For.
'Look What You Made Me Do' also referenced Tom Hiddleston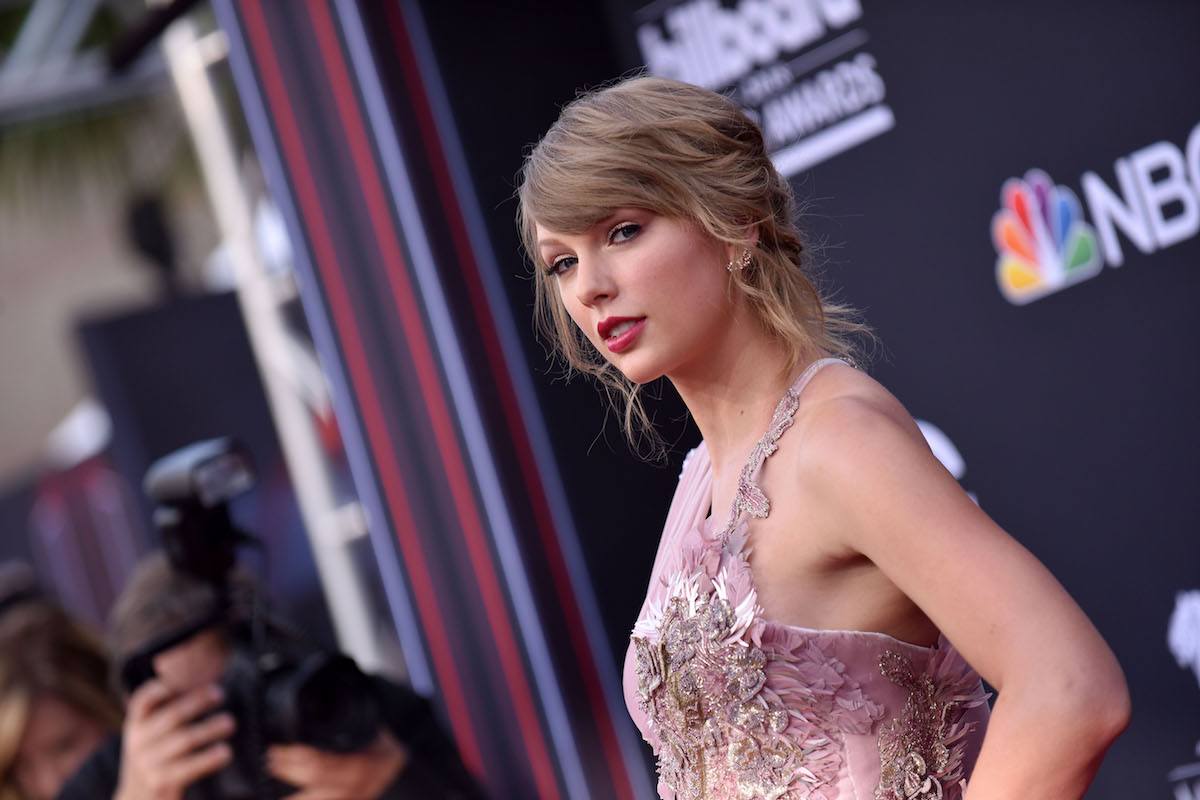 Just a couple of days after the break up with Harris she was caught kissing actor Tom Hiddleston on the beach. The two truly had an intense romance but ultimately had to call it quits, just like all of her former relationships.
Swift referenced Hiddleston in Look What You Made Me Do. How? She had a group of male dancers wear shirts that said "I <3 TS", the exact same tank Hiddleston wore during their Independence Day foray.
So why does Taylor Swift have so many songs about her ex-bfs?
It goes without saying that the country girl uses her music to get through her breakups. It's a way for her to heal and to speak her truth not just to the exes but to the world. The Grammy award-winning musician also opened up about part of her writing process to her fans in her new Netflix concert special.
In Swift's own words, "when I write a song, it's usually me just trying to get past something and understand something I'm going through by writing about it and that was definitely the case when I wrote the next song that I'm going to play." The beloved singer went on to play All Too Well, one of her most heartbreaking tracks. Now the song has a new life for the singer, the sad memories have been replaced with wonderful ones of her fans. Hopefully all of her sad tracks get reborn into fond memories!