Review: Noga Erez Earns Her Own 'Views' at Sold-Out New York City Concert
She's known for her effortlessly oversized pantsuits and her Cindy-Lou Who-esque bun and braid combo. Months after the release of KIDS, Noga Erez embarked on her first United States-based tour, selling out two shows in New York City in the process.
Her Sept. 21 performance was filled with special effects and KIDS-related speeches. (Not actual kids, Erez specified. But hey, kids are cool, too.) With Rozet as the opener, this wasn't an experience "off the radar" to fans.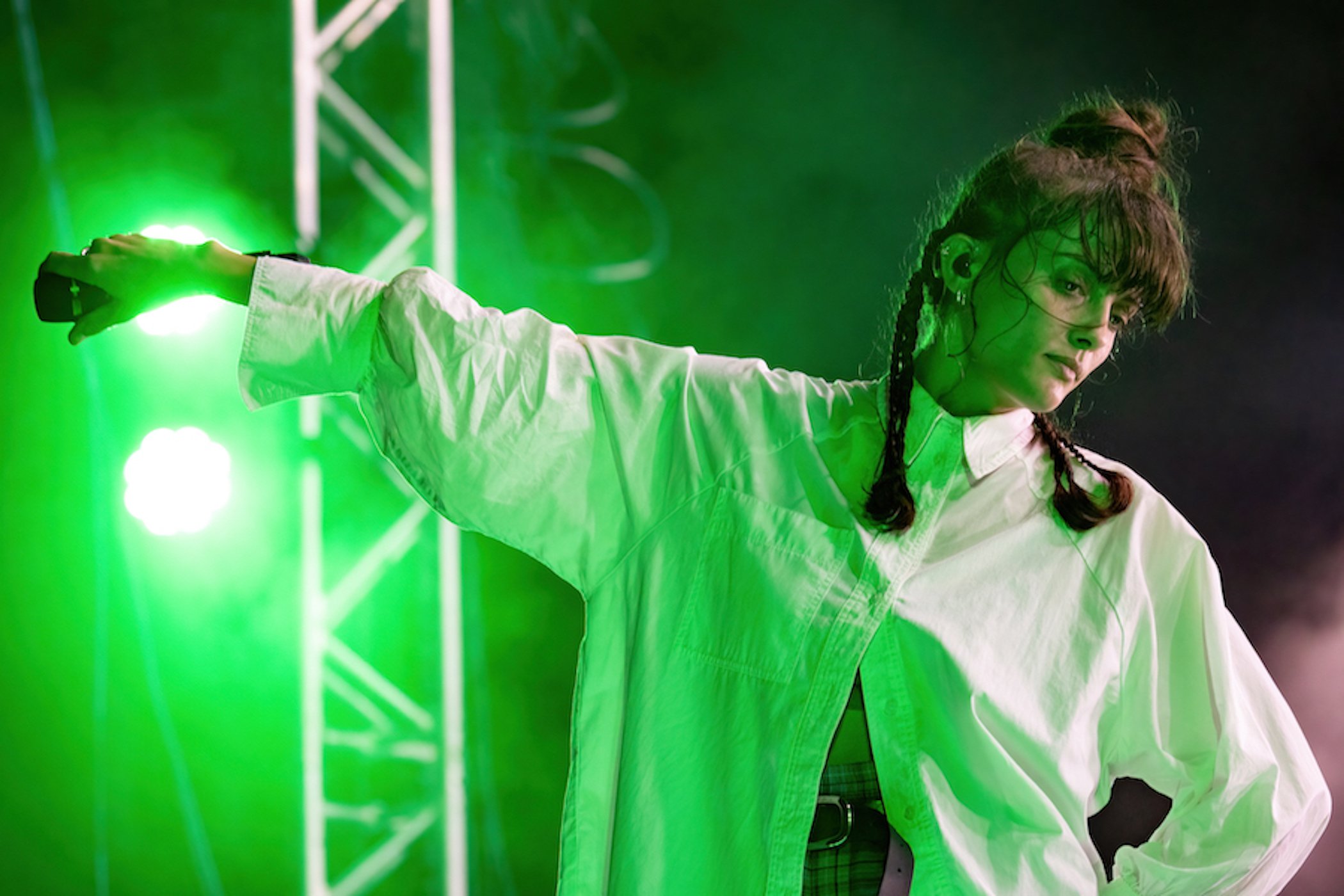 Noga Erez is one of the masterminds behind the album 'KIDS'
March 2021 brought pretty exciting changes for Erez fans. This Israeli artist released KIDS, earning thousands of "views" on music videos and millions of plays with the streaming platform Spotify.
It's this album that really springboarded Erez onto a global stage. The artist was sure to mention that during her sold-out concert at the Bowery Ballroom, one of New York City's iconic music venues.
"This is basically a small Tel Aviv right now," Erez said to a screaming crowd. "We're at the very beginning of our very first US tour. It's been incredibly exciting, and I'm so happy to be able to share this moment with you guys."
Noga Erez performed a sold-out concert at New York City's Bowery Ballroom
With a full band performance on Jimmy Kimmel Live released in April and a stripped-down version of "Knockout" published just hours before her Bowery Ballroom concert, Erez often showcases her versatility. Her stage performance was equally as unique and captivating.
Each song and its corresponding stage aesthetic was dynamic and, clearly, meticulously curated. Her music is exciting in recordings and even more so live — situating itself somewhere between electronic, hip-hop, and pop. More than anything, Erez's charisma propelled this concert to the next level.
Further exemplified by the diverse crowd of parents to young adults, the artist fostered a sense of community, acceptance, and gratitude with every joke and quirky dance move. Someone was even holding a Lulav outside the concert hall.
After the final song, fans left wishing the experience wasn't "so done."
Noga Erez announced her upcoming album, 'Kids (Against the Machine)'
This concert came just hours after Erez announced her stripped-back album, KIDS (AGAINST THE MACHINE), a nod to Rage Against the Machine. Although the title is somewhat foreboding, as stated by the artist during her concert, it features new versions of fan-favorite songs.
"The KIDS AGAINST THE MACHINE series that Ori Rousso and I started was something we mainly did for fun; a way to challenge ourselves," Erez said in a statement. "We wanted a chance to show each other and our fans that these songs could be reimagined without our signature electronic productions. These versions became instant faves for many – for those who love the more organic, woody, and brassy sound."
Fans can see this artist on her United States tour, which continues throughout fall 2021. KIDS (Against The Machine) will premiere globally on Nov. 5, 2021. Until then, already released music by Erez is available on most major streaming platforms.