Revisiting Kim Cattrall's Sex Book Co-Written With Her Ex-Husband: "I Did Not Want to Write a Book about 'Sex and the City'
Twenty years after Kim Cattrall wrote a sex book with her then-husband Mark Levinson, she is still distancing herself from her most popular role on 'Sex and the City.'   
It turns out Sex and the City was never a great fit for Kim Cattrall. Her role as the carefree sexual conqueror, Samantha, was essential to the HBO series' success. But the part was more than a little problematic for the firebrand veteran actor. The show ultimately disrupted her personal life and stopped her from becoming a mother in part. It left her little incentive to return for the reboot, And Just Like That…(not that she was invited).
Twenty years after she wrote a sex book with her then-husband Mark Levinson, Cattrall is still distancing herself from her most popular role.   
Kim Cattrall's sex book was not what people expected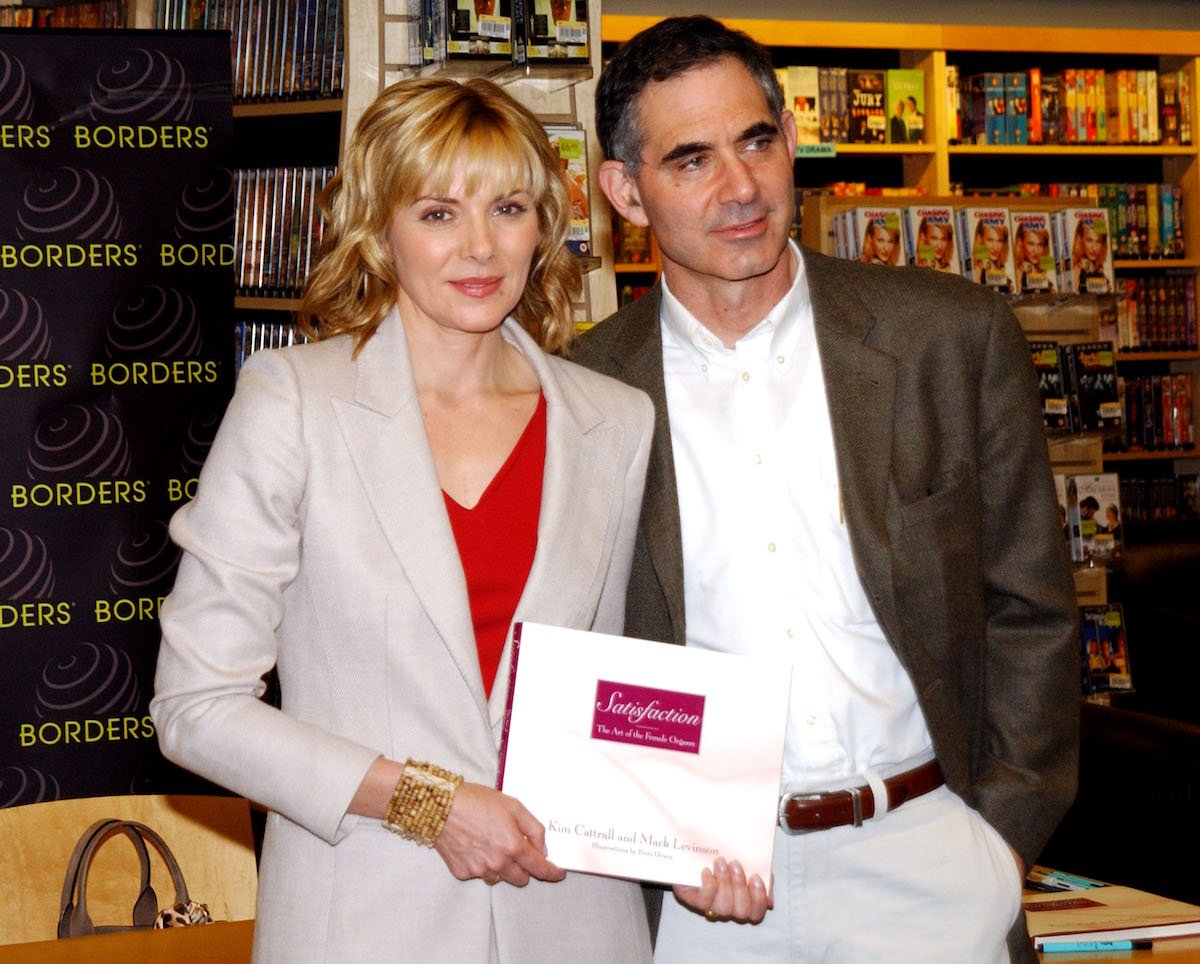 Cattrall was so convincing as Samantha that fans likely expected more of the same when her book, Satisfaction: The Art of the Female Orgasm, hit shelves in early 2002. Instead of a raunchy, uber-explicit book Samantha might have enjoyed, Cattrall and Levinson's book was much tamer and more intimate. The ultimate message, according to a New York Times interview with Cattrall and Levinson: Find true love and be honest.
That's also a far cry from what book publishers originally wanted from Cattrall. After Sex and the City blew up following its 1998 debut, publishers mostly wanted a book that was an extension of Samantha — one filled with graphic sex tips that would make a splash. "I did not want to write a book about Sex and the City," Cattrall said at the time, though she admitted the show had become an interesting conversation starter.
Not that Cattrall's book completely lacks in graphic details. While the book's foundation is about honesty and sexual openness, Cattrall and Levinson included explicit drawings designed to guide couples to the finish line. Even with helpful pictorials, Cattrall still rejected the idea of swinging from chandeliers during sex a la Samantha. Pushing back on the Sex and the City fantasy was a critical component for both Cattrall and Levinson.
Cattrall separated her characters from her personal life
For Cattrall, the book's theme was more than just basic romantic advice and a few helpful sex tips. Cattrall went on to say she was originally victim to false expectations from her two prior husbands and other boyfriends.
"They thought they were with the girl from Porky's," Cattrall said, referring to her character in the 1982 comedy. Her sexually liberated character paved the way for roles like Samantha. However, her role also created unintentional baggage that affected her personal life for decades.
As Cattrall promoted her book, she was frank about her series of unsatisfying relationships prior to Levinson. To solidify the point in her NYT interview, Cattrall pointed to "two entire long, awful decades of bad sex," almost as if the book was a cathartic release after a long, painful journey.
Instead of continuing along that path, Cattrall and Levinson started fresh with honesty. It helped that Levinson could tell the difference between Cattrall's day job and real life.
Not quite the Hollywood ending for Cattrall (yet)
Despite ending up in a much better place with Levinson, the relationship ultimately didn't go the distance. In 2016, Cattrall told News.com.au that Sex and the City had left her with little time for her personal life. This led to significant strain on her marriage with Levinson. She even abandoned the idea of having a child through IVF. With long shoots (up to 16 hours a day), Cattrall and Levinson drifted apart, eventually splitting after six years of marriage.
After the original series ended — about the same time as her marriage to Levinson — rumors began piling up about tension between Cattrall and Sarah Jessica Parker. Despite some hesitancy, Cattrall stepped back into Samantha's shoes for two popular feature films, although Cattrall was out of the picture by the time HBO brought the rest of the team back for And Just Like That…. Whether there was truly a feud between Cattrall and Parker is a matter of debate, as Elle pointed out in a timeline of the rumors surrounding the Sex and the City stars.
Meanwhile, Cattrall is on to her post-Sex and the City career and enjoying romantic outings with boyfriend Russell Thomas. He was working for the BBC when the couple met in 2016. As summed up by Daily Mail, Cattrall was indeed tooling around London as And Just Like That… premiered, similar to the brief explanation given in the show for Samantha's absence.
Cattrall's career hasn't slowed either. Next up, Cattrall co-stars with Juliette Lewis (Yellowjackets) in the reboot of Queer as Folk (due in May) and is filming About My Father alongside Robert De Niro.