Rhea Seehorn Reveals the 'Hardest Moment' Filming 'Better Call Saul'
Better Call Saul is all about Saul Goodman's work life, but at the heart of the series is his relationship with Kim Wexler. Played by Rhea Seehorn, Kim is an ambitious lawyer who has started to adopt behaviors more expected from her partner. Watching it play out has been an emotional rollercoaster for fans of the show. It has also been challenging for Seehorn herself, but not for reasons you'd expect.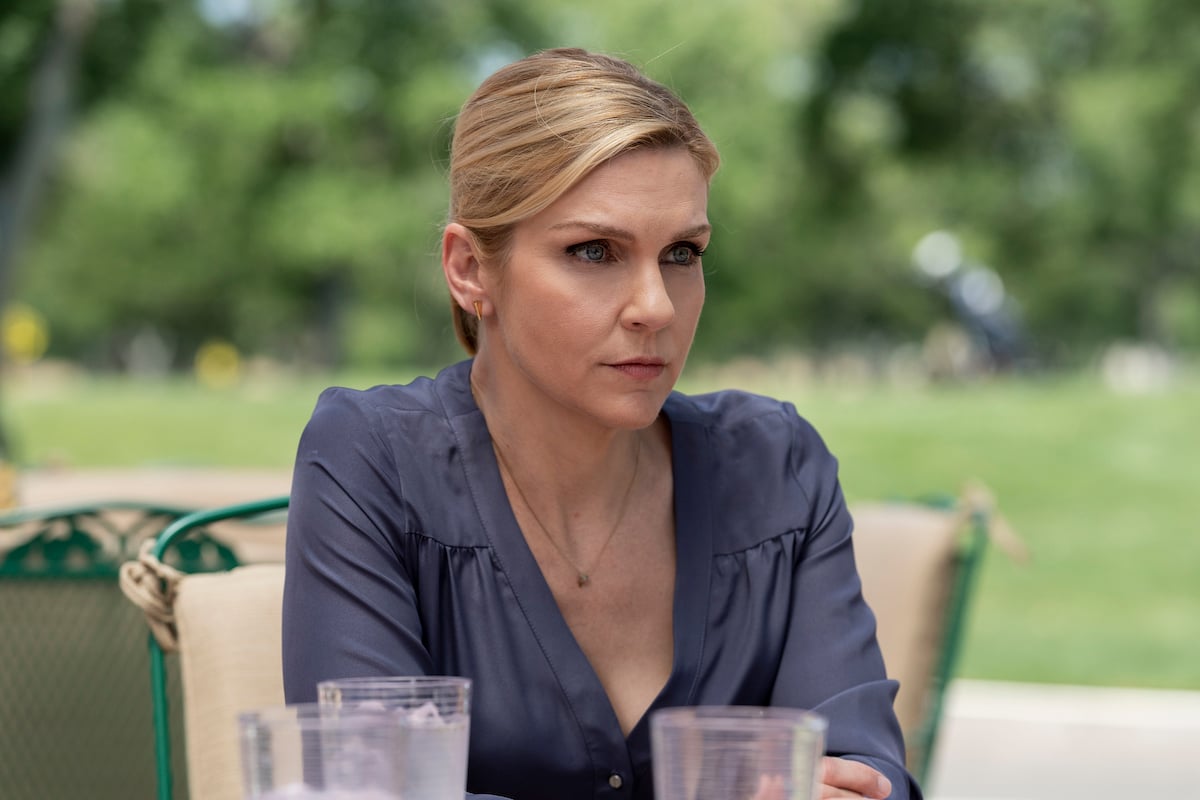 Kim Wexler shares the 'hardest' parts of filming 'Better Call Saul'
Earlier in 2021, Seehorn went on Instagram Live through the Better Saul Call page to talk about some of her experiences on the show. She spoke about how she prepares for filming, lessons she's learned on the series, and her favorite things about Kim Wexler. When asked to share her "hardest moment while filming' the show, Seehorn pointed to two situations, both of which involved severe weather conditions.
"Physically challenging would be where my car almost rolls into a pump jack in the desert," she replied, referencing a scene in season 3 when Kim nearly hit an oil rig. "And also the scenes with Mr. Acker, played by the brilliant Barry Corbin," she added. "There were really bad sandstorms on both of those. Freezing cold and sand blades in your eyeballs."
That certainly sounds difficult. But at least, from a creative perspective, it all came together masterfully and helped make some truly memorable scenes.
Rhea Seehorn on the future of Kim Wexler
In a past interview with Deadline, Seehorn spoke on what to expect next from Kim, who, in the season 5 finale, began planning her first big con. "Do you see a very dark side of her there? Yes, you do," she said, noting that Kim will soon morph into a sort of female version of her partner. "He brought Saul Goodman into our relationship, she's bringing in this other person. There's this self-righteous martyrdom going on."
Showrunner Peter Gould previously told fans to pay attention to the bottle stopper Kim takes from her office when she quits. He told Entertainment Weekly that it symbolizes her criminal turn, which could have big — and possibly even deadly — consequences for her.
So when does 'Better Call Saul' Season 6 come out?
According to Bob Odenkirk (Jimmy McGill/Saul Goodman), production will continue throughout the summer of 2021, with an expected release date of sometime in 2022.
As far as what to expect from his character, he told Collider he doesn't know because he hasn't read the full script yet. But he's heard that season 6, in general, is intense.
"I'm finding out script by script [how the season goes]. I'm told that the wheels come off in Season 6 and it explodes in a million directions," he said. "That sounds to me like there's a fair amount of violence, but I don't know for a fact."
"We have a discussion where my point of view is that Walter White became an angry, broken version of himself. I wonder if it would be possible to write — because I like the guy — I wonder if it would be possible to give Jimmy McGill a better ending, a better place to end in than he started in. I don't know if they're going to do that though," he continued.